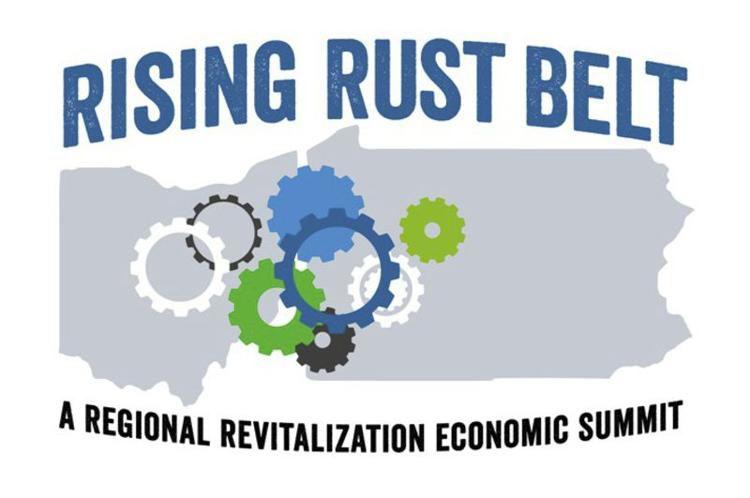 HERMITAGE — To cap off the first-ever Rising Rust Belt summit, event organizers sponsored a "Shark Tank" style pitch competition that left two entrepreneurs with more than a thousand dollars for their business.
The competition was held Monday afternoon at the Community Hope Investment Partnership Inc. spec building in LindenPointe, Hermitage, where a panel of judges reviewed seven business proposals.
Maggie Horne, director of the Gannon University Small Business Development Center; Jim Cossler of Huntington Bank; and Steve Sant of the May Emma Hoyt Foundation served as judges.
Purpose Therapeutic Subscription Box LLC, by Ali Izzo and Holly Masters, based out of the eCenter in Hermitage took first-place honors, and a check for $1,500.
The company allows family members to send a box of items to senior relatives, although customers can also purchase a box and donate it to a senior who may not otherwise receive gifts at holidays such as Christmas.
Izzo said the winnings would go toward targeted advertising for the upcoming holidays including Christmas or Veterans Day.
"They knew their market, they knew their product, and they knew what they wanted to do with the funds if they received them," Horne said of the pair.
Since starting the company in June of 2018 and shipping their first boxes the following August, the company has grown to almost 250 yearly subscriptions, plus one-time orders and sponsorships, Izzo said.
"The community has been great, and the community's always been very supportive of us," Izzo said.
This coming April, Izzo and Master said they planned to release a new box aimed specifically at occupational therapy practitioners like themselves.
"What we found is that there's a big OT community where the practitioners have their own companies or make their own products," Masters said.
McDivitt Family Maple, finished second. Stacy McDivitt, owner, said she wanted to open a commuter-oriented breakfast restaurant based on her company's products along the 33-mile stretch of Route 422 from Warren to Solon, Ohio.
In third place was hChoices.com, or We Thrive Together, presented by Steve Pelton, who said he wanted to spread We Thrive Together's services to Mercer County.
Already operating in Lake, Mahoning and Trumbull counties in Ohio, We Thrive Together connects seniors with local organizations and activities in order to combat loneliness and social isolation, Pelton said.
"There were really a variety of different businesses and ideas, and they were all very passionate about their projects," Horne said of the proposals. "Passion is the key to entrepreneurship."
The competition wrapped up the first-ever Rising Rust Belt Summit, a collaborative effort of the chambers of commerce from the Shenango Valley, New Castle and Youngstown-Warren.
Like David L. Dye on Facebook or email him at ddye@sharonherald.com.