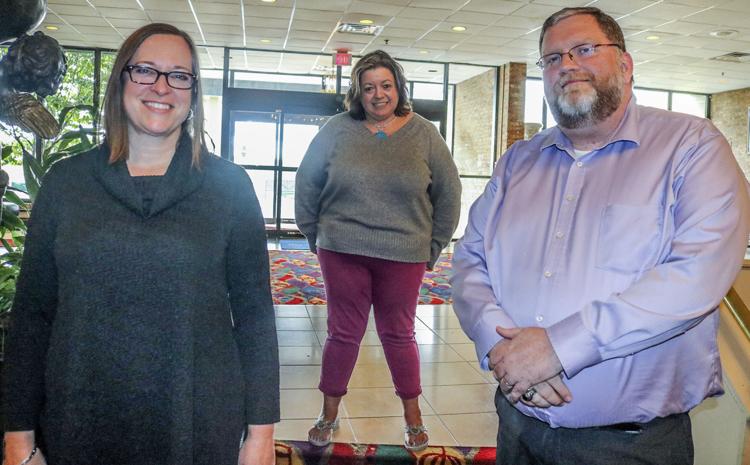 SHENANGO TOWNSHIP — With the inaugural Rising Rust Belt summit less than 48 hours off, Sherris Moreira, executive director of the Shenango Valley Chamber of Commerce, gave a pep talk to the event planning team.
"You all need to be proud," she said to a group that included officials from the other two participating chambers of commerce. "This is awesome. I was not sure how this was going to turn out. There are people coming from Harrisburg. There are people coming from Erie."
Rising Rust Belt is an unprecedented cooperative effort of the chambers of commerce from Shenango Valley, Lawrence County and Youngstown-Warren. Pennsylvania Lt. Gov. John Fetterman and Lydia Mihalik, director of the Ohio Development Services Agency, will give keynote addresses on Monday.
Other luminaries, including Youngstown State University President Jim Tressel, are participating in the summit. Tressel, who won four Division 1-AA national college football championships as Youngstown State University's head coach and a Bowl Championship Series national championship at Ohio State University, will participate in a panel discussion on the contribution of higher education to economic development.
Organizers of Rising Rust Belt are anticipating this year's event being the first of an annual celebration of development in the region. Alex McCoy, chief executive officer of the Lawrence County Regional Chamber of Commerce, said attracting big names this year will lay the foundation for future success.
"Having Jim Tressel-caliber people will be tremendous for promoting future events," McCoy said.
The event is already a success by one measure — it's sold out.
With more than 350 confirmed attendees, including media, the turnout is near capacity of the main ballroom at the Park Inn by Radisson. Moreira said organizers have suspended advance ticket sales to allow themselves a cushion in anticipation of walk-up demand for Monday's session.
Rising Rust Belt opens today with tours of The Landing, a business development on Sharon's now-closed Westinghouse facility, and the Hope Center for Arts and Technology.
The Landing, which now houses a business development, stands as an example of repurposed business development. Hope CAT provides artistic education for high school students and began a certified medical assistant, free of charge, adult education program.
On Monday, Fetterman will give the breakfast keynote address with a question-and-answer period. Mihalik will give her speech in the afternoon during the lunch period.
Attendees will also have the opportunity to participate in four breakout sessions with four panels in each session. Based on preferences from some advance ticket buyers, Moreira said the most popular breakouts are likely to be "Plastic and PetroChemicals Supply Chain Opportunities," in the final breakout session; "Getting Site Selector Ready," in the second breakout; and "Creating an Entrepreneur-Friendly Community," in the final breakout session.
After the final breakout, Rising Rust Belt will move to the CHIP Spec Building at LindenPointe for a Shark Tank-style pitch session. Six entrepreneurs will put on proposals for a panel of judges, with the winner receiving a cash prize.
Participants in the pitch competition are Purpose: The Therapeutic Subscription Box with Ali Izzo and Holly Masters of Hermitage, Mercer County; Penny Allenwood Outdoors with Colleen Ottobre Chamberlain of Wampum, Lawrence County; Aspiring CTOs with John Ashley of Sharpsville, Mercer County; Brilliency with Laura Steinbrink of Cleveland, McDivitt Family of Maple of Southington, Ohio; and Secret Squirrel Armory with Paul Neubecker of New Castle, Lawrence County.
Judges are Jim Cossler of Huntington Bank for the Youngstown Business Incubator, Margaret Horne of Gannon University Small Business Development Center, and Steve Sant of the May Emma Hoyt Foundation.
Moreira, McCoy and James Dignan, president and CEO of the Youngstown-Warren Regional Chamber of Commerce, have said they hope to see Rising Rust Belt promote cooperation among the three chambers and among the business interests operating in all three areas.
By putting the event together, they've already at least partly succeeded in that.
"At the end of the day, we did good," Moreira said.