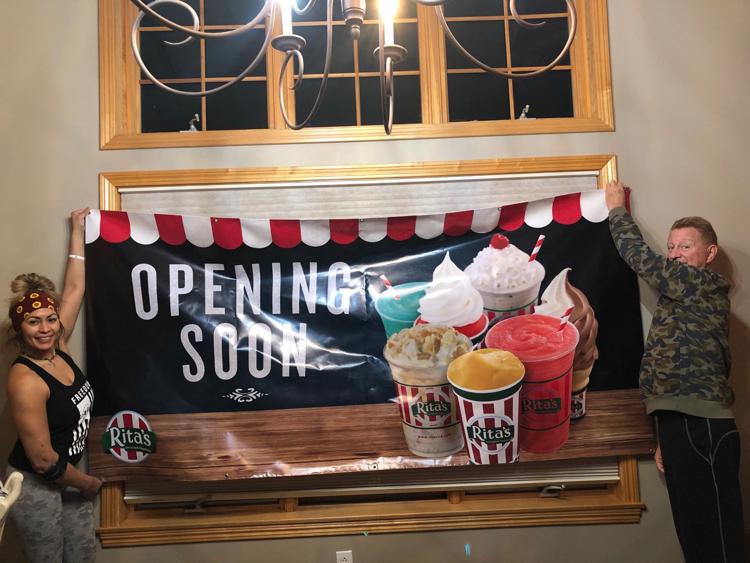 HERMITAGE — When John Sarandrea was growing up in New York City, he sometimes got fruit-flavored Italian ice treats.
He now lives in Hermitage and plans to bring that New York delicacy to the Shenango Valley.
Sarandrea — superintendent from 2007 to 2013 at Sharon City School District, and then at New Castle Area School District until 2018 — will be operator of a Rita's Italian Ice franchise scheduled to open in May at Hermitage Towne Plaza.
As a former educator, Sarandrea is familiar with the needs of young people and families. His next venture will remain family oriented — with five members of his own immediate family working behind the shop's counter.
"We want it to be a nice addition that makes people happy and excited in the community," Sarandrea said.
The shop will be located just east of Arby's in Hermitage Towne Plaza. With the necessary permits taken care of, Sarandrea said construction crews will break ground soon for a new 700 sq. ft. building, which will have a drive-through window and a walk-up window in front.
Rita's Italian Ice, founded in 1984, is an established chain, but Sarandrea's shop will be the first franchise in Mercer County. The closest Rita's is located in Cranberry Township, Butler County.
The shop serves Italian ice — with fruit and candy flavors — custard and mixes like the "blendini," a combination of ice and custard. Sarandrea said Rita's will give local residents a new place to get cool snacks when the weather's hot. Cookie sandwiches with custard and custard cakes will also be available, Sarandrea said.
"We're going to have a nice outdoor seating area up front with some tables and umbrellas," he said. "It's going to be very family-friendly."
While the chain has more than 600 stores nationwide, this will be the first within an hour of the Shenango Valley.
However, Italian ice is not something new to Sarandrea. He grew up in New York City around a chain called "Ralph's Famous Italian Ices."
The franchise's expansion was limited to New York and New Jersey, despite the business' popularity.
"All the ices were made in one central location and then sent out, so they could only be located in a two-and-a-half hour radius," he said. "With Rita's, we can make everything on-site."
Sarandrea said the new location will help expose residents to not only Rita's product quality, as the ice and custard will both be made on-site every day — the variety of the flavors will stand out as well.
Rita's offers ice in 64 flavors, although only 16 or 18 will be available at a time. The custard will also be available in four flavors, including vanilla, chocolate, a vanilla-chocolate mix and special flavors, such as salted caramel or coffee, that also could be rotated over time, Sarandrea said.
Customers will have a say in availability, he said. There will be a soft opening May 15, followed by a grand opening in June, when residents will be able to tell management what ice flavors of ice they like.
"When we do the grand opening, the ices will be free, so people will have the opportunity to sample over 60 flavors of ice," he said. "They could try an ice flavor like the Jolly Rancher flavor, or the mango or the root beer flavor."
Location is expected to be a major factor in the business' performance, as Rita's location along East State Street will provide not only accessibility and visibility to passing traffic, but nearby anchor stores, such as Kraynak's or Giant Eagle will also draw potential customers, Sarandrea said.
However, there are other ways Rita's will be visible in the community — Sarandrea has approached Hermitage Little League about sponsoring a team.
Aside from his own family members, Sarandrea expects to hire about seven more employees for the opening. To find workers, Sarandrea said he plans to reach out to local school districts for recommendations.
"We want to be something that people will enjoy and look forward to coming to — that's what the hope is," he said.
Like David L. Dye on Facebook or email him at ddye@sharonherald.com.