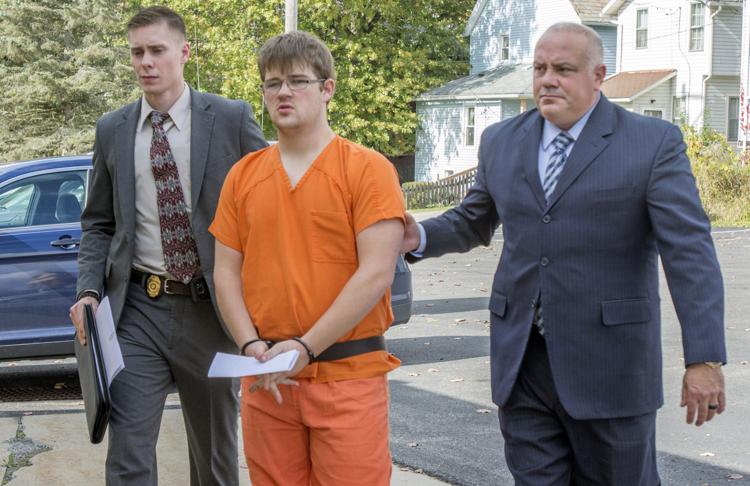 MERCER – Two men convicted of robbing a Greenville man in 2017 testified Thursday to the events of that night, including the death of their co-conspirator.
Seth Louis Hamilton, 19, the victim of the robbery, was charged with first-degree murder in the shooting death of Zachary Cutshall, 19, of Fredonia, on Oct. 26, 2017, in Fairview Township. He has been in Mercer County Jail since that day.
Pennsylvania State Police investigators said Cutshall, Jacob Winchester Barger, 21, and Dominic Joseph Heasley, 24, both of Greenville, conspired to rob Hamilton in the early morning. When it was time to carry out the plan, the robbery went bad and ended with Hamilton shooting Cutshall.
"This was still a robbery in progress, and (the shooting) was justified because the robbers hadn't gotten away yet," Defense Attorney Jack Cline said. "And I think that's what the evidence will show."
Mercer County District Attorney Peter C. Acker disagreed.
"Our position is that (Hamilton) is a cold-blooded, first-degree murderer," Acker said.
Barger and Heasley have since been convicted of the robbery. Heasley was sentenced to two years house arrest and eight years probation. Barger was sentenced to one to two years in jail followed by eight years probation.
Both men are out of jail and testified at Hamilton's trial Thursday, giving similar accounts of the events of that morning.
The men testified that they, along with Cutshall, brainstormed a plan to rob Hamilton because he owed Cutshall money.
With Barger driving, Heasley in the passenger seat and Cutshall in the back, the trio picked up Hamilton with the guise of taking him to Greenville to get marijuana.
According to Heasley, when Barger pulled over into the State Game Lands 294 pull-off on Delaware Road, the two men in front got out of the car to urinate, which was a signal that the robbery was to start.
Heasley and Barger testified that they got back into the car when Cutshall pointed a type of air gun at Hamilton and demanded his belongings. He took Hamilton's iPhone and a drawstring bag and told him to get out of the car.
At that point, Barger said Hamilton got out of the two-door sedan, but when he went to pull the door shut, Hamilton stopped it with his arm and asked him if he knew about the setup.
Then Hamilton, by his own account in a video with state police played by the prosecution Thursday, said he shot into the car twice, aiming at Cutshall. One bullet hit Cutshall in the neck, police said.
Barger said he then threw the car into reverse and, seeing Hamilton in the rear view mirror, ducked and slammed his foot onto the gas. Hamilton said he fired three more shots at the car, which police said blew out the back window and grazed Heasley on his left side.
Barger reportedly hit a tree but kept going because Cutshall leaned forward and said something to the effect that he was shot and "this is the end," Barger testified.
Barger drove to the parking lot of a business in the 1400 block of North Perry Highway while Heasley called 911 and waited for authorities to arrive.
Barger and Heasley were originally charged with second-degree murder along with the robbery because Cutshall was killed during the commission of a felony. Their murder charges were dropped a month later, with former district attorney Miles K. Karson Jr. stating that a felony was not in progress.
The prosecution rested Thursday, and the defense put two psychologists on the stand in the afternoon.
Closing statements are to be heard today.
Follow Melissa Klaric on Twitter and Facebook @HeraldKlaric, email: mklaric@sharonherald.com.