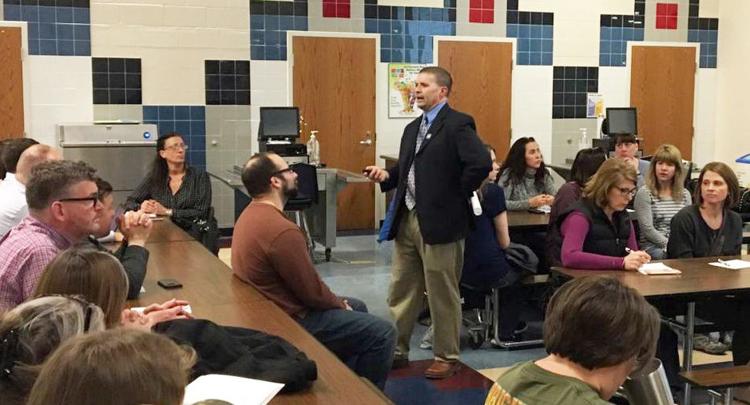 SHARPSVILLE — When it comes to safety at Sharpsville schools, Superintendent John Vannoy said it is important for the students and staff to know what to do if there were ever an active shooter.
This is why for the last four years, the students and staff of the Sharpsville Area School District have undergone ALICE training, including drills with the Sharpsville Police Department, Vannoy said.
"The goal when we started in the spring of 2015 was to get as comfortable with an active shooter drill as a fire drill," Vannoy said. "I hope, hope with all hope, that we never have to put it into operation, but I can't say enough nice things about how the students and staff conduct themselves during the drills."
ALICE means "Alert, Lockdown, Inform, Counter, and Evacuate," instead of the lockdown and shelter-in-place approach previously used by many school districts, including Sharpsville, according to a press release.
But even if the students and staff never have to use their training — as Vannoy hopes — incidents such as shootings aren't restricted to school campuses, and can happen in any public place with large gatherings of people, such as the 2017 Las Vegas shooting or the more-recent shooting at a Walmart in El Paso, Texas.
This is why the district will host its second night for community ALICE training. Regardless of whether they're a parent with children in the school district, members of the community-at-large will be allowed to attend and receive ALICE training that can be used in a variety of settings, Vannoy said.
"Whether it's a house of worship or the business world, its principles apply across very different venues in the community," he said.
The first hour of training will be largely information-based, explaining the principles of ALICE and topics such as situational awareness. The second hour will be more hands-on as attendees will be able to see ALICE training used in different scenarios, Vannoy said.
Last year, the community ALICE training night drew about 30 people, though Vannoy said he hopes to see a larger attendance this year.
"The optimist in me says 'that's 30 more people that now have the training,' while the pessimist in me says 'why isn't the auditorium full?'" he said.
Like last year, Vannoy said the Sharpsville Police Department has been invited to the event, while the school district's school resource officer will be in attendance as well.
Having served as an SRO since the beginning of this school year, Sharpsville police officer Dean Toth has already made his present felt in the district through activities such as being a guest speaker to the high school forensics class to reading "I'm not scared... I'm prepared!" with the third-graders, Vannoy said.
"I think he has a great rapport with the students and staff. He's been very visible, and he's been in the classrooms as both presenter and guest," he said.
THOSE who wish to attend are asked to RSVP by Nov. 11 by calling 724-962-8300 ext. 4101.