HUBBARD, Ohio — As students near their high school graduation, it's not uncommon for students to worry about their post graduate plans, such as applying to college or finding a job — but West Middlesex senior Hunter Tice said that won't be an issue for him.
As a participant in the West Middlesex Jr. Sr. High School's manufacturing internship program, Tice spends about three-and-a-half hours each day at Kilar Fabrication in Hubbard, Ohio, helping to assemble rollback tow trucks.
Though he's gotten used to working with the other employees in the shop, Tice was greeted Tuesday morning by officials from Kilar Management and the West Middlesex Area School District, along with his own family members — who presented Kilar with a cake and a $599 signing bonus from the school district.
"It was definitely a surprise," Tice said.
Tuesday morning's celebration marked the first student who will "graduate" from the school district's manufacturing internship program, which aims to introduce students to manufacturing jobs in the area and ideally line up students with local, well-paying employment.
In Tice's case, he said he plans to stay on with Kilar Fabrication after he graduates on June 3.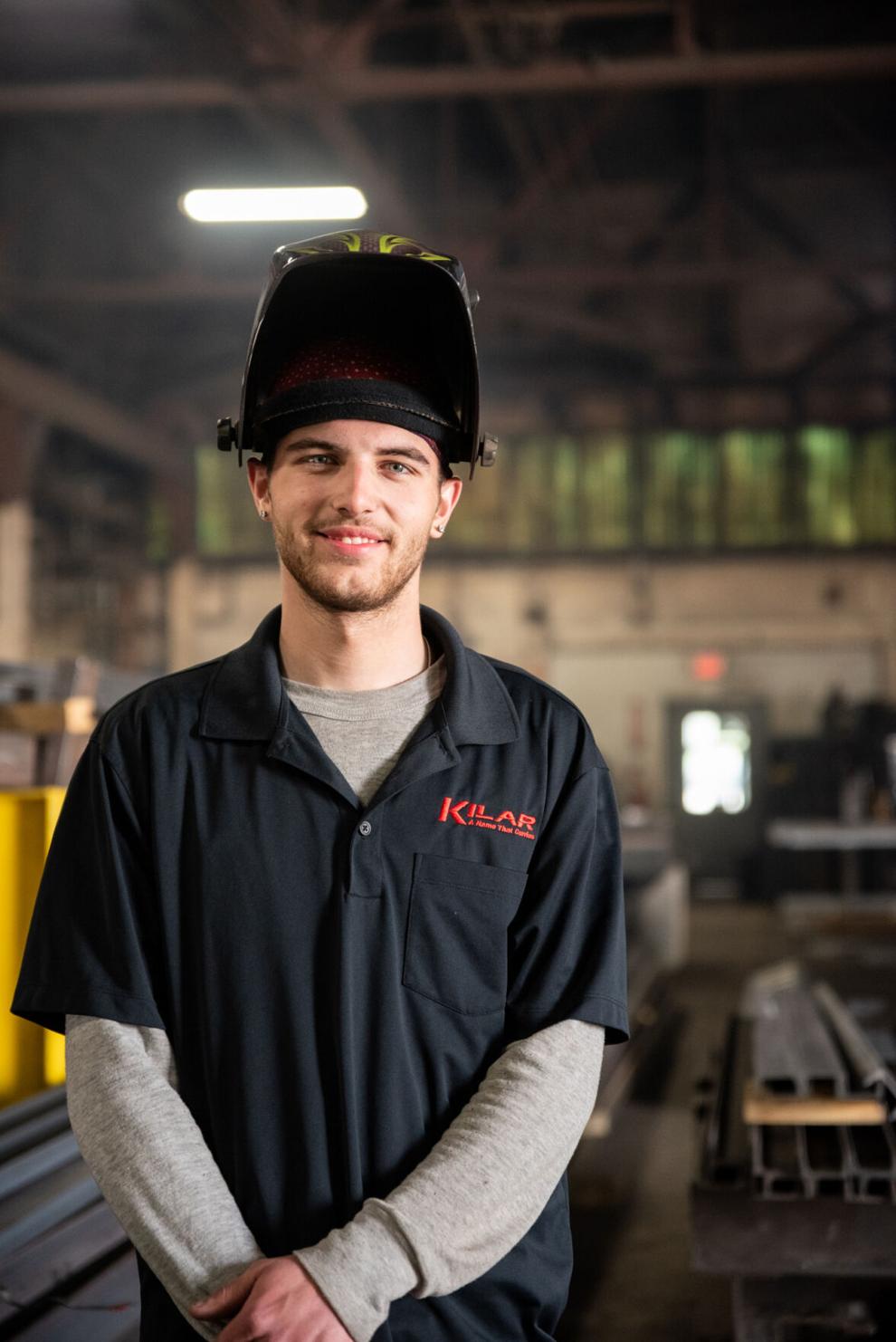 The manufacturing internship program, which is open to grades 10 through 12, first got started in early 2020, when officials from the West Middlesex Area School District met with local business leaders to discuss what employers would like to see from students and how the school district could help meet those needs.
The manufacturing internship program allows students to work at a local business as part of their school day, where the students can earn class credits while simultaneously receiving real-world experience. This way, students are prepared for the workforce before they graduate grade school and local employers can potentially find new hires.
The program was temporarily put on hold due to the onset of the COVID-19 pandemic, but the school district was able to get its first students enrolled in the program during the 2020-21 school year. Teacher and Career Coordinator Christen Jones said the program first started with two students, and the program grew to six students throughout the past school year.
Kilar Fabrication already had some experience working with local youths, such as cooperating with the Hubbard school district's vocational program to attract high school students to the field and offering trade scholarships for Hubbard seniors. A similar internship program was once in place with Brookfield schools as well, said Bill Kilar of Kilar Fabrication.
However, the last 10 to 15 years saw a decrease in students interested in the trades, despite business at Kilar Fabrication being otherwise good. The company produces about 350 rollbacks in a normal year, while Kilar said the company has orders for about 450 this year.
"I'd say for about the last 20 years, that business cycle hasn't stopped for us," Kilar said.
Existing efforts aimed at giving back to the community and introducing youth to the trades were usually aimed at their local area in Ohio, but Kilar said the company became aware of West Middlesex schools' internship program last year and wanted to participate.
Tice was already interested in welding from his experience at Mercer County Career and Technical Center. He decided to look into the internship program last November.
Despite some initial nervousness, Tice said he was more optimistic about the program after a visit to Kilar Fabrication, where he had a chance to meet the company's management and learn what he would be doing.
"It's different from being in a class," Tice said, "Because there's different ages of people here and different levels of experience, but they're really interested in working with younger people."
While Tice said he was glad to receive real-world experience as a student from coworkers willing to help him, Kilar said he appreciated the efforts of the West Middlesex school officials to introduce their students to the trades and to have Tice serve as a success story for Kilar Fabrication and the internship program.
"It's been a pleasure having Tice here, and it's been a pleasure working with the people from the school district," Kilar said.
Tice likewise recommended the manufacturing internship program for other high school students interested in the trades or unsure about their post-graduation career.
"Don't be afraid to try something different," Tice said.
Jones said other students involved in the manufacturing program have also spoken positively on their experiences thus far.
"They love it," Jones said of the students.
Like David L. Dye on Facebook or email him at ddye@sharonherald.com.