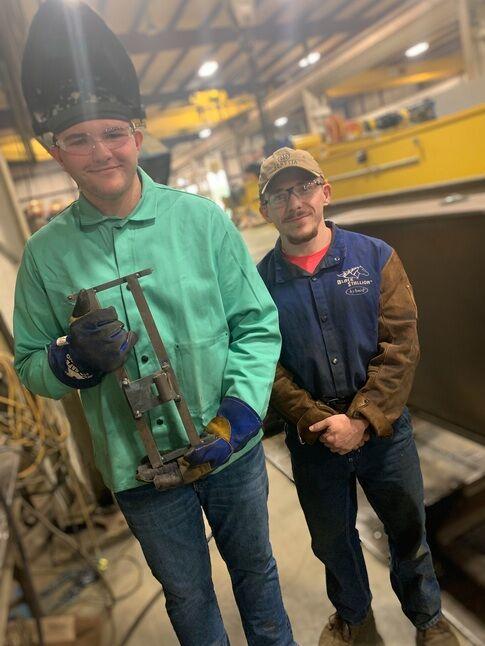 WEST MIDDLESEX — Still a high school junior, Kyle Hurley ends his days not at a desk in a classroom but practicing welding at G.W. Becker, Inc.
For his final "class" period, Hurley spends an hour and a half to two hours a day at the Hermitage-based company, where he is able to learn a trade through the West Middlesex Area School District's manufacturing internship program.
Though he works on side projects instead of products for actual customers, Hurley said learning alongside real employees at an actual company has been an enjoyable experience that will benefit him in his post-high school career — he's even working on a welding certification.
"I've always loved working with my hands, and it's especially great being able to get that experience before I graduate," Hurley said.
The manufacturing internship program places West Middlesex students like Hurley with local manufacturing businesses, providing both the students with real-life experience for the workforce and local businesses with potential future employees.
Back in February, school district officials met with business representatives to promote the program and accept input on what local employers look for in potential interns.
The program was making "great strides" with local companies, students and economic development partners until the COVID-19 outbreak hit. The pandemic restrictions meant the district could not send students into the workforce and companies could not take outside visitors, said Christen Jones, career coordinator at West Middlesex Jr. Sr. High School.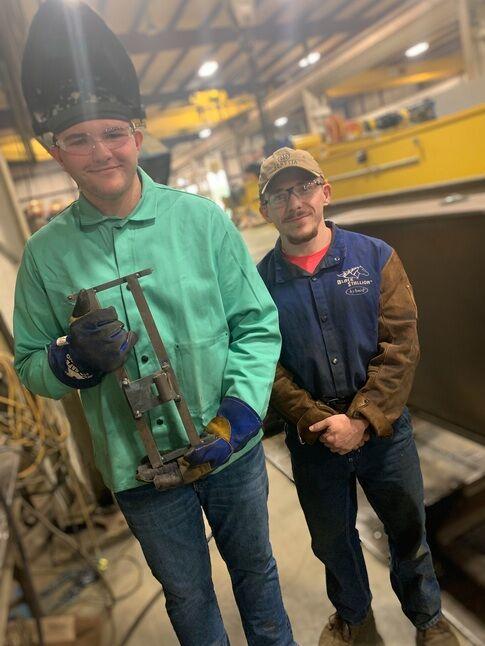 School officials continued to touch base with those businesses over the next few months, although many companies had to postpone or restrict their involvement due to a downturn in demand for work from their existing employees.
However, one company — G.W. Becker, Inc. — was willing to continue the partnership starting July 1, when the state eased restrictions on schools, Jones said.
Hurley's said his involvement in the program began last school year — before the COVID-19 pandemic — when shop teacher Chuck Spangler introduced the then-sophomore to the internship program. Hurley then applied for the program through the school and chose the trade he found most interesting, Hurley's mother, Shanen Ondic, said.
Ondic credited school officials for realistic preparation, including with a virtual mock interview, even after the pandemic shutdown.
After applying and interviewing at the school district, Hurley and another student interviewed with G.W. Becker Human Resources Manager Aaron Smalley, who had to gauge the students based on their life experience and academic record, compared to the work experience traditional interviewees would present.
Once the interview was complete, the students were set to start "working," with Hurley learning welding and the other student operating a saw. Even though this was the students' first internship in a manufacturing setting, Smalley said they were very respectful and hard-working when it came to learning their trades.
"These guys came in and showed their value — they want to work, they ask a lot of questions, they're trying to learn and they do it, so they earned the guys' respect," Smalley said of the students. "Anytime I go out and ask how the kids are doing, the guys tell me 'They're doing really good.'"
Hurley said the employees he works with have been very helpful and they make sure to tell him "good job" when a project is done correctly or offer tips for next time if he makes an error.
"I was kind of nervous at first that they'd look at me as the little guy on the pole, but they've definitely been very supportive," Hurley said.
Though he enjoys welding, Hurley said he is also interested in carpentry and HVAC systems, and he may look at participating in those trades through the internship program going forward.
Smalley said he is pleased at G.W. Becker's involvement with West Middlesex. The manufacturing internship program offers a relatively small commitment for the company, especially with the program's potential benefits.
The program teaches students the qualities an employer looks for in employees and could provide a future employee for the company, he said.
"When you get a kid who's never worked anywhere, they're moldable in terms of learning those soft skills, working on time and having the proper work ethic, whereas a guy of 20 years may have some habits that are hard to break," Smalley said.
Along with the two students at G.W. Becker, West Middlesex has a student interning at Shenango Steel Buildings, and two more students at Kilar Fabrications, Jones said.
While participating in the program, students earn a half credit per nine weeks for 40 hours of work completed during those nine weeks, with a maximum two credits per year as juniors or seniors. Students can work more than that, as is agreed upon with the employer, Jones said.
"From the students to the parents to the community to the companies, we have heard nothing but positive feedback," Jones said.
The program is winning converts outside the district. Rod Wilt, executive director of the Penn-Northwest Development Corporation, said he would reach out to the organization's board members to help attract additional business partners for West Middlesex.
While the program benefits participating students, Wilt said the internship program provides an opportunity for local companies to find and train potential employees for positions that might otherwise be difficult to fill.
"Everyone's looking for qualified or even non-qualified workers that have good wake-up, show-up skills, can be on time and are ready to work or be trained," Wilt said.
As involvement increases with more successful transactions between the district and business community, Wilt said the West Middlesex internship program could serve as an example for other school districts across Mercer County.
"It takes a forward-thinking group of administrators to develop a program like this, and I think they have that at West Middlesex," Wilt said.
Like David L. Dye on Facebook or email him at ddye@sharonherald.com.