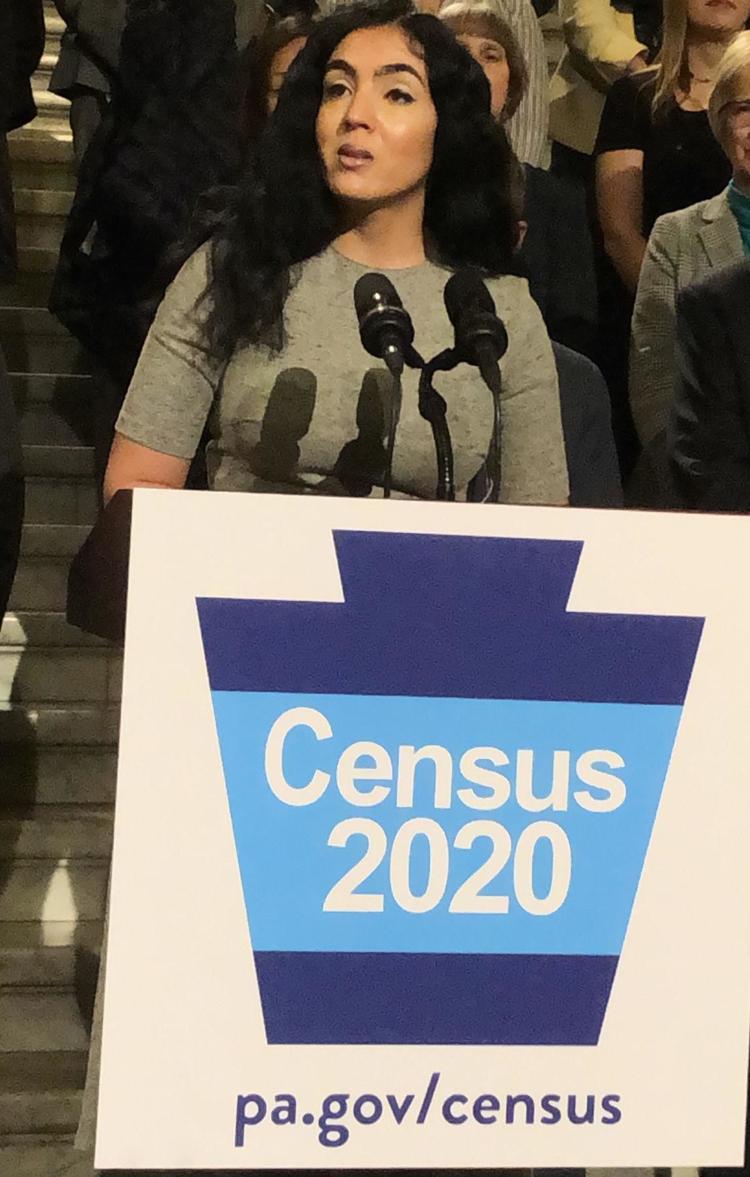 HARRISBURG — Pennsylvania Second Lady Gisele Fetterman will lead a series of town hall meetings across the state in the coming weeks to draw attention to the need to get as many people counted in the U.S. Census as possible.
Fetterman, the wife of Lt. Gov. John Fetterman, was born in Brazil and came to the United States as an undocumented immigrant at the age of 7, she said. She became a U.S. citizen in 2009, Fetterman said.
An accurate count of state residents is important because it determines how much federal funding the state gets, along with the number of seats the state holds in Congress, said Norman Bristol Colon, executive director of a census commission created by Gov. Tom Wolf to work toward an accurate count in the state.
The official Census Day is April 1. The U.S. Census Bureau will begin mailing notices to homes across the country in "mid-March" to alert people to participate in the census, according to the Bureau. People can complete the census online, by mailing in the form or by phone.
Fetterman said that when she was a child, her mother often warned her to "be invisible," in order to avoid drawing attention to herself, because she was undocumented. But she added her mother always insisted on completing the census form in order to ensure the census fully captured the population of the community where they lived.
"Having spent my career working to address issues of equity, I understand how the individuals at the greatest risk of not being counted are the same ones who would be disproportionately affected by an inaccurate count," Fetterman said.
Her tour stops will include Philadelphia, Centre, Erie, Allegheny, Lancaster and Luzerne counties.
Pennsylvania has 18 seats in Congress, but it is one of 10 states expected to lose a seat due to population shifts, according to a December analysis by Election Data Services, a Washington, D.C.-based consulting firm focusing on redistricting issues. Other states expected to lose a congressional seat include Alabama, California, Illinois, Michigan, Minnesota, New York, Ohio, Rhode Island and West Virginia.
Arizona, California, Colorado, North Carolina and Oregon are expected to gain single seats. Florida will likely pick up two seats and Texas, three.
While state officials pointed to the role the census plays in determining the size of the state's congressional delegation, they didn't suggest that a more accurate count could prevent the state from losing a seat after the census.
Mike Gerber, a spokesman for the Department of Community and Economic Development, said officials are simply trying to ensure the count is accurate.
That has dramatic implications for the amount of federal funding the state receives, which amounts to about $2,000 per person each year, said Jerry Oleksiak, secretary of Labor and Industry.
Based on that estimate, undercounting just 1,000 people would cost the state $2 million a year, he said.
That funding includes:
• The Nutrition Services component of the Older Americans Act, which uses census data to direct more than $31 million for Nutrition Services for older Pennsylvanians.
• More than $1.68 billion in funding authorized by the 2015 Fixing America's Surface Transportation Act, the largest portion of it designated for maintenance of national highways and construction and repair of bridges and other highway facilities.
• More than $365 million allocated to the Children's Health Insurance Program.
• Education assistance, including more than $5 billion for Federal Direct student loans, $840 million for the Federal Pell Grant program, $567 million in Title I grants for schools and $436 million in special education grants.
• Funding for six programs targeting rural communities amounting to $760,728,267, including loans for housing, assistance for water and sewer systems, rural electric loans, rural rental assistance, business and industry loans targeting rural communities and funding for the Cooperative Extension Service.