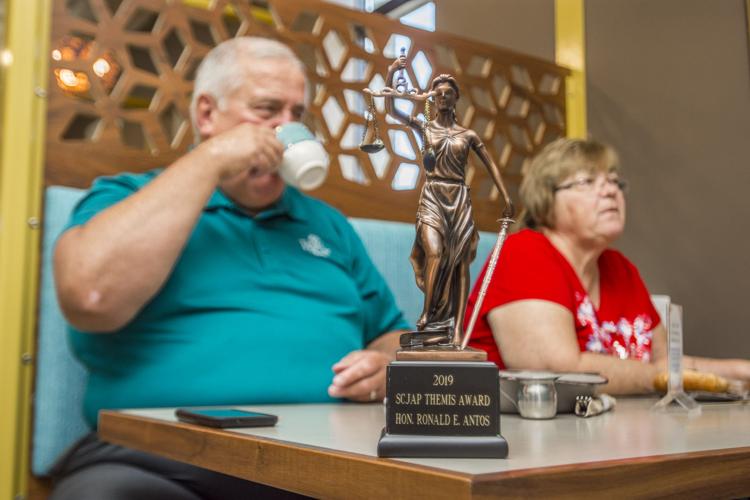 Senior District Judge Ronald E. Antos received a distinctive birthday present last month.
The Special Court Judge Association of Pennsylvania awarded him the Themis Award, a lifetime achievement award presented to district judges who display outstanding achievement and exemplary performance to the legal community and the association.
Antos received the award in a ceremony held on his birthday.
Antos, a former Hermitage police officer and city resident, served as Farrell's district judge for 13 years until his retirement at the end of 2017. He said the award took him by surprise. 
"Obtaining a Themis Award is very humbling for me," he said. "It's something you don't expect."
Even though Antos is retired from his regular gig in Farrell, he's still very active. As a senior district judge, he fills in for district judges in Mercer County. With the association, he has served in a variety of roles, including chairman of the education, legislative and security committees.
"It's giving to the association to make district judges better," Antos said. "I work as much as I can and do what I can for the organization to maintain the strides we've made and help sitting judges and those coming in to be new judges."
As a member of the education committee, one of his responsibilities includes leading instructional sessions for incoming judges to explain the nuances of what a district judge does.
"You have people from all walks of life who don't have a clue what some of these things are," Antos said. "People elect you in that district to do that job and make the best decisions with the knowledge you have."
Antos also works to promote the professionalism of the district judge position.
"I'm there for the good of the order, trying to make the organization better," Antos said. "My obligation is to continue to do that."
During the award ceremony, Antos received a standing ovation — and a chorus of "Happy Birthday To You" from about 200 people at the event. He said receiving the award was overwhelming
"It's a very humbling experience to receive the award," Antos said. "I'll do the best that I can to assist in any way in the organization and keep putting out good district judges."