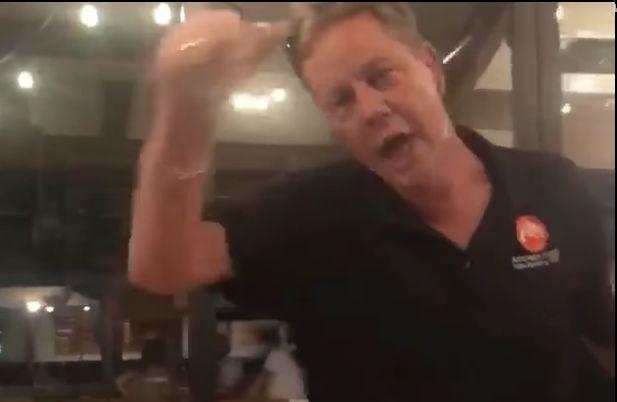 SHARON – The head of a Sharon digital marketing company resigned as CEO after viral videos showed him on a racial-slur-laced tirade at a California bar, a company spokesman said Friday.
Viral videos taken Tuesday showed Jason Wood, named on Actionable Insights' website as a founder of the company, using racial slurs in a Fresno, Calif., bar when bartenders refused to serve him more alcohol after he was already intoxicated.
In a statement issued Friday, officials of Actionable Insights, based in Sharon, announced that Wood resigned as CEO, effective immediately.
"This is a direct result of his unacceptable actions which are not representative of our core values," the company said in the statement. "During this time of progressive social change, we are committed to ensure our company embodies a spirit of equality and respect for all people. On behalf of Mr. Wood and Actionable Insights, we extend our deepest apologies."
The video showed Wood, identified in media outlets as a Florida businessman, directing a tirade at Rebecca Hernandez, a bartender working at Out of The Barrel, a Fresno bar. Another bartender recorded the confrontation.
Wood apologized in California media outlets, and the company's statement Friday included an apology on his behalf for his treatment of Hernandez and other Out of the Barrel employees.
But Hernandez told The Herald Friday in a phone interview that she isn't swayed by the corporate statement.
"I do not accept the apology,'' she said.
Hernandez said she doesn't harbor any bitterness against Wood. Rather, she thinks the company-issued statement lacks sincerity on his part.
"I know that he has spoken to other news organizations and has apologized,'' Hernandez said. "But he hasn't reached out to me. It's very easy to use words in a statement. It's another thing to come forward and apologize to me face-to-face. If he came forward and personally apologized to me, I would consider accepting it.''
A message left Friday for Wood at the company's Sharon office wasn't returned.
Bill Anderson, listed on Actionable Insights' webpage as the company's chief operating officer, said he had assumed the role of CEO.
When asked if Wood maintained the post as the company's president, if he was still working for the business and if he had any ownership position with Actionable Insights, Anderson responded to all three questions by saying, "We are totally separated.''
While at the bar Tuesday evening, Hernandez said, Wood didn't wear a mask and said he didn't believe that COVID-19 existed. A co-worker took a video of Wood during his interaction with Hernandez. Wood's rambling became more heated and hateful after she refused to serve him another beer.
"He offered to give me $100 and then $200 to serve him another drink,'' Hernandez said. "I told him that I couldn't.''
When the bar began closing at 9:30 p.m. Hernandez said she told Wood he needed to leave.
As he began walking to the exit, Hernandez said Wood turned toward her and said, "I'm going to ruin you life, and I'm going to ruin this bar too.''
Hernandez said Wood's ranting hurt her emotionally.
"I went into the bathroom and cried for five minutes,'' she said. "But I take a lot of pride in my work. I wasn't going to abandon my co-workers. I helped close the bar with them.''
After arriving at her home Hernandez said she had another emotional breakdown.
"I cried a lot,'' she said. "There was anger, sadness and lots of other emotions. The heavy weight of this happens every day to people of color all over the world.''
The 28-year-old who enjoys outdoor adventures said she's Latina and comes from a family with six other siblings.
"Among all the children I have the darkest complexion,'' Hernandez said. "Grown men and women came up to my parents and asked if I was adopted. I learned early on I was different.''
Hernandez said she often hears people make disparaging remarks.
"Every day, almost every single day I see the aggression directed towards me,'' Hernandez said. "Whenever I grab avocados in a grocery store someone will tell me I must know a lot about them and ask what's the best way to pick them, or some other really ridiculous things.''
Wood's tirade, which was captured on video and went viral, should serve as a lesson for other business leaders, said Sherris Moreira, executive director of the Shenango Valley Chamber of Commerce in Sharon. Business owners and company executives often don't realize that acts and statements they or others post social media sites can come back to haunt them.
"In the past, people could say things and put it out there with nobody questioning it,'' Moreira said. "We're in a different world now. This is a period in time where people are questioning things.''
Personal thoughts posted online, she said, can quickly become associated with someone's business.
Last month, a worker at Tony's Pizza shop in Sharon posted a Facebook statement that included the racially charged phrase "when the looting starts, the shooting starts." Protesters responded to the social media post by picketing outside the pizza shop.
"What you're putting on social media becomes your personal brand,'' Moreira said. "You don't have to be famous, your public social media connects your brand where you work.''
She said the chamber is planning a webinar or similar event later this summer to instruct business leaders about how social media can affect their brands.
Hernandez said her boss, co-workers and friends rallied to support her after the encounter with Wood and that she's determined not to be changed by the experience.
"I have a passion for many things in life,'' she said. "Anyone who has met me knows that I will showcase my love for people.''