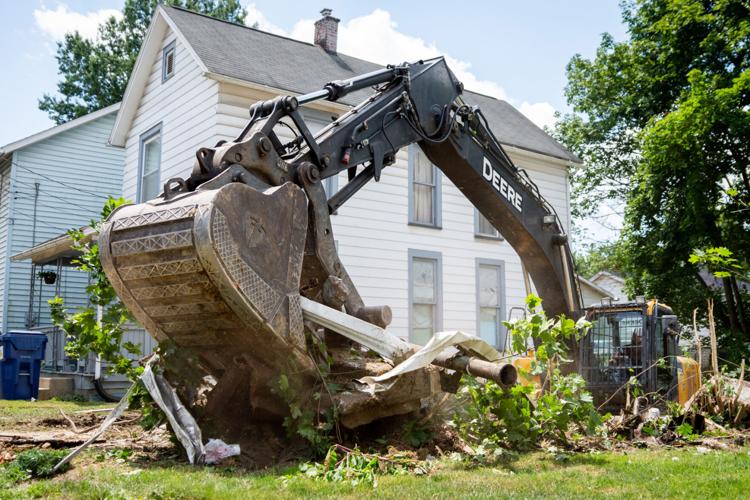 SHARON – City officials plan to demolish 21 houses in the next two weeks and disconnected electric service to abandoned houses in Sharon's fight against blight.
All of the houses affected by the electric disconnect order are beyond rehabilitation, city Manager Bob Fiscus said.
"We have a limit on our ability to level houses," Fiscus said. "We're looking into having council pass an ordinance that if the house is deemed vacant, the power will be turned off."
The city is working with Penn Power, which will disconnect dangerous buildings from the power grid. 
Part of the city's fight against blight includes razing the houses in a particular neighborhood with Community Block Development grants. 
Sereday's, a Brookfield-based contractor, started demolition of buildings last week on Sharpsville Avenue and has made its way to Fourth Avenue. But the process is experiencing delays at the state level, said Melissa Phillips, the city's community development director.
"We also anticipate another round of demos likely to be approved at the September (council) meeting," she said. "We're starting to see the impact of COVID delays in the current round of demos. The State Historic Preservation office is held up."
The next round of demolitions will deplete the city's CDBG funding, Phillips said. 
Work in the targeted neighborhoods is almost complete, Fiscus said. 
"Every vacant and dilapidated house is gone in that area," he said. "We still want 20 to 25 to come down every month."
At the next city council meeting, Aug. 5, city officials will discuss how to move forward with demolitions in certain spots or in targeted neighborhoods.
"It makes sense to look at a targeted neighborhood and also picking off other houses in addition to applying for grants," Fiscus said.
One of the properties Fiscus suggested is the now-closed Zoo bar on North Water Avenue. The city also has scheduled emergency demolitions of fire-damaged houses on Hillcrest Street and Jefferson Avenue.
At its last meeting, council discussed demolition and the Lots to Love program, which provides incentives for residents or the city to develop vacant properties where dilapidated buildings have been demolished. 
"If we're going to do Lots to Love, if you want the house next to you torn down and you will take care of the property, then you should be at the top of the (demolition) list," Councilwoman Molly Bundrant said.
Right now, the city is moving demolitions at a fast pace, Fiscus said.
Phillps said the city and private sector are working together to attack the list of blighted structures.
"We have a contractor developing a rubric to prioritize which houses come next," she said. "We're looking at safety and really putting heavy priority on approved side lot owners. If a neighbor next door qualified, it makes sense to tear down that house."
Follow Melissa Klaric on Twitter and Facebook @HeraldKlaric, email: mklaric@sharonherald.com