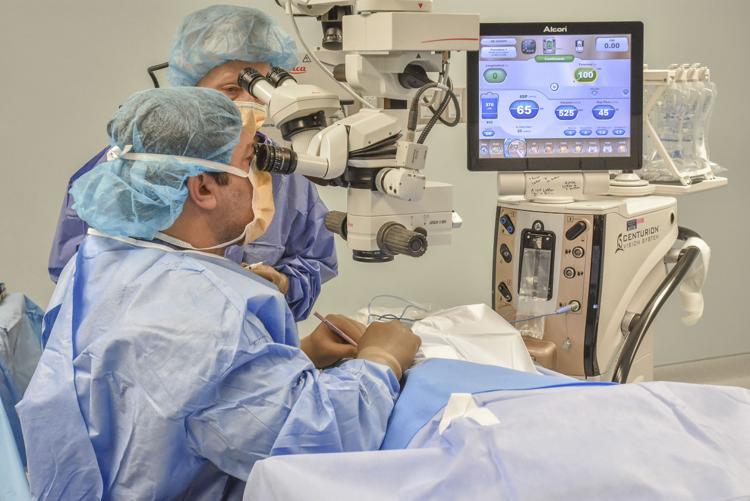 BROOKFIELD – Gary Revale can finally see things clearly now – and he doesn't even need his Coke bottle lenses to do it.
On Wednesday, the 61-year-old Sharon native became just the third patient in northwest Pennsylvania, and one of the first in the entire nation, to receive a recently approved cataract surgery, which uses cutting edge lens technology called PanOptix Trifocal IOL.
"I've worn severe prescription (glasses) since I was 6," Revale said. "And now, not needing them – it's just a whole different ball of wax."
Hermitage native Dr. Christopher Joseph, who runs the practice Joseph Eye & Laser Center in Brookfield, performed each of the region's first three procedures.
Joseph said that patients were previously forced to compromise on the vision they would have after cataract surgery. Patients could choose between good distance, near or intermediate vision, but until now, they could never have all three at once.
"It really is revolutionary," Joseph said. "And it's been a home run so far."
The cataract surgery itself only lasts about 10 minutes, but Joseph said some fairly extensive preoperative testing is required to ensure a patient's candidacy for the procedure. Macular degeneration and severe glaucoma are automatic disqualifiers, he said.
During surgery, patients are under a "twilight sedation," which means they are awake but numb to any pain or discomfort from the procedure.
Revale said the most painful part of his procedure was the soft prick from the IV in his arm.
"It was just unreal," he said. "Every surgery is serious, but this wasn't something to be feared."
Revale had the surgery done on one eye and plans to have the other eye done in the near future. He said his head was a bit fuzzy from the sedation when he left the operation room after the procedure, but his vision had already noticeably improved.
Three days later, Revale rated the clarity in his eye "close to a 10 out of 10."
"I can see the bulletins that run across the bottom of the TV now," he said.
Joseph said medical insurance covers most of the procedure, but the lens itself must be paid out of pocket. The total price for both eyes is roughly $1,500, he said.
The PanOptix technology has been available in Canada and Europe for roughly three years, and was approved in the United States late last month. As a doctor who prides himself on being at the forefront of the latest technologies, Joseph said he was counting down the days until the lenses were finally available in the states.
"Oh I was pumped," he said. "I kept asking (the PanOptix sales representative), 'when can I get my hands on it?'"
Joseph compared technological advancements in cataract implants similarly to the difference between an iPhone and the first computer, which often needed an entire room's worth of space for storage. And the Kennedy grad said he is proud to be able to offer the most advanced technology to the folks in his hometown.
"Any (ophthalmology) procedure you can get done in L.A. or New York, you can get done right here in your backyard," he said.