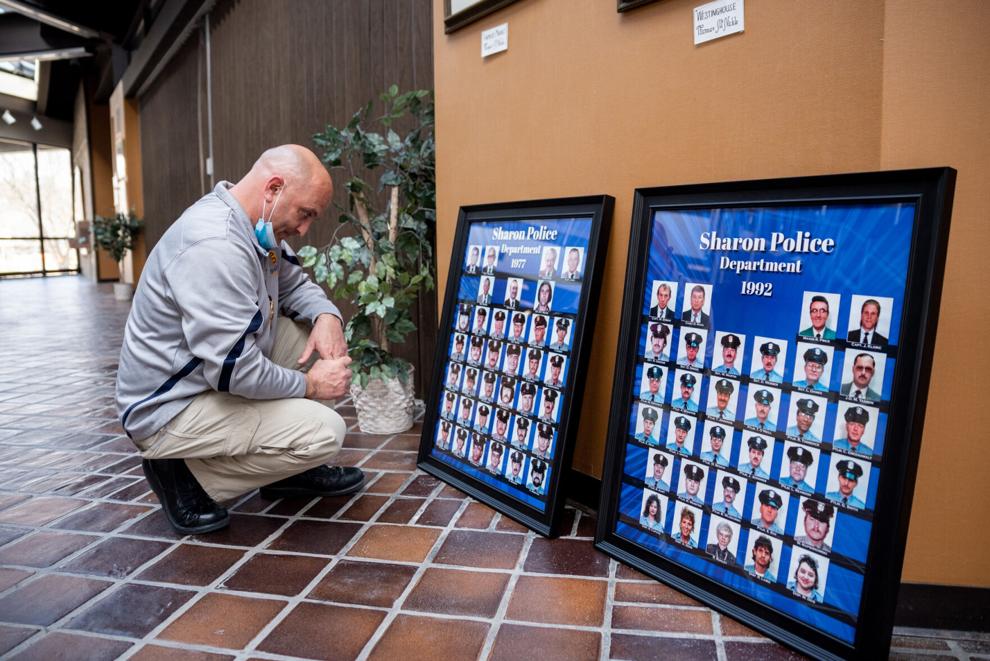 SHARON – Police Chief Edward Stabile inherited the history bug and decided to combine it with his profession as he chronicled the Sharon Police Department.
Stabile is the department's unofficial historian. He thinks he gets the bug from his grandfather, Ed Hyde, who was born in 1910, worked at Hyde's drug store in downtown Sharon, and retired from his hometown newspaper, the Sharon Herald.
Stabile finally decided, after years of wanting to capture a piece of the history of the Sharon Police Department, to frame individual photos of officers from 1977, 1992, 2014 and 2020.
The PD took the individual pictures of the officers who worked in Sharon during those years that were taped to a bulletin board and digitized them. Sharon Commercial Printing then created a background and printed them out, and the Framing Loft in Hermitage framed them by year. They will find a place inside the department in the near future.
"I think a lot of it has to do with us hoping people don't forget that we actually worked here," Stabile said.
And he and his second in command, Capt. Travis Martwinski, have not forgotten the men and women who came before them.
Stabile and Martwinski both agreed that times have certainly changed since they started at Sharon PD.
Stabile became interested in devoting his life to policing while discussing it with a friend. He decided to take the test and was hired in Sharon in 2000, at the age of 21. The department sent him to a local police academy.
"If I would've had to quit my job and school and go to the police academy, I could never afford to do it," Stabile said. "Then come out and potentially get a job."
With the police academies being far away in Pittsburgh and Erie today, it is almost impossible for a Sharon man or woman to attend the academy while holding down a full-time job. That's part of the reason there are only two "home-grown Sharon boys" in the department at this time.
"That's where everyone is missing right now, especially with the police academies far away," Stabile said. "It's something that's really hurting us and our whole industry."
Martwinski went part-time to the academy when he decided to become a police officer. He attended a local academy for one or two days a week in the evenings and all day Saturday.
"I had a wife and kid and I was working full-time midnight," Martwinski said. "We're fortunate they had the police academy in Neshannock."
Martwinski started out his law enforcement career in Sharon when he was hired in 1994. He is retiring this month.
Martwinski's son, Anthony, followed in his father's footsteps and has been a Sharon police officer for almost two years. But this is more the exception now than the rule, according to Martwinski.
With the direction that law enforcement is taking now, Martwinski said he does not know if there are many people left who will start in one department and retire from it 30 years later.
"No mothers want their kids to be police officers right now," Martwinski said. "Once you lose the mothers, it's hard to convince people to go into this line of work. It's a tough job. It doesn't appear to be what it used to be."
Another setback is that police departments – across the nation, not just in Sharon – have less applicants than they had years ago.
Martwinski took the test alongside 160 others. Sharon just gave the test to three people. With seven people retiring in the coming months, only three people can possibly replace them, Martwinski said.
The chief and Martwinski hope more young people will decide to become police officers.
Another way the Sharon police have chronicled the department's history is with a memorial outside the municipal building for Joseph Yazvac, 23, killed in the line of duty Dec. 21, 1926.
At 3:30 a.m. when the plain-clothes Sharon patrolman noticed a car full of boisterous people barreling toward a moving train at the railroad crossing on West State Street, he stepped out and waved for them to stop, then stepped on the running board of the sedan to ask for the driver's identification.
Instead of pulling over to the curb, the driver sped off - with the officer hanging onto the side. The car made a hard left turn onto South Irvine Avenue and reached speeds of 50 to 60 mph for the next three blocks. That's when the car swerved toward the left curb in an apparent attempt to brush the patrolman off the car.
Yazvac was crushed against a fire hydrant, snapping it off and practically tearing off his left leg. The car careened to the opposite side of the street and slammed into a utility pole. Yazvac died eight hours later in the hospital. The driver and a passenger who had stolen the car both died and the four people that survived were not charged with a crime.
Yazvac joined the department Dec. 2, 1924, and was known as an efficient and popular officer, and a man of excellent character. He is the only member of the Sharon Police Department ever to be killed in the line of duty. In 1997, the city retired the badges of Yazvac and Sgt. Michael Monoc, who died in 1990 of a heart attack at an accident scene.
Yazvac's street was renamed Yazvac Place in his memory shortly after his death.
Documenting those who have come and gone, and the police officers that work there now, was very satisfying to the chief and Martwinski.
"We just wanted proof that these guys worked here," Martwinski said. "They put their time in."
Follow Melissa Klaric on Twitter and Facebook @HeraldKlaric, email: mklaric@sharonherald.com