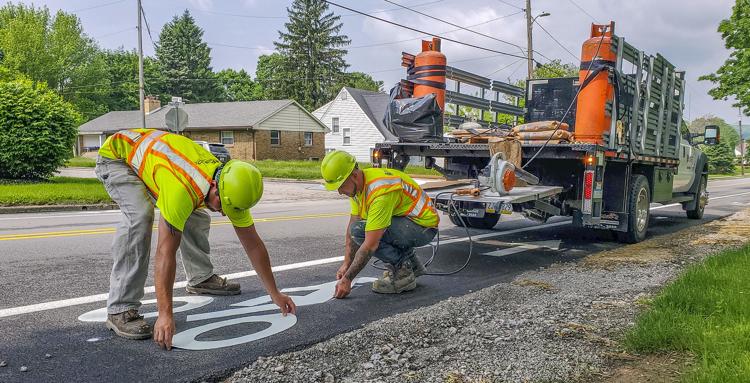 SHARON – A project to give cyclists a smooth ride from Sharon to Hermitage and into Buhl Park has reached the halfway point. 
Sharon Manager Bob Fiscus said the bike lane project spanning roughly two miles is being completed in a three-step process. 
The first step, which was recently completed, called for paving on Forker Boulevard, Thornton Avenue, Alcoma and Pearl streets, Dougherty Avenue, McDowell Street and Fairfield Drive. 
The second step is underway and includes new sidewalks and curbing on Silver Street and bike lane signage along Sharpsville Avenue. Candlestick barriers will also be installed along a stretch of Sharpsville Avenue where the bike lane will run both directions on the same side of the street. The rest of the bike lane will flow with traffic on both sides of the street.
Fiscus said the second step of the project is expected to be completed at the end of July.
In the project's final step, crews will pave Hall Avenue. Fiscus said contracts for that portion of the project will go out to bid next month, and work is expected to be completed by late summer or early fall. 
The two-way bike line, also called a cycle track, will run from East State Street to Clark Street on the west side of North Sharpsville Avenue. Around Clark Street, the bike lane will move to the road's east side and travel with traffic on North Sharpsville Avenue to Tamplin Street.
The bike lane will continue on Tamplin to Hall Avenue, and from Hall to Thornton before ending at Bechtol Avenue, according to the city's project description.
From there, Hermitage will pick up the project at the city line and continue the path into Buhl Park. 
Hermitage officials said they plan to begin work as soon as late June or early July. That project calls for converting the Y-intersection of Thornton Street and Forker Boulevard to a T-style configuration.