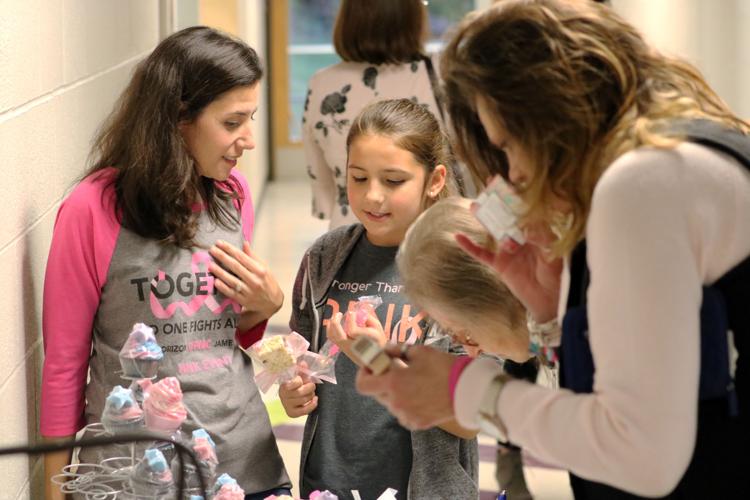 The Sharon community displayed strong support for breast cancer survivors and those still in the fight Wednesday at Sharon Regional Medical Center's third annual Ladies' Night Out event.
More than 50 women turned out for the event, held at the Hope Center for Arts and Technology, featuring medical professionals and breast cancer survivors as keynote speakers.
Breast surgeon Dr. Maryann Payne, of Sharon Regional Health System, diagnostic radiologist Dr. S. Lakshmi Perni, of Trumbull Regional Medical Center and Debra Evans, oncology nurse practitioner of Sharon Regional Health System, were the featured medical speakers. Breast cancer survivors Anne Lombardi of Brookfield, Shannon Black of Hermitage and Ngaire Peckford of Grove City shared their personal stories.
The event was intended to "bring the community together to educate them about the need for prevention, early detection through mammograms and treatment options available at Sharon Regional Medical Center," said Lisa DiMuccio-Zgela, Sharon Regional's director of marketing and community relations.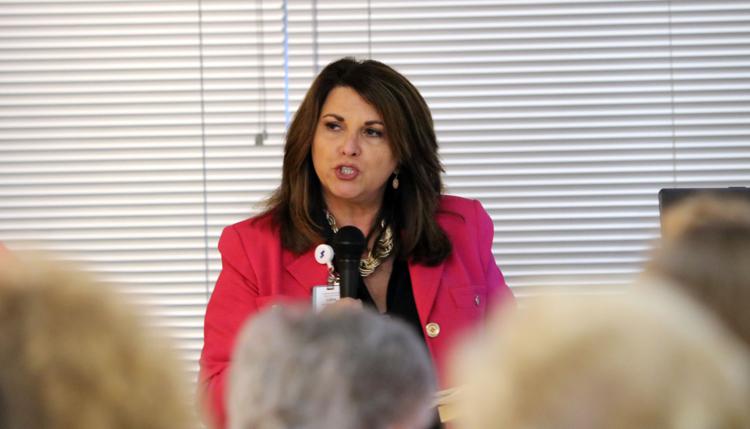 "We all know somebody who's impacted by this disease," she said.
Black was diagnosed with invasive ductal carcinoma in April and finished her last round of chemotherapy Wednesday. 
Lombardi worked as a registered nurse in the maternity ward at Sharon Regional for 33 years. She was diagnosed in February with triple negative invasive ductal carcinoma, she said. Triple negative breast cancer is among the most aggressive types of the disease.
"I've had great support," said Lombardi, who finished chemotherapy six weeks ago. "It's amazing where you find support."
Lombardi, who underwent a lumpectomy, told audience members that those diagnosed with breast cancer have a range of treatment options.
"My story's not over yet," said Lombardi, who will begin radiation treatments in November. 
One of the biggest blessings since Lombardi's diagnosis is the amount of mail she receives every day, she said. She encouraged audience members to reach out to those who may be struggling.
"Maybe buy a card for somebody, help them get through their struggles," she said.
Payne, the surgeon, dispelled several myths during her talk. She told the audience that using deodorant does not cause breast cancer and that radiation from mammograms does not increase the risk of cancer.
She encouraged women to get their mammograms annually and perform self breast exams.
"The whole goal is early detection," Payne said.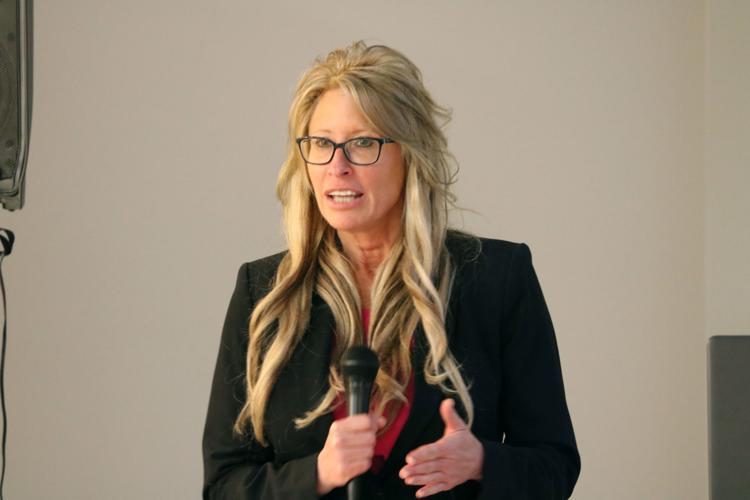 Peckford was diagnosed in April. Her breast cancer was also detected through a mammogram, she said.
She said she did not have any signs of breast cancer prior to the mammogram, and encouraged the audience to remain hopeful. 
"Don't give up the hope, Peckford said. "God is with you all."
Perni stressed the importance of finding breast cancer early.
"Breast cancer responds very well to early detection and treatment," Perni said. "Digital mammography does improve diagnosis."
Approximately 96 percent of breast cancers detected early can be treated successfully, said Perni. 
The most common cancer among women in the U.S., breast cancer is the second leading cause of cancer-related deaths, she said. 
Evans, the certified nurse practitioner, encouraged audience members to look for ways they could offer support to people living with metastatic breast cancer. 
Using an example from Fred Rogers, Evans talked about looking for helpers in times of trouble. 
"Don't just look for the helpers," said Evans. "Be the helpers," she said.
Pat Igou of Hermitage, has been a breast cancer survivor for 46 years.
"I really wanted to come and hear other people's stories," Igou said. "I learned a lot."
Marie Young of Hermitage attended the Ladies Night Out at the invitation of Igou.
"I'm here because my friend, Pat invited me," Young said, adding that she was interested to hear what the speakers had to say.
Ellen Ferraro of Hermitage, attended Ladies Night Out to get more information on breast cancer.
"Thank God no one in my family has had (breast cancer)," Ferraro said. I do mammograms every year."
Sharon Regional Medical Center sponsors Ladies Night Out annually during Breast Cancer Awareness Month in October and has partnered with Buhl Mansion for the last three years. 
Like Heidi Warren on Facebook or email her at hwarren@sharonherald.com.