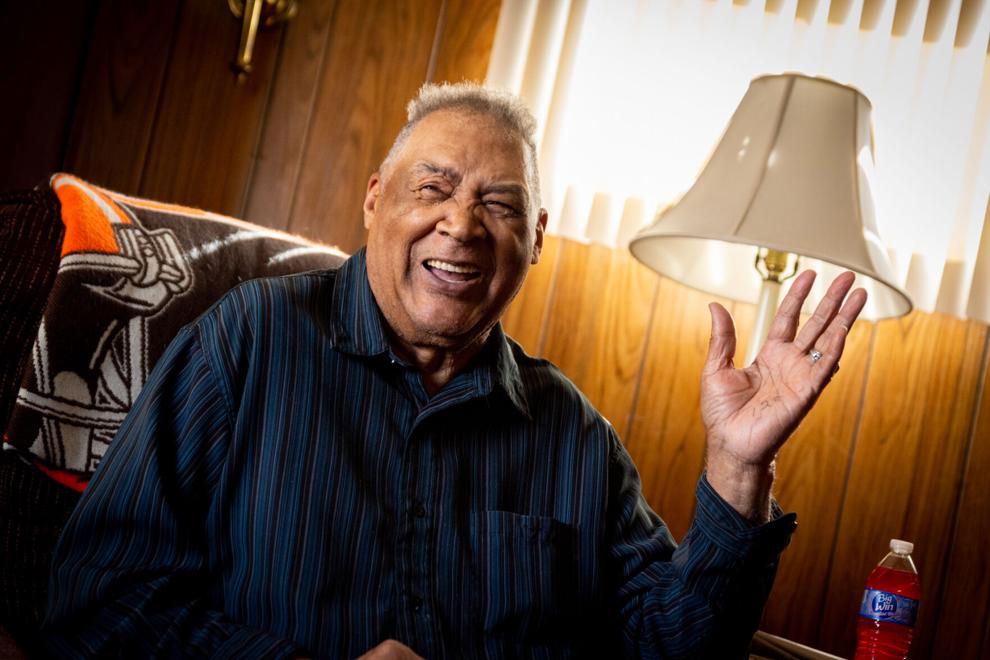 The first few times James Johnson trained for race walking competitions in his Sharon neighborhood, he got some funny looks.
Because race walking, looks ... well ... funny.
The technique employs exaggerated arm and hip motions, and competitors must keep one foot on the ground at all times, contacting the surface first with the heel, then the toe.
"They looked at me and said 'What is it with this guy?'" Johnson said.
After they found out that he was training for a shot at the Olympics, the looks changed. Johnson and his unusual personal propulsion style quickly became an accepted part of the neighborhood routine.
"They would wave at me and say 'Hi,'" said Johnson.
Johnson, who is about to turn 82, missed competing in the Olympics by the barest of margins in 1968 and 1972 for the 20-kilometer walk, a distance of about 12.5 miles.
In an elite-level athletic career that spanned five decades, he competed throughout the United States and organized local race-walking events, including the Western Hemisphere Race Walk, held in 1972 at Buhl Park. Johnson was inducted in 1996 into the Mercer County Hall of Fame for his athletic accomplishments. 
Johnson stood out in more than one way. At his peak, he was one of the top race walkers in America. But he was also unusual as a Black man competing in an almost exclusively white sport.
When Johnson turned up for one of his first meets, another competitor was both surprised, and fearful for his own prospects.
"He said, 'I'm in trouble now,'" Johnson said. "Here comes a black guy. He's going to beat all of us."
Johnson and that other walker, Ron Laird, remain close friends to this day. Laird, who competed five times in the Olympics and won a gold medal in 1967 at the Pan-American Games, is a member of the USA Track and Field Hall of Fame.
During his time in competition, Johnson said the racewalking community was welcoming and accepting.
"There was no discrimination or anything," he said.
The only time Johnson said he experienced any bigotry during a racewalking career that took him all over the United States happened when he traveled in 1958 to a meet in Baltimore.
"I got off the train at the Greyhound bus station and I wasn't allowed to eat there," he said.
But Johnson hastened to say that was not associated with the racewalking community. Christine Johnson — James' wife of 54 years — said his fellow competitors were supportive.
"The other walkers and the officials took up for him," she said.
Johnson discovered racewalking by accident. A standout miler at Farrell High School, he attended a track meet in Schenley Park in Pittsburgh not long after he graduated in 1957.
After winning the 1-mile run, Charles Herrmann, coach of the Pittsburgh Walkers racewalking club, approached Johnson and asked if he might be interested in race walking.
Johnson, who grew to be 6-foot-3, said Herrman thought he "looked good" as a runner and immediately saw his potential as a race walker.
"He taught me how to do it in 10 minutes and I won," he said.
Johnson's initial reaction to race walking wasn't that much different to that of his neighbors years later when they first saw him.
"I thought, 'Those people were nuts,'" he said. "But when I started it, I thought, 'This is interesting.'" 
From that point on, Johnson was a devotee. He balanced competition, at first with service in the Army, then the Navy. After leaving the active service, he joined the Army Reserve, remaining there for 29 years.
During that stretch, he worked a shift at National Castings in Sharon.
"I worked from 6 to 3 o'clock, came home, dressed and went out training," he said.
Training often entailed going to where ever he could find a track — including Sharon Stadium and the track at Youngstown State University — and sometimes just a stretch of road.
Occasionally, James would have Christine drop him off somewhere and he would walk back home. One of those walking routes traversed from Greenville back to the house, a distance of about 15 miles.
That's slightly longer than the 20-kilometer walk, one of two racewalking events at the Olympic Games. The other event, the 50-kilometer walk is about five miles longer than the marathon.
During the peak of Johnson's walking career in the late 1960s and early 1970s, he had to finish a 20-kilometer walk, in less than 100 minutes to qualify for the Olympic Trials. At that pace, a walker could finish the marathon, 26.2 miles, in about three and a half hours.
Johnson was one of only 10 walkers to compete at the 1968 trials. In a race when the top three competitors would move on to the Olympics in Mexico City, he finished fourth.
He missed, by the thinnest of margins, qualifying for the most prestigious event in his sport. It was disappointing.
"He was really kind of down then," Christine said.
But James rebounded, qualifying for the trials again in 1972 before the Olympics in Munich. He took part in some of the country's top track and field events, including the indoor Millrose Games, held annually in Madison Square Garden in New York City.
But walking wasn't just competitive for him. It was a lifestyle.
As a fundraiser for the American Heart Association, he walked from Harrisburg to Three Rivers Stadium in Pittsburgh, covering about 220 miles in three days — about 70 miles a day.
Johnson said he continued walking into his 50s. The competitive class walking ended, in part, due to health problems he attributes to his service in Operation Desert Storm with the Army Reserve. His military career ended about the same time.
Now retired — from race walking, the military and National Castings — Johnson serves as a deacon and trustee at Friendship Baptist Church in Farrell. He and Christine have two adult children, Sheldon and Tasha Johnson, and also raised Christine's younger sister, Sarah Ashe.
Nearly 30 years after he hung up his walking shoes, Johnson's Sharon home holds his racewalking mementos.
Plaques hang from the walls, and ribbons and trophies rest in display cases.
Christine said the trophy cases used to be more crowded than they are today. James, who was raised in a succession of foster homes, routinely gives the hardware he earned in competition, to disabled children to raise their spirits.
James said he doesn't need the trophies though, because he still has the memories of his time as one of the United States' top athletes.
"It feels great," he said.