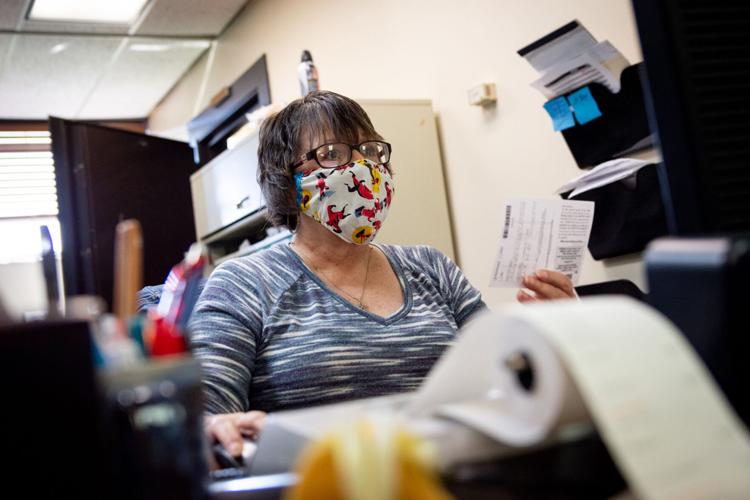 SHARON – In response to increasing COVID-19 cases in the area, the city of Sharon has limited access to certain departments in the municipal building.
"The building is open, but as a precaution, due to the spike in COVID numbers, access to departments will be limited," said city manager Bob Fiscus. "Tax payments and sewer payments can be mailed or dropped in the drop box outside the tax and sewer offices."
Fiscus told council at its meeting last week that he recommends purchasing temperature kiosks to monitor temperatures of employees and the public.
"The city ordered the kiosks for every department and also for the entrance into the public area," Fiscus said.
The machines are capable of facial recognition so the city can keep track of employees' temperatures.
"This steps up our game to make sure temperatures are being taken," Fiscus said. "With thermometers, we don't have the ability to make sure it's happening."
The city will order five machines at a total cost of $15,000. One will be beside the main entrance and the rest will stand in each department in a central location near each entrance.
Fiscus said is checking with the Federal Emergency Management Agency to see if the city could be reimbursed for the purchases. Fiscus, who is also Sharon's fire chief, and police Chief Edward Stabile approved using money from their departments' budgets.
"Chief Stabile and I are willing to take it out of our budgets because we think it's important," Fiscus said.
Stabile said the policy in the police station is for employees to take their temperatures and enter through a non-public port door. For the remainder of the day, employees can come and go through any entrance.
"One of the big challenges for us is the amount of traffic we have in the port with prisoners and people coming for finger printing," Stabile said. "This will allow us to have a record of people coming and going."
"COVID is an ongoing situation," Fiscus said. "I have talked to department head and asked them to do some serious thinking about departmental policies to limit exposure."
Fiscus said the city learned from when the pandemic started when they made rules citywide. Now, he is looking to tailor restrictions to each department's needs.
"Each department is different," Fiscus said. "We want to make sure we can have all the essential services."
Councilman Carl Sizer agreed with Fiscus that the city needs to take action.
"Numbers are getting worse and we need to do something," Sizer said.
Follow Melissa Klaric on Twitter and Facebook @HeraldKlaric, email: mklaric@sharonherald.com