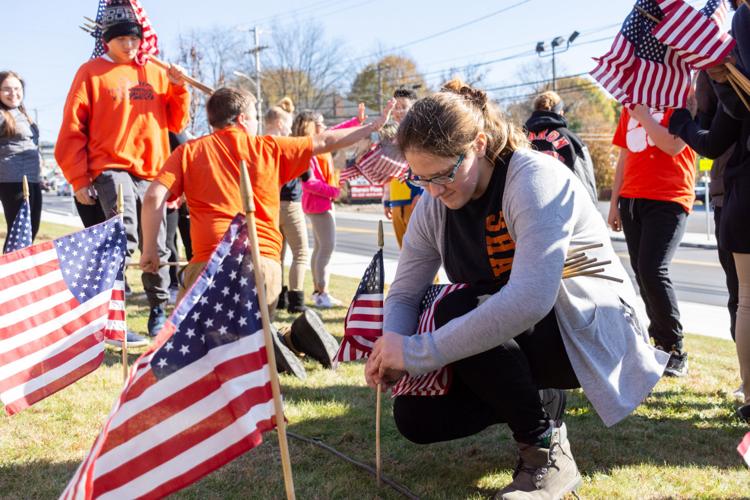 SHARON – Sharon freshman Mia Cabraja placed a flag in honor of her grandfather Wednesday morning on the Sharon High School front lawn.
"My grandpa is a veteran, so it means a lot," Mia said. "He takes it pretty seriously, so it's nice that we can do something around here to honor that."
Cabraja's grandfather's flag had plenty of company on the grassy area between the high school and East State Street.
For the past seven years, Kellie O'Brien, head of the school's history department, has had every history class participate in the school's Veterans Day observance by placing flags on the lawn, each one representing a specific veteran.
The list of names grows every year. This year's display featured almost 1,000 flags. 
Sharon's social studies students compile the list by mailing letters to businesses and students to collect veterans' names. There were about 300 names and donations. The rest came from Veterans of Foreign Wars and American Legion posts in Mercer County, O'Brien said.
"A lot of people ask over the years how you get your name included," she said.
The school kicks off its Veterans Day observance by placing the flags on the lawn. A Veterans Day assembly will be held at 2:15 p.m. Monday in the high school. The public is invited.
"The chamber choir is involved, the band, chamber strings. They have a luncheon for the veterans and then the assembly," O'Brien said. "So everybody is involved. The student council got gifts for the veterans this year. So it's a school-wide project."
O'Brien said the best part of the project is that the students are committed and that the community respects the tradition.
"They realize the importance of it," O'Brien said. "In all the years, we've never had a problem with any flags being touched."
Freshman Ella Labbiento is proud that her school takes part in celebrating veterans.
"I think it shows a lot of respect for Sharon and the school," Ella said. "That we respect everyone who is a veteran."
Ella Connelly, freshman, agreed with her classmate.
"I think it's good that our school does this," she said. "It looks really nice." 
Mia, who attended Case Avenue Elementary School, remembers the flags being placed on the lawn in past years.
"I remember when I was little I used to drive by, look out the windows and see all the older kids doing it and it was cool," Mia said. "You could see all the flags being lined up."
It's all about community, said freshman-year history teacher Steve Urda.
"We get emails from the choir stating, 'Good job.' People are honking their horns," Urda said. "It's one thing to sit at a desk and do it. It's another to be involved."