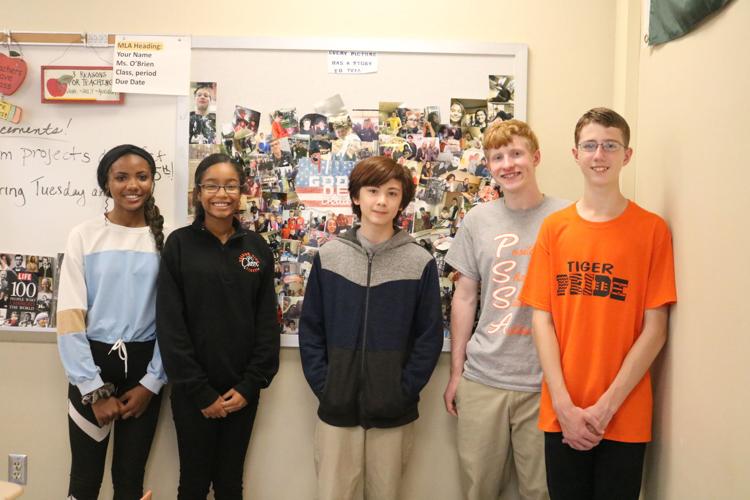 SHARON – When Rebecca Mariner was given the choice of writing a paper about volunteering or actually volunteering, she jumped at the chance to help out.
"I like helping people a lot so it was very comfortable for me to do that," said Rebecca, a sophomore at Sharon High School who assisted in the children's activity tent at WaterFire Sharon. "It was fun because I want to work with kids when I get older. It's easy to interact with kids. There were so many of them, and they were all like, 'thank you.'"
Rebecca was one of about 20 Sharon sophomores who answered a call for help at WaterFire Sharon at the end of September.
"These kids really pulled together to save this event," said Jennifer Barborak, WaterFire organizer. "We were floundering for volunteers this time."
When Barborak contacted the sophomore Social Studies teacher, Kellie O'Brien, she let her students know help was needed.
"I helped move wood onto the boats and I enjoyed it a lot," Sophomore Gavin Whalen said. "You get this great feeling at the end of it, like you just helped a lot of people."
O'Brien has given the option to her students for the past approximately five years.
"They have to write a paper on the importance of volunteering or they have to go out and volunteer," O'Brien said. "Once they do it, they don't mind doing it."
The volunteering has to be community-based. Students also have to write a few paragraphs explaining what they had to do and how volunteering made them feel. In addition, they must provide their teacher with photos.
"When someone thinks of community service for the first time, they usually don't think of it being much fun," Gavin said. "But when you start actually doing it, it's a lot better than people think when they have never done it before."
Barborak was impressed with the turnout.
"We have a teacher who, instead of the students writing a paper, she's saying, 'Go out and volunteer in your community,'" Barborak said. "She was there volunteering ... shucking wood with the other kids. Leading by example. To me, it was inspiring."
Some of the other students volunteer at various places throughout the community. Gavin volunteered at the Round Table Thrift Store in downtown Sharon. Another classmate, E'leyah Brooks, enjoyed volunteering at MCAR and Codi Dillon helps out at St. Joseph food pantry about once a month.
"You never know where that volunteering will get you. It could get you a scholarship for college," Barborak said. "Here's a teacher really trying to promote that. In the end, teaching the kids to be a part of the community is just as important as the education they're getting in school."
Follow Melissa Klaric on Twitter and Facebook @HeraldKlaric, email: mklaric@sharonherald.com