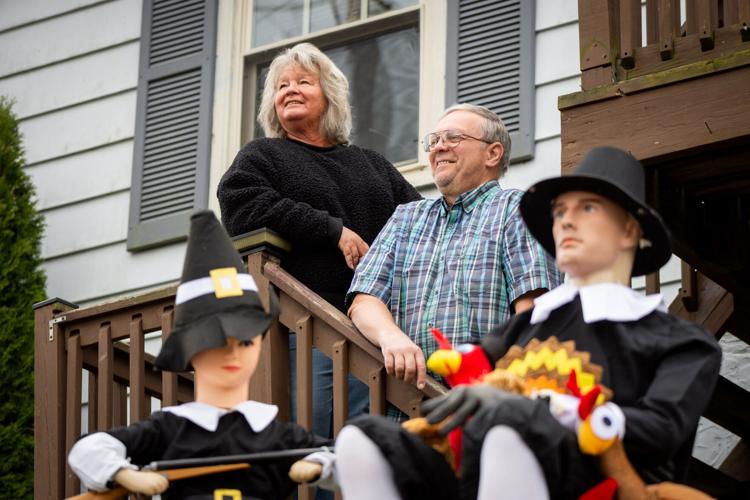 SHARPSVILLE – More than halfway into a bicycle trip of more than 500 miles, the man — known only as Kyle — was marooned in Sharpsville on a chilly mid-autumn night, in a torrential downpour, with only a church awning for shelter.
Jean Esmond, just up the street, knew he was there. And she couldn't bear to sleep in her warm, dry bed knowing that a homeless man was shivering only a few hundred feet from her front door.
So, at a time when people have been avoiding personal contact with strangers, she and her husband, Paul, did something about it.
The couple, married for 28 years, have become a community fixture in Sharpsville for Jean's mannequin displays on a bench along North Walnut Street across from the Sharpsville VFW, where Jean works. The current, seasonally appropriate, mannequin arrangement shows a pilgrim and American Indian, but the outfits and arrangements change periodically.
On the night of Oct. 29, Jean's brother, Vincent Cataldi, told her that someone was sleeping under a church awning at the bottom of High Street. Cataldi, who lives on the same street as his sister, went to check it out.
He found out the man's name and story. Kyle was 34 years old, had ridden his bicycle from Michigan and was headed into New York state. Vincent brought him a blanket, clothes and dry socks.
But Jean decided that they could do more.
"After he told me that I said I can't keep looking down there and seeing him laying under an awning," Jean said.
She made dinner and prepared a portion for Kyle.
After a warning that she isn't a very good cook, Jean gave Kyle meatloaf and they talked for a while.
"When I went down the street I asked him, 'Would you like something to eat?' and he said, 'Oh ma'am, I haven't eaten for a while,'" Jean said.
Kyle told her he couldn't leave on his bicycle because of the heavy rain. She gave him $20 because he was broke and she did not want him to be caught anywhere without money.
Then she called her neighbors, who turned up with blankets and dry clothes. 
The rain continued to fall the next morning, so Jean offered Kyle some coffee. When she arrived at the awning, he had bags of items donated by the neighbors. 
Jean went to VFW Post 6404, made a pot of coffee, gathered food and brought it to Kyle.
But she had more than a meal. She had a plan.
"I'm going to take him down to West Middlesex, put him up in a room so he can get dry, go to the bathroom, take a shower and watch TV, for at least one night," Jean said.
Jean shared that plan her husband. Paul, who is retired, came up with a different idea.
Paul met Kyle and found out that he was headed home to see his parents in New York.
"Paul says, 'No. I'm going to go home and get my map. I'm taking you all the way home," Jean said.
So Paul got his map and drove Kyle to his destination.
But that wasn't the end.
After they left, Jean found the man's backpack in her car and tried to get contact Paul, but his cell phone was off. Kyle's phone was in his backpack.
Jean brought the backpack home, and cleaned out all the cigarette butts – Kyle disposed of them there because he didn't want to litter – washed his clothes and kept trying, unsuccessfully to call her husband.
Jean called Kyle's parents to tell them the story and that he forgot his backpack with his phone in it. Kyle's father was grateful that the Esmonds took care of his son.
"He was so happy," Jean said. "He said, 'Thank you for returning our son.'"
Kyle's father said his son had been gone for two years and that he has mental issues.
Jean said she knows not everyone would have done what she and Paul did.
"Everybody was telling me, 'You better watch out for him,'" Jean said. "We don't look at people like that. We're here to help people."
Paul drove Kyle to New York, and — at Kyle's request — dropped him off about a half hour from his home. Kyle said he would take a taxi from there.
"He was very quiet," Paul said of the eight-hour car trip. "The young man said he was in Michigan and he had a truck that broke down. He was trying to get home."
Kyle said he rode his bicycle from Michigan, through Ohio and ended up at the base of High Street. He was nervous to see his family because he had had issues with his relatives.
Paul dropped Kyle off at the grocery store and said, "All the best to you, kid."
"He said, 'God bless you. Thank you very much," Paul said.
Paul made his way back home, where he discovered that Kyle had left his backpack behind. Kyle's father asked Jean to mail the backpack to them but Paul refused.
"Paul said, 'No. I'm responsible for it. I'm taking it to him,'" Jean said.
By this time, it was Tuesday — Election Day. Paul and Jean woke up and voted. And then, they took a road trip.
The couple left the backpack at Kyle's parents' door, as they were not home, then they drove back to Sharpsville.
Jean and Paul wondered how Kyle ended up in Sharpsville, where he found help.
"He just must've seen the cross at the church and he ended up there," Jean said. "It was something that he ended up in Sharpsville."
"He's on his bike. Coming through Michigan. Coming through Ohio. Showing up at the base of High Street in Sharpsville, Pennsylvania. How does that happen? Who knows," Paul said.
"And we took care of him," Jean said.
Follow Melissa Klaric on Twitter and Facebook @HeraldKlaric, email: mklaric@sharonherald.com