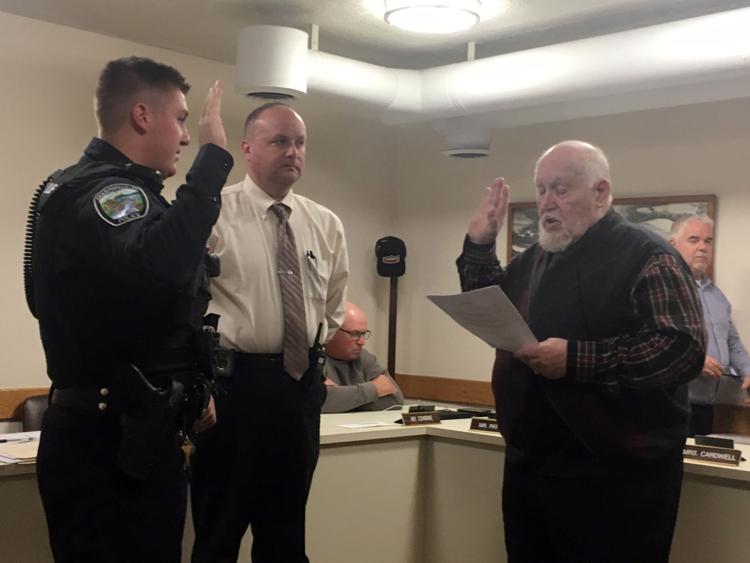 SHARPSVILLE — When the Trail Blazer apartment and office building in Sharpsville caught fire in early August, it displaced the residents of the building's 24 apartments — some of whom had to wait before moving back in, while others moved to new homes entirely.
But no one was injured or killed in the fire, which turned out to be an arson.
Because a potential disaster ended with no loss of life and the arrest of a suspect, three Sharpsville police officers — patrolmen Frank Joseph, Chris Widmyer and Brendan Gill – received certificates of recognition at the Sharpsville borough council's workshop earlier this month.
Joseph and Widmyer were the first two responders at the scene and started evacuating everyone from the building. When they arrived, Widmyer said, the smoke was so thick he had to use a flashlight as a guide while Joseph crawled down the hall alerting the residents.
The residents then had to be led or sometimes carried out, Widmyer said. However, he and Joseph did what they could until the fire departments arrived, even though they themselves aren't firefighters.
"You're not thinking about that when you get there; you're just concerned with getting whoever's there outside," Widmyer said.
Gill later arrived and took a suspect to the Sharpsville Police Department.
Courtney Diane Speir-Chrastina, a former resident of the building, was arrested at the scene after evidence, including gas cans, a discarded smoke detector and a long-necked lighter, were discovered, and an accelerant-sniffing dog detected accelerant on her, police said.
Gill questioned Speir-Chrastina at the department, where she allegedly admitted to setting the fire. Charges were filed against her later that same day.
Sharpsville police Chief Chris Hosa said he was extremely proud of the way the officers conducted themselves during the fire and subsequent investigation.
"Being a smaller department, we reall y have to rely on each other, and the officers continuously demonstrate teamwork and how important it is to help each other out," Hosa said. "I've been proud of our officers, and I continue to be proud of the officers that we have serving the people of Sharpsville."
The Sharpsville Police Department also had a new face present at the workshop. Patrolman Tyler Reardon was sworn in by Mayor Alex Kovach.
Reardon, 24, is a 2014 Hickory High School graduate who joined the Marine Corps in 2017. He is now a member of the Marine Corps Reserve and graduated from Mercyhurst University's Municipal Police Academy in June, before being hired as a full-time officer with the Sharpsville Police Department, Hosa said.
"He's young, energetic, very respectful," Hosa said of Reardon. "I think Tyler has a lot to offer the department, and he's going to fit in with the officers that we have."
Reardon brings the Sharpsville Police Department to six full-time officers, including the police chief, and eight part-time officers, Hosa said.
Like David L. Dye on Facebook or email him at ddye@sharonherald.com.