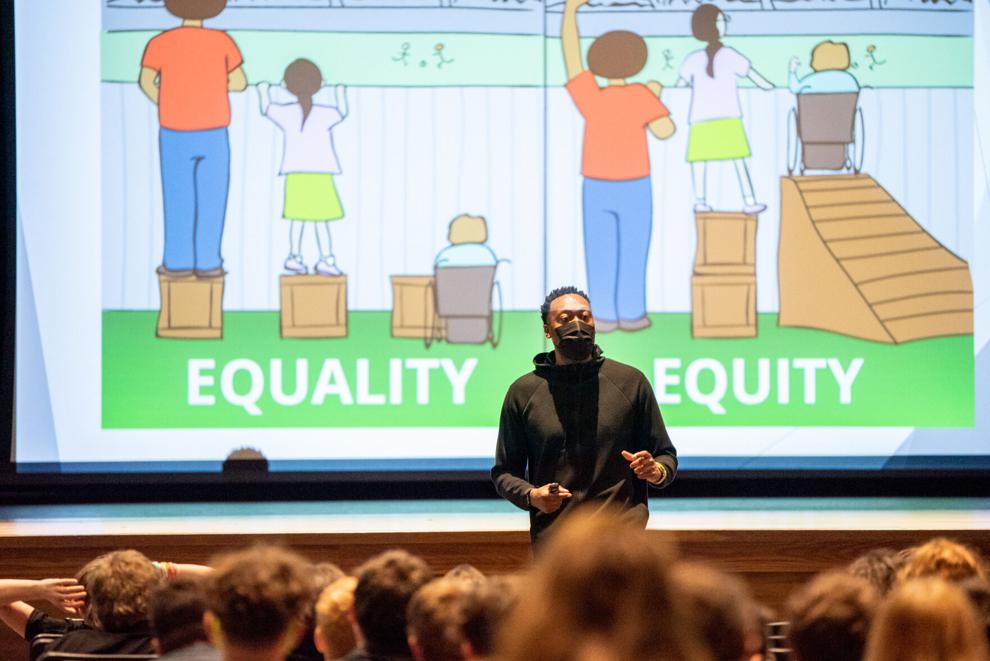 SHARPSVILLE — As he started his presentation to the group of eighth-graders, Dr. Anthony Jones included a quote: "Understanding of others is rooted in the understanding of one's self."
Jones, the associate dean of diversity and inclusion at Thiel College in Greenville, visited Sharpsville Area Middle School Thursday to speak with the sixth-, seventh- and eighth-graders about topics such as diversity and inclusion.
"It's about having a better understanding of how we see ourselves," Jones said.
Some of Jones' experience includes serving as the coordinator of multicultural recruitment and resident director at Mount Union University, director of multicultural affairs at Marietta College, and director of multicultural affairs at Eastern Kentucky University.
But instead of just lecturing the students, Jones included activities that kept them engaged while also illustrating some of the concepts being discussed.
In one instance, three students were given "trash" in rows progressively farther back and told to throw it into a garbage can, with the increased ease for students in the front rows representing people with more privileges. and although the students in front were asked why they didn't help the student in the back, Jones also asked the student in the back why they didn't ask for help or do something to make it easier.
"It's not anyone's fault and it's nothing to be guilty of, but we should be conscious of our privileges," Jones said.
Jones also touched on other topics, such as the difference between equality and equity, represented by an image of a tall person, a short person and a person in a wheelchair looking over a fence. While equality would mean giving each person a box to elevate them, equity was represented by the short person getting two boxes and the person in a wheelchair getting a ramp.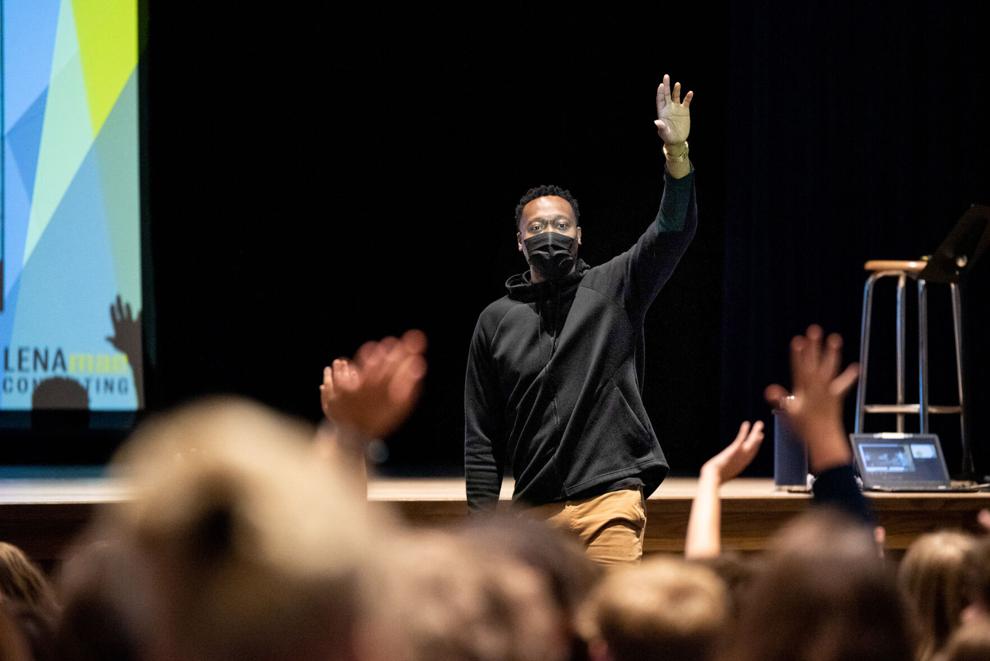 Other topics included a description of biases and where biases can come from, and pronouns, such as not always assuming if someone is a "he," "she" or otherwise, since appearances can be deceiving, Jones said.
"It's something that's happened to me," Jones said. "Just apologize, and move forward."
The students appeared engaged throughout, whether it was raising their hands for questions or sitting in rapt attention during a video or activity.
Sixth-grader Maryn Pernesky said she enjoyed learning about the sometimes-complex differences between equality and equity, as well as learning to examine one's own biases. As someone with friends who use different pronouns than what they were born with, Pernesky said she also appreciated learning about acceptance and expected the students would continue to discuss the subject manner, in class or in conversation.
"I really liked it," Pernesky said of the presentation. "He actually engaged with us and asked us questions or got us involved and showed us videos."
Despite the enthusiastic reaction from the students, there was some pushback against Jones' presentation by a few parents in the district who were against the training taking place. However, Jones said he would be open to having a conversation with those people, in keeping with one of his ground rules presented Thursday that people can disagree respectfully.
"I would highly encourage them to be there," Jones said.
Like David L. Dye on Facebook or email him at .