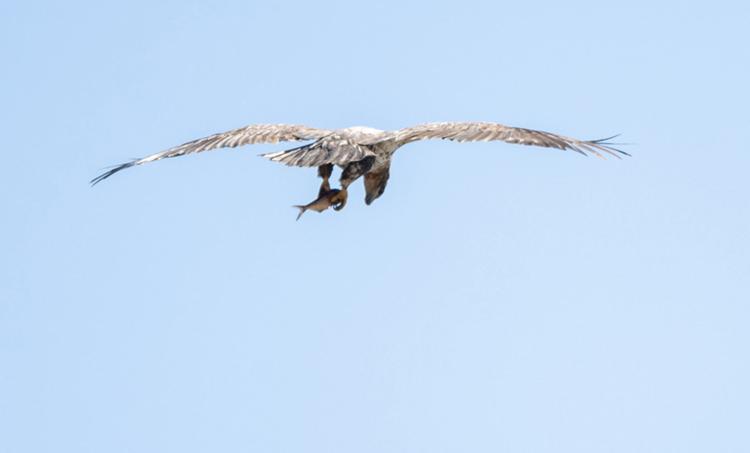 PYMATUINING TOWNSHIP – Shenango River Lake is spreading its wings to welcome an American icon.
In recent days there has been an explosion of bald eagles settling at the lake, said Resource Manager John Kolodziejski with the Army Corps of Engineers.
"I counted 77 bald eagles in one location and 16 at another,'' Kolodziejski said as he excitedly talked about the discovery. "This is unheard of. I've been working at the lake for 37 years, if somebody told me they saw this many eagles I would have told them they probably just saw seagulls.''
To be sure, bald eagles have been seen in recent years at the lake.
"But never in these kinds of numbers – never,'' he said.
The two locations were at Chestnut Run and near the campground just off Route 18.
There's a good reason why the lake has become such an attraction to the eagles. During this time of the year the lake always experiences a die-off of the American gizzard shad. Also known as the mud shad, the fish is a member of the herring family.
"This occurs naturally every year,'' Kolodziejski said. "And this makes easy food for the eagles.''
Bald eagles love fish that are easy pickings, said Sarah Sargent, founder of the Erie Bird Observatory. 
"This is like laying out a banquet for them,'' Sargent said.
Regardless, seeing this many eagles gathered together is unusual, she said.
"These birds like to follow each other around,'' Sargent said. 
One possibility is that a number of the bald eagles may not have reached adulthood yet, which typically happens when their 4 or 5 years old.
"The immature eagles are more likely to drift around a lot and aren't ready to establish nesting pairs,'' she said.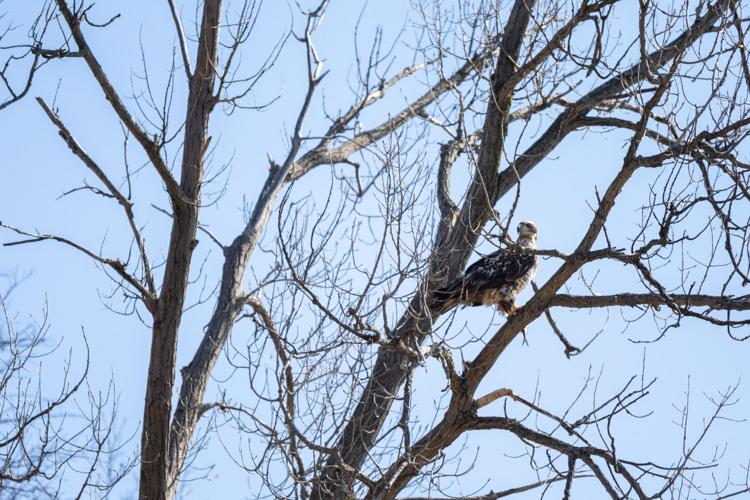 Younger eagles don't have their tails with a fully white color, she added. Also, eagles are known to be early nesters. Eagle nests have already been seen in the Pittsburgh area.
"These eagles should be in nests by now,'' Sargent said.
She recommends bird fans to get out as soon as they can to see the majestic American symbol.
"Once the fish supply runs out I think they'll move on,'' Sargent said.