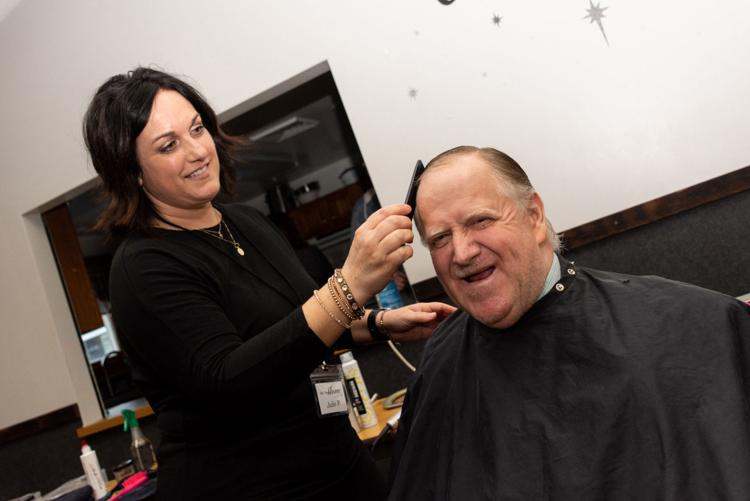 GREENVILLE — Sarah Kuhn of Greenville put on her prettiest dress Friday and walked the red carpet at Greenville High School with her special date, her dad, Randy.
It wasn't the first time that the pair has spent an evening of fun and dancing at Bethel Life Worship Center's Night to Shine.
It has become a family tradition — and one that means a lot to dad and daughter.
"This is the biggest deal of the year for them," Randy said. "All of this is just fabulous!"
Sarah agreed.
"I'm having fun tonight," she said.
This is the fifth year that Bethel Life has created the prom-night experience for special needs guests.
Pastor Kent Bell said it is a labor of love.
After the Tim Tebow Foundation event began in 2014, sponsoring Night to Shine was a "natural fit" to compliment what the church was already doing through its special needs ministry, Loving Hands.
The event caters to people with special needs who are at least 14 years old and in years past has included guests who were older than 90, Bell said.
About 600 people were involved in the production of the event this year, including 200 community volunteers and 200 buddies accompanying the nearly 200 guests. 
"It's a pretty extensive group that's connected in some way to this event," Bell said. "It's grown every year. We've had to move venues as growth has come."
Just when you thought you could not read another story with hate, division and name-calling as the subject matter, one comes along that puts a…
Greenville High School and Thiel College students also served as volunteers. 
To offset the cost, Bethel Life Church raised more than $11,000, said Denise Bell, event coordinator and Bell's wife. 
Denise Bell said Night to Shine falls on the same night of the year worldwide. Simultaneously, more than 700 churches, 120,000 guests and thousands of volunteers participate in the event, she added. 
"It's just such an awesome opportunity to honor this population of people," she said. "We celebrate everything there is about them."
The Bells have a soft spot in their hearts for people with special needs because they are the proud parents of one. Their son, Jason, who will soon be 37, has Angelman's Syndrome, a genetic disorder affecting the nervous system. 
"Volunteers are just as blessed," Denise said. "It's just a win-win. There's no way to lose when you're involved in this."
Guests prepped for their big night at the church before heading to Greenville High School for a red carpet event with their buddies via limousine. Once there, some prom-goers opted to dance the night away, have their pictures taken, their faces painted and their caricatures drawn.
This is the fourth year Hempfield Township resident Mary K. Miller has participated in Night to Shine.
She said her buddy, Bobby Mechenbier of Greenville, looks forward to the event all year long.
"It's just an evening filled with fun, loving friendships, food, dancing and an appreciation for life," Miller said.
And he is not the only one who looks forward to the event. Miller said she and the other volunteers enjoy the event just as much.
"It's so nice to see the whole community pulling together," she said. "I'm just so grateful for everyone who participates and gives their time. It's just so rewarding!"
Miller said Mechenbier keeps her busy dancing all night long. 
"It all starts with all the people cheering going down the red carpet and food and dancing all night," Miller said. "He just loves the red carpet."
Adam Grower of Kittaning attended Night to Shine for the second year with his buddy, Kathy Jones of Greenville.
Prior to the event, Grower said he was looking forward to doing "a lot of dancing."
"I've danced since I was like 10," he said.
Jones said she was looking forward to having " a lot of fun."
"This is a special occasion," Grower said. "They're very important and they need to know that. God loves them all."
Judy Pressler of Greenville participated in Night to Shine for the third year as a buddy.
Pressler, who has a special needs sister at Polk Center, said her heart is tied to the event.
"It makes your heart full to do this," she said. 
Pressler's buddy, Lindsey Lloyd, 20, of Hartstown, has attended Night to Shine all five years, she said. Dancing is her favorite part of the evening.
"I like doing the macarena and the wobble," Lloyd said.  
Erika Smith and her mother, Mary Beth, of Sugar Grove Township, attended Night to Shine as a buddy and a nurse, respectively.
"I wanted to be with them, dance, celebrate with them, help make the night special," Erika Smith said. 
Mary Beth Smith has participated in the event as a nurse on the medical team all five years.
"I just think it's one of those amazing nights of the year," she said. "To see all the joy brought in an evening like this ... it's incomparable."