Even after Brenda Phillips' daughter was named as winner of Sharon Fire Department's fire safety poster contest, she was still overcome with anticipation.
"I couldn't sleep all night, I was so excited," she said.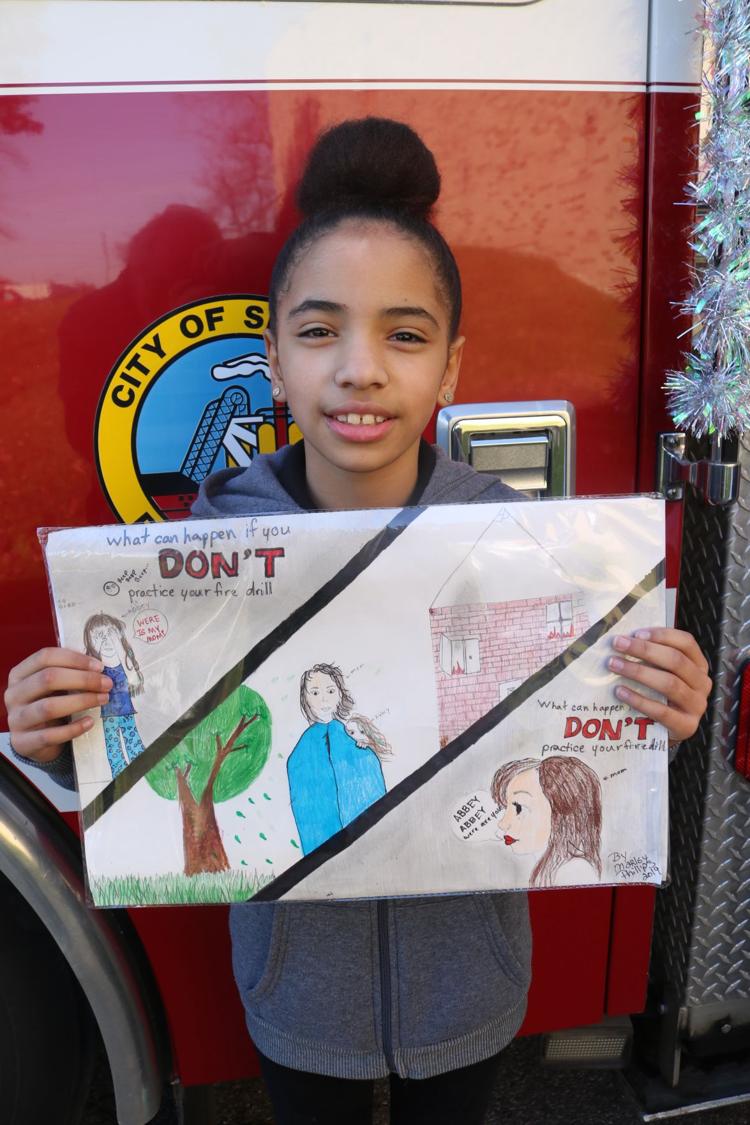 Phillips worried that she or her daughter, Musser Elementary School sixth-grader Marley Phillips, might oversleep and miss the prize — a ride on one of Sharon's fire engines and an authentic firehouse breakfast.
But when the fire truck rolled up on the last day before Thanksgiving break, Marley and her mom were there. So were Marley's twin sister, Dominica, and their teacher, Dennis Hritz.
Sharon Fire Department Lt. Nicholas Samson, coordinator of this year's contest, said this was the first time in at least 10 years that a Musser student had won the poster contest, open to students from all three of Sharon City School District's elementary schools — Case Avenue, Musser and West Hill.
As this year's winner, Marley rode in a Sharon ladder truck, decked out for the holiday with Christmas tree lights, from Musser to the Sharon Fire Department, where they dined on a firefighter-cooked breakfast of pancakes, sausage, bacon and scrambled eggs.
Samson said the Sharon fire house crews usually fend for themselves on weekdays when it comes to breakfast because they usually perform code inspections Monday through Friday. On the weekends, though, they make firehouse meals like the one Marley and her family enjoyed as a reward for winning the contest.
Marley's poster uses three panels to illustrate the consequences in failing to prepare for fires. The top panel shows a daughter looking for her mother, and the bottom panel has a mother looking for her daughter. The warning, "What can happen if you DON'T practice your fire drill," is shown in both panels.
In between, the poster shows a burning house, with a mother and daughter huddling beneath a blanket.
Marley, who likes to play video games like Fortnite, said she wants to be an online streamer or a graphic designer when she enters the work force.
She said the three-panel design was a part of her design from the start.
"I just wanted to do separate things," Marley said.
Follow Eric Poole on Facebook or Twitter @HeraldEricPoole. Email him at epoole@sharonherald.com