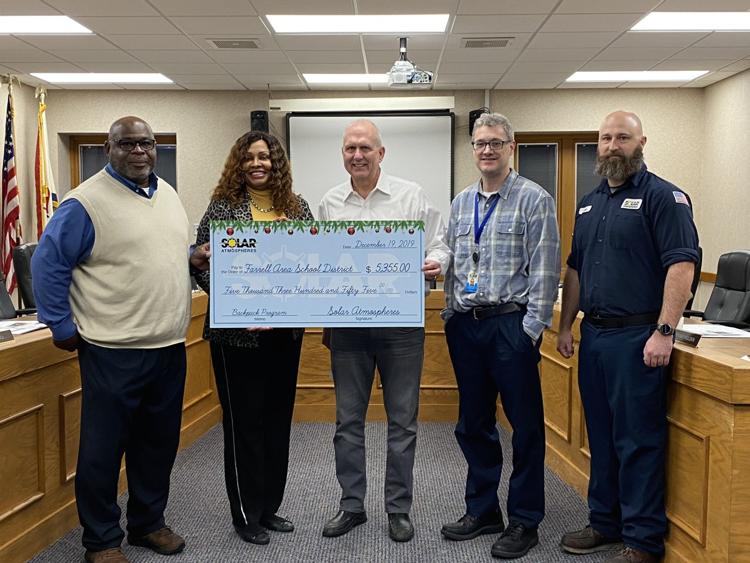 FARRELL — Thanks to donations from employees and staff at Solar Atmospheres, students in Farrell Area Schools will get a present that will keep giving every weekend.
Food.
The company, which has facilities in Hermitage, donated $5,355 to Farrell's backpack program, which provides weekend snacks for students who might not have enough food on weekends, when they don't have access to school lunches.
Farrell students receive backpacks, filled with snacks, every week through the backpack program, which is coordinated by the Community Food Warehouse of Mercer County. The program also assists with food needs for more than 900 in Sharon, Sharpsville and Commodore Perry. Greenville, Reynolds, West Middlesex, Lake­view and Wilmington schools.
Solar Atmospheres President Bob Hill said the company's donation will cover the costs for almost half of Farrell's 50 students signed up for the backpack program.
The company vacuum heat-treats high-tech hardware for a wide range of markets, including the aerospace, automotive and defense industries. Hill said Solar Atmospheres tries to undertake a charitable effort every holiday season.
In the past, it has provided gifts for families in need, but Hill said he wanted to create a legacy.
"It's really nice to sponsor a family," he said. "We showered them with gifts and toys.
"It's great, but what happens next year?"
Hill credited Farrell School Resource Officer Riley Smoot and district Superintendent Lora Adams-King for leading the initiative on Farrell's side.
Within Solar Atmospheres, Hill said the employees quickly took ownership of the effort, particularly after the company offered to match employee donations.
"When that happened, they really upped the ante," he said.
And the donation could be only the beginning of a collaboration that could yield benefits for Farrell students beyond weekend snacks. During an event last week to celebrate the gift, Hill said he was discussing school curriculum with an eye toward grooming future employment candidates.
Solar Atmospheres has several employees due for retirement, Hill said, and is looking for younger replacements to fill those vacancies. Students now attending classes at Farrell could be part of the company's next hiring pool.
"I think this can turn into a nice relationship," Hill said.
Follow Eric Poole on Facebook or Twitter @HeraldEricPoole