SHENANGO TOWNSHIP – When it comes to regions having the moxie to attract new businesses – they have it or they don't, said Don Schjeldahl, a consultant who guides companies on where to settle.
Schjeldahl puts the local region among the latter.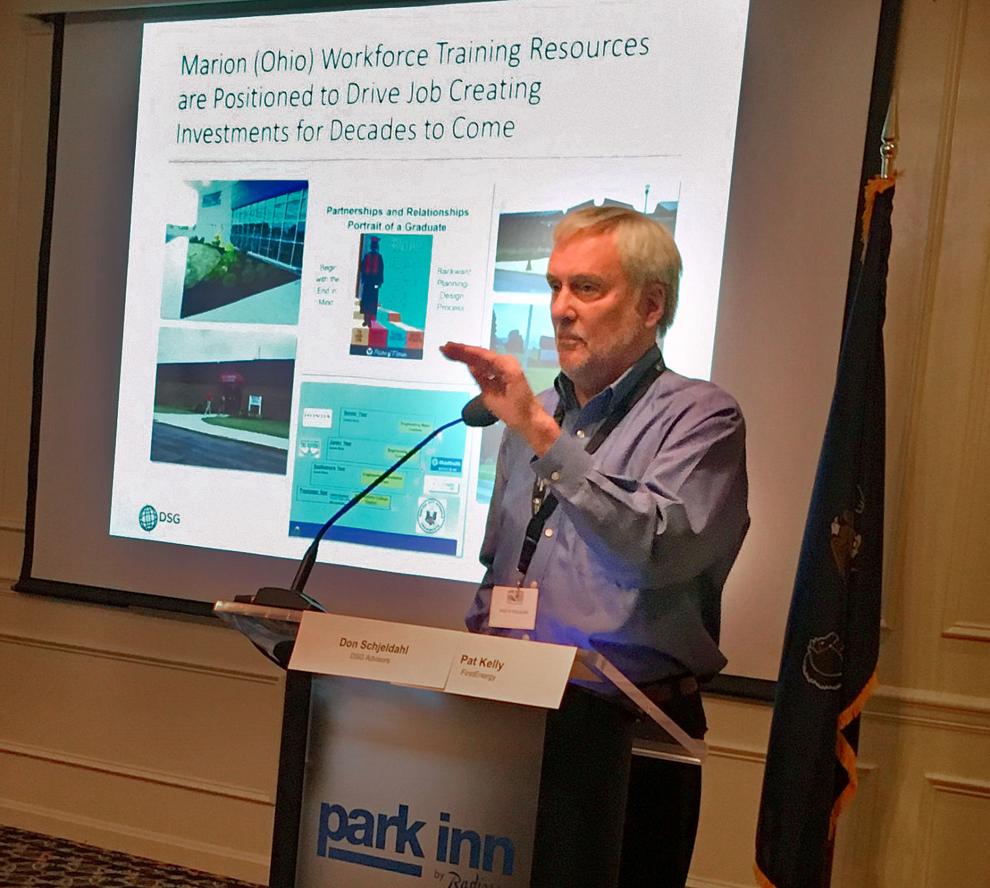 "I've never looked here for a project in all of my 35 years,'' he said to a large audience attending the Rising Rust Belt Summit held Monday at the Park Inn by Radisson Sharon in Shenango Township. The event attracted people and business groups from Mercer, Lawrence, Mahoning and Trumbull counties.
Based in Kent, Ohio, Schjeldahl (pronounced: Shell-doll) doled out at times sharp criticism of local development agencies. He started out by saying using "Rust Belt'' in the program's title was a poor choice.
"Nobody uses that term anymore,'' Schjeldahl said. "It's depressing.''
Further, he said the local region lacks joint efforts, such as occupational training that companies like to see.
"Are you on the radar? Not really,'' he said of the four-county area. "Nothing shows up as a regional presentation.''
Successful locations such as Marion, Ohio, have a good story to tell, Schjeldahl said. He noted that region has joined forces to create solid work force training.
"I really don't sense it here,'' he said of the local area. "There isn't that story here.''
He urged the local area to have ready-to-move-into buildings.
"In all of my projects, 50 percent are looking for an existing building,'' Schjeldahl said of business projects. "If you don't have an existing building, you lose half of your projects.''
During his talk he said local development agencies' websites were difficult to find.
"When I did find them I looked at all their websites and they generally were not good,'' he said after the meeting. "And that's being generous to a few. You have to show there's a community readiness – like having skilled labor. There's very little evidence that there's coordination going on with that on the websites.''
Schjeldahl acknowledged he wanted to send a message of tough love. The four-county region should be marketed together in one package.
"If you're trying to build the region and want to market it, you have to have some identity, you have to have a brand,'' he said. You have to base it on something that's real.''
Over the years Schjeldahl said he's gotten to know a little bit about Mercer County because he travels on interstates 80 and 376.
"I don't really know Lawrence County, which is interesting because I've been to this area,'' he said. "I really don't know Lawrence County because I have no reason to go there.''
As might be expected, the CEOs of development agencies Penn-Northwest Development Corp. and the Lawrence County Economic Development Corp. were irked by some of Schjeldahl's comments.
"Some of his points didn't go down well,'' acknowledged Randy Seitz, Penn-Northwest's CEO.
After the event Seitz said he tested Schjeldahl's assertion that the agency's website was hard to find.
"I put in simple words on Google like: Mercer County Economic,'' he said. "Our site always came up among the top 3 or 4 sites.''
Also, Seitz said Mercer County has lots of buildings ready for businesses, ranging from 5,000 to 500,000 square feet.
"And we have some of the best skilled workers in the country,'' he added.
But Seitz also said he was glad Schjeldahl pointed to areas that his agency can improve.
"I want to be on his radar screen'' he said.
Alex McCoy, who heads LCED, said it launched a new program to better itself. The initiative, Forward Lawrence, will engage a national site location consulting firm to study the county, he said. The project will gather community input to provide recommendations.
"I definitely know we're not the bottom of the barrel,'' McCoy said. "And I think Don would tell you that.''
One area both men readily agreed with Schjeldahl was that their respective organizations need more money to woo businesses. During his talk, Schjeldahl recommended each have at least a $1 million to $2 million budget.
Penn-Northwest's total annual budget is $600,000, Seitz said.
"With $1 million we could do so very much more than we do now to get companies here,'' he said.
McCoy oversees three agencies that includes LCED. Their combined budgets total $1.2 million. But actual funds available to LCED for economic development resources are only between $40,000 to $50,000, he said.
To make ends meet, McCoy said the agency holds an annual golf outing fundraiser.
"Communities our size typically have $1 million for economic development,'' McCoy said.
In reflecting about the area, Schjeldahl said his review isn't all bad.
"I feel a real energy here. I'm really surprised,'' Schjeldahl said of the event, which included a dinner on Sunday and tours that included the repurposed Westinghouse Electric Corp. plant in Sharon.
"Normally my economic development conferences are pretty stale affairs,'' he said. "But I really felt at the dinner there was a vibe in the room. I felt there was some general excitement on what might happen.''