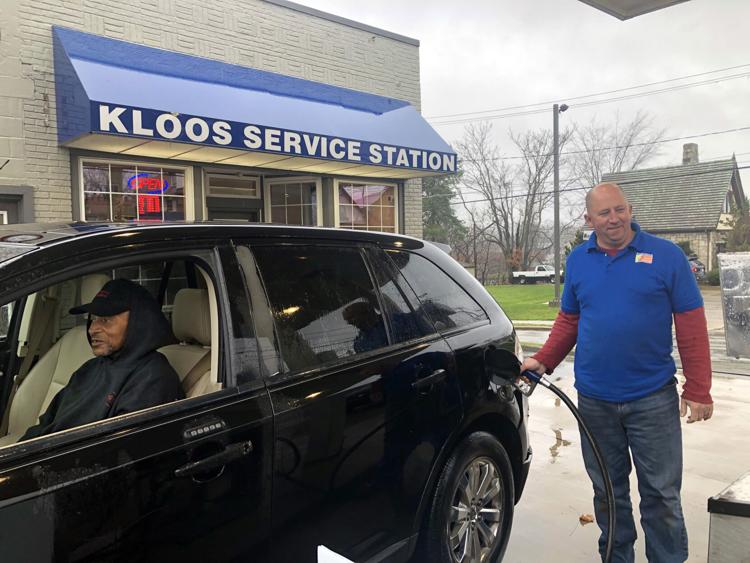 SHARON — Nine months after his family's gas station closed, William "Bill" Griffith just couldn't let the gas pumps and service bays stand dormant any longer.
So Bill kept the business in his family by reopening Fred W. Kloos and Son Service Station, 982 E. State St. in Sharon last month.
Bill's dad, also named Bill Griffith, bought the service station in 1989 after working there for Kloos since he was 15. When the elder Griffith died unexpectedly Feb. 19 at the age of 66, his son thought he had closed the doors for the last time.
Friends called it the "end of an era," since the business had been serving the Shenango Valley for 80 years as one of three service stations in the immediate area.
But Griffith decided that circumstances couldn't keep a good family — or a good gas station — down.
"I just couldn't stand seeing it empty anymore," Griffith said.
Griffith had worked in his dad's shop when he was in high school.
"I spent many days and nights up here," he said.
The service station, which still bears its founders' name, provides traditional service, including gasoline fill-ups provided by the owner.
Earlier this week, Griffith pumped gas in a downpour and had two cars lined up waiting for service at the station, which sits at the corner of Wengler Avenue, across from St. Joseph Church.
He said gas sales are up when it rains because Kloos customers can gas up without leaving their cars, but business has been slow overall.
"I think a lot of people don't really know that we're open now," he said.
That could be because "for sale" can still be seen in the shop's front window and outside near East State Street. 
Griffith said the signs are out only because he has to fulfill a contract with his real estate agent. But Griffith joked that he would not turn down a tantalizing offer.
Interested buyers came and went, but Griffith worked it out so that he could keep so he could be at the station three days a week and his other job, at Star Manufacturing in Vienna, Ohio, for three days.
"People were looking to buy it, but they wanted our family to finance it," Griffith said. "I thought if we're going to do that, I might as well do it myself."
The service station is open from 8 a.m. to 6 p.m. Monday through Friday and 8 a.m. to 2 p.m. Saturday.
Along with pumping gas, Griffith provides oil changes and brake repairs. By the beginning of 2021, he expects the business to be a state inspection station also.
For the folks who ring his bell and walk through the door, Kloos is more than just a full-service station. And even though the fuel might be a little cheaper at other places, fill-ups and repairs are not the only reasons people came to see the elder Griffith, and now his son.
"We have people that come in here all the time," Griffith said.
Like Bill Powell and Brian Reiser, who stopped in to see their friend Monday morning.
"I've been coming here for 30 years," Powell said. "His dad and I were good friends."
Reiser, who is now retired, worked in manufacturing with the younger Griffith for about 25 years.
"I just come up and help out. It gives me something to do," Reiser said. "I'm glad he finally decided to give it a shot."
Reiser said the locals are happy Kloos service station has reopened.
"They speak well of Bill's dad," Reiser said. "I don't know how many people just come in to talk and say they're glad they're open." 
Reiser said it will take time, but the shop will be back to normal.
The business has survived its share of challenges over the years.
In 2000, the service station caught fire, which caused about $250,000 worth of damage, and the elder Griffith sustained minor burns on his hands and face. He refused medical treatment though, and he was back at work the next day cleaning up.
During a repair project in 2018 and 2019, when traffic East State Street was restricted to only one lane, the elder Griffith was upset as business declined. But after the street reopened, action had picked back up by February.
With Kloos & Son reopen after a nine-month hiatus, the younger Griffith has high hopes.
"I'm hoping that this gets going enough that I can just be here all the time," Griffith said. 
With all the positive feedback he's received from the community, Griffith said thinks business will be back to normal in no time.
"I still get people who come in and they're so happy that we're back open," Griffith said. "They hate pumping their own gas."
Follow Melissa Klaric on Twitter and Facebook @HeraldKlaric, email: mklaric@sharonherald.com