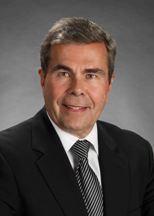 SOUTH PYMATUNING — South Pymatuning supervisors say they are not concerned with the integrity of the township's new solicitor even though he has a criminal record.
Supervisors voted unanimously to hire Charles Steele, of Steele Schneider Law Firm in Pittsburgh, June 13. Steele also works as the Reynolds School District solicitor.
Steele was convicted on 11 counts of mail fraud for a scheme to over-bill his law firm's clients, primarily school districts in western Pennsylvania, between the years of 1994-96.
He was also convicted of four counts of obstruction of justice for submitting altered documents in response to a jury subpoena in 1994, according to court records.
Steele served 30 months of a 33-month prison sentence, was sentenced to three years of supervised release and ordered to pay restitution.
When South Pymatuning resident Laurel Alexander questioned supervisors about Steele's criminal record during the township meeting, supervisors said they were aware and did not condone Steele's previous actions, but decided to hire him anyway.
"The board has discussed and is aware of everything that has went on," Supervisor Rose Lyons said.
Steele said the charges he faced "generations ago" would not factor into his ability to represent the township fairly and effectively.
"I've had to meet a higher moral standard (since the conviction) than anyone who has ever graduated from law school," Steele said. "And you've got to be out of your mind to think I'd ever over-bill another client after everything I've been through."
Steele added that he was confronted with the same questions about his legal past in 2005 when he was hired as solicitor for Reynolds School District.
"This has all been over many times," he said. "They tried this at Reynolds. They tried to get rid of me. It didn't work."
Following his 1996 conviction, Steele was suspended from practicing law in Pennsylvania's Western District federal court, and disbarred by the Pennsylvania Supreme Court and Third Circuit federal court.
He was reinstated by the state Supreme Court in 2005, although his suspension in the Western District and disbarment from the Third Circuit federal courts remained in effect.
Steele was suspended again in 2016 for practicing law illegally in the Western District and Third Circuit federal courts, as well as making misstatements on applications to Pennsylvania's Middle and Eastern federal court districts to obtain special permission to practice law in those districts.
Under his current status, Steele is licensed to practice law in Pennsylvania commonwealth courts.
According to court documents, Steele illegally represented Western District clients in 36 civil action cases from 2006-14 during the suspension. In two of those cases, he represented South Pymatuning residents Kurt Toth and Thomas Lyons in lawsuits against South Pymatuning police officers.
Steele said he believed that his reinstatement by the Pennsylvania Supreme Court also meant he was reinstated to practice law in the Western District and Third Circuit federal courts. The state Supreme Court ruled that during that time, Steele practiced law "openly and conspicuously," indicating it believed his statements to be true.
However, when applying to practice law in the Middle District in 2012, Steele did not disclose his previous criminal conviction, suspension or disbarment. The state Supreme Court ruled that Steele was asked directly whether or not he was an attorney in good standing and he provided a false and misleading response. 
"(In the Middle District) I interpreted a rule that said I did not have to disclose that," Steele said. "I accepted that suspension, because I knew that I would be automatically reinstated to the bar."
When asked for comment Monday, Lyons, who doubles as the township's secretary and treasurer, said she was working on secretary and treasurer business at the time, and was not obligated to answer any questions in her role as township supervisor.
"I'm not feeding into the drama," she said.
Lyons did add that she believes Steele to be a good negotiator and the best solicitor the township could have hired for the job.
The township accepted the resignation of its former solicitor, Peter Acker, during the June 13 township meeting when it hired Steele.
In the May 10 township meeting, Supervisors Chairman Bill Klumph told those in attendance that the township had "no contact whatsoever" with (Acker) in roughly the three weeks prior.
Lyons said Acker submitted his resignation to supervisors with "no comment." Lyons declined comment on the resignation as well, but added that the former solicitor had been active in the ongoing negotiations with AFSCME regarding the future of the township's police force.
Steele said he and the township have already scheduled a bargaining session with AFSCME, which is set for July 16.
"We certainly want to have a police force, but it's become a matter of affordability," Steele said. "There are a lot of challenges, but we are optimistic. We're looking forward to putting our heads together and solving some problems."