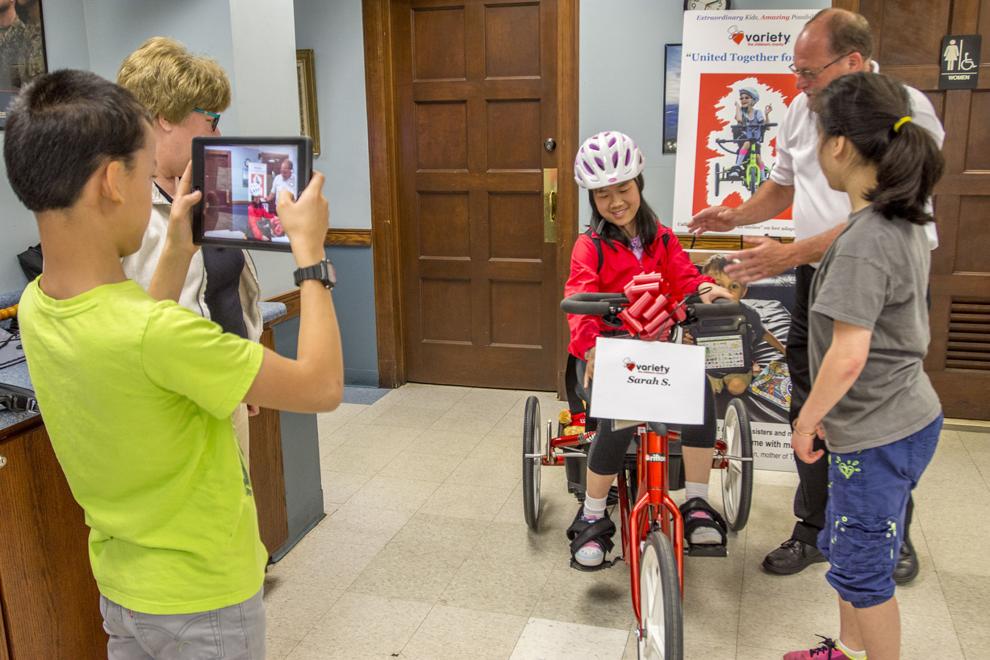 SHARON – When post Commander Bob Calvin led a parade through the halls of the American Legion Post in Sharon Monday, it wasn't for a holiday, or for a sports team's championship win. It was bigger than that.
Four youngsters took their first spin on their new adaptive bicycles, which made it possible for them to enjoy a ride they might not otherwise have ever had the chance to take.
Since 2012, more than 1,000 of the special bikes have been donated by individuals and organizations through the Variety the Children's Charity's My Bike Program.
"People always want to ask me, 'What's the catch?'" Variety Pittsburgh's chief executive officer Charles LaVallee said. "But there's no catch."
The American Legion in Sharon is responsible for seven of those bicycles.
"If it's for the kids, I'm all for it," Calvin said.
Traci Smedley, of Titusville, adopted her 14-year-old daughter, Lizzy, from China three years ago. Smedley said Lizzy's best friend Sarah, who is also 14, was set to be adopted by a different family, but the family never showed up to get her.
That's when Lizzy's best friend also became her sister.
Smedley worried that Sarah, who suffers from cerebral palsy and severe hearing loss, might be a bit behind the other children when she came to the U.S. But now, with new wheels and a new confidence, Smedley said she has no doubt her daughter will be "catching up" in more ways than one.
"She's a sharp kid," she said. "We just want to give her her best chance."
The $1,800 bikes came with a removable guide bar for parents to help steer, and a stationary stand so the children are still able to exercise indoors during winter.
"These children are not special needs," LaVallee said. "They are special children. They can do anything they set their minds to."
But the bikes weren't the only prizes handed out Monday. Two adaptive strollers and five communication devices were also given to local children as a part of the charity's My Stroller and My Voice programs.
Due to a rare condition, Susan Vorisek's daughter Maria didn't start walking until she was 7 years old. Vorisek said since most places aren't easily accessible, the stroller, which is a lightweight and easy-to-transport version of a wheelchair, will be a blessing for her family.
"My husband and I are one of 10 children," she said. "We have a lot of different houses to go to."
The communication devices look similar to iPads and allow children to communicate by touching images on a screen to produce an artificial voice.
"Kids need to be able to communicate what they want or if they are in pain," LaValle said. "The bikes are fun, but these (communication devices) have the biggest longterm change."
Lavalle encouraged families to apply online at www.varietypittsburgh.org or call the Variety office at 724-933-0460 if they are interested in a bike, stroller or communication device for theirchild.
"We're excited for (the kids) to show what they can do," he said. "The real heroes are these children."
Follow Quinn Schwartz on Twitter @Herald_Quinn or email him at qschwartz@sharonherald.com.