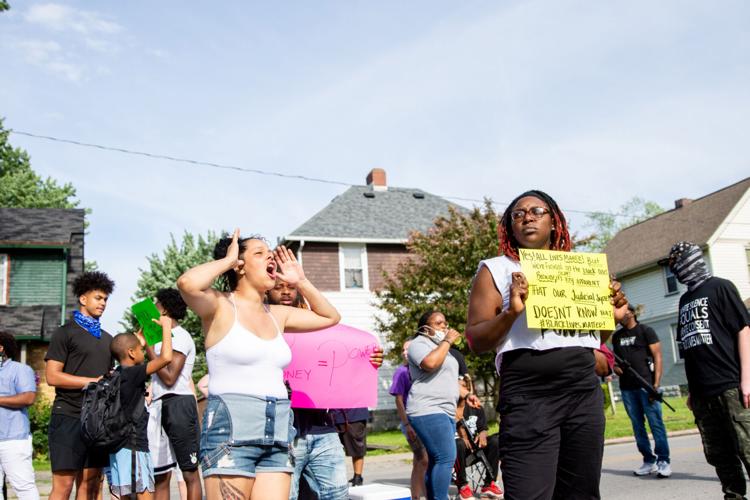 SHARON — Chanting "No justice, No pizza," more than 50 people Wednesday protested outside Tony's Pizza and Pub against what they called a racially insensitive social media post by an employee. They got the apology they demanded, but left unsatisfied, saying the worker failed to understand her language was hurtful.
Many in the group were among those who marched peacefully Sunday in Sharon, Farrell and Hermitage to protest the killing of George Floyd, a handcuffed black man, by a white police officer in Minneapolis , Minnesota, on Memorial Day. Floyd's death set of protests in cities across the nation over police brutality and racial injustice.
The pizza shop protest stemmed from a woman, with the Facebook handle "Cathy A Mcelhinny," reposting a news story from WATE television in Knoxville, Tennessee, about a bakery in Cleveland whose owners had armed themselves to protect against potential looters during protest demonstrations in that city.
Mcelhinny's repost included the comment, "Protect your business, the Italian way!!! Save those goodies!!! "when the looting starts, the shooting starts."
The phrase, "When the looting starts, the shooting starts," which President Donald J. Trump used in a tweet five days ago, has a racially charged history dating to the civil rights demonstrations of the 1950s and 1960s.
In a Facebook post Wednesday on the "Tony's Pizza and Pub" page, an unnamed person who claimed to have made the post attempted to explain.
"It was about food not race!!! For anyone who truly knows me knows how much we love our sweets. Then i (sic) used some words that I shouldn't have especially in these trying times. My words were wrong but they were not racially said they were suppose (sic) to be a way to tell my Italian family how we feel about our sweets."
Protestors gather outside Tony's Pizza following Facebook post by a worker they said was racially insensitive
The unidentified pizza shop post and the "Cathy A. Mcelhinny's" comments were both deleted. An attempt to contact the owner of Tony's Pizza and Pub by phone was unsuccessful.
The "No justice, No pizza" chanting crowd gathered around 5:50 p.m. at the pizza shop on Stambaugh Ave. The protesters called for Cathy to apologize for her Facebook comments. Marquis Lampkins, a leader of the protest, said the post was unfair, particularly in light of the peaceful protests Sunday in the Shenango Valley. 
Shortly after 6 p.m., a woman who identified as Cathy appeared at the pizza shop's take-out window and expressed her regrets.
"It was awful and I apologize," she said. "I am so sorry about that."
Lampkins then asked Cathy why she made the Facebook post. "You used those words," he said. "That hurt us."
After a brief exchange, Cathy said she was not a racist and had black friends. That ended the discussion.
The protesters then marked a nine-minute period of silence, representing the time the Minneapolis police officer drove his knee into Floyd's neck, causing his death.
Lampkins' 9-year-old son, Lai'on, participated in the protest. Without mentioning the Facebook posts, Lai'on said people sometimes say hurtful things without considering the impact of their words.
"Some people say stuff, they don't really think," he said. "People like us, we think before we say stuff."
Follow Eric Poole on Facebook and Twitter @HeraldEricPoole. Email him at epoole@sharonherald.com