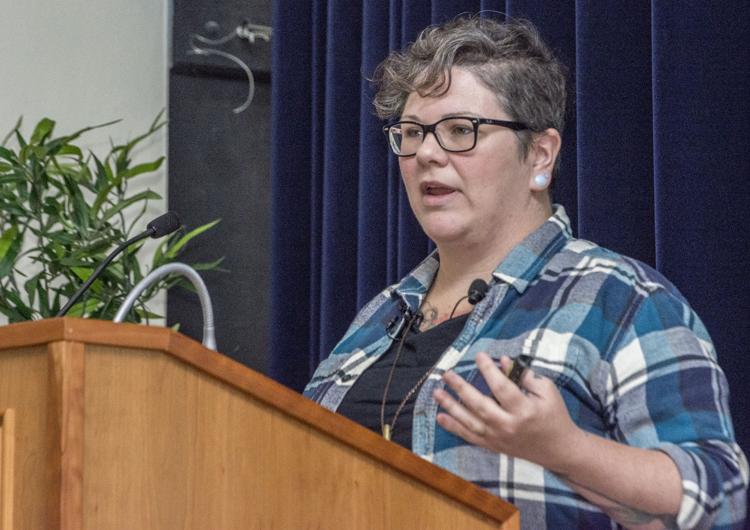 SHARON – She doesn't consider herself a great public speaker, but self-taught photographer and interviewer Dese'Rae Stage didn't let that stop her from addressing an audience about a subject very personal to her — suicide prevention.
Standing at the podium at Penn State Shenango's auditorium, Stage presented a slideshow of seemingly unrelated faces, belonging to various ages and genders, but with one thing in common. They — and the speaker who introduced them — are suicide survivors.
"I noticed we don't talk about our personal experiences with suicide, or suicidal thoughts or suicidal feelings, and I wanted to change that," Stage said.
Stage survived two suicide attempts at the ages of 17 and 23, in 2000 and 2006, respectively. The second time, a friend Stage was speaking to over the phone called first responders.
"I was scared at first because the police were at my home. I thought I was going to be locked up," Stage said.
Recovering from a suicide attempt was not easy, Stage said.
The hospital staff wasn't sure what to do with her, and when she was finally released, she said a followup number to call 24 hours later was comprised only of zeroes.
It took a change of scenery to help her change her life, Stage said. She moved from Tennessee to Texas.
Eventually Stage followed her passion and taught herself photography, which included photographing musicians. After a while, she began interviewing the musicians she photographed, another skill she taught herself.
Ultimately, she returned to the issue of suicide prevention, and found that most of the information available on suicides focused on statistics. These statistics not only lacked the number of suicide survivors, but the stats themselves appeared to be incomplete, Stage said.
"Some suicides aren't reported as suicides, and in some cases such as opioid overdoses, the person's death isn't recorded as a suicide, even if the person overdosed intentionally," she said.
To fix that, Stage decided to put her skills to use and started interviewing suicide survivors like herself, collecting people's portraits and their stories on her website LiveThroughThis.org.
Just finding suicide survivors was difficult at first, with Stage taking out ads on Craigslist. Since her first interview in 2011, LiveThroughThis.org now has 186 stories, with survivors from across the country now contacting her.
"When I do an interview, I ask the person's name, their age, and I ask them to tell their story as they see fit," she said.
The reasons why someone tries to commit suicide vary, but not all of them are related to mental illness, Stage said. According to the Center for Disease Control, 54 percent of suicides happen because of relationship problems, substance abuse, legal problems, a job or financial issue, loss of housing or a physical health problem.
Although some people might think of suicide survivors as better afterward, Stage said suicidal thoughts often persist for many survivors. Life doesn't necessarily get better or less challenging, but Stage urged people who survived suicide, know a victim of suicide or who have suicidal thoughts not to give up, and to understand that there are many people out there going through similar situations.
"One of the best things when I ask people, "What good things have come from this experience" is when they tell me, 'My experience with suicide allowed me to better understand and help other people that are going through something like me,'" Stage said. "No crisis lasts forever. Something might seem hard, but once you make it through, you realize that it's not impossible."
Plans for Stage's presentation began in 2018, when Penn State Shenango's Mental Health Counselor Tony Paglia said he attended the Higher Education Suicide Prevention Conference at Penn State University's main campus.
After he heard Stage's presentation on the issue of suicide survivors and telling their stories, Paglia said she seemed like an ideal speaker for 2019's Stamp Out Stigma event.
"What I find in the days and weeks after Stamp Out Stigma, is there's often an uptick in the number of students that want to come by the office and talk about something," Paglia said.
Stage's work is on display in Lecture Hall 222, Penn State Shenango's gallery. The display includes pictures of people Stage has interviewed, as well as excerpts of those interviews.
Like David L. Dye on Facebook or email him at ddye@sharonherald.com.