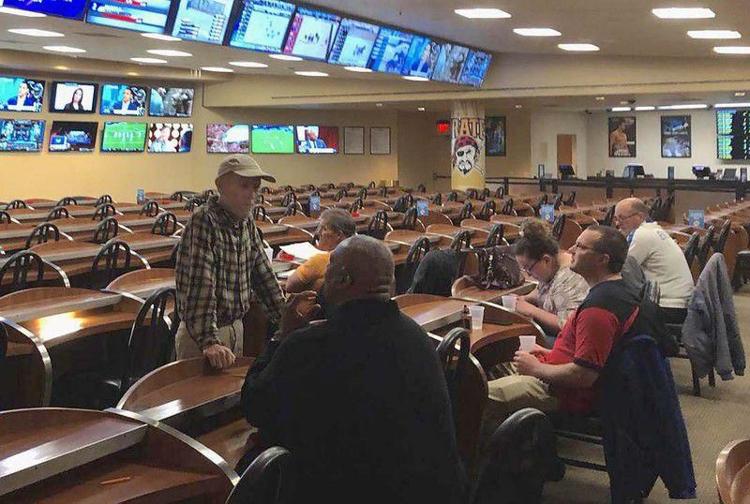 HARRISBURG – Pennsylvania's first sports betting parlor at the Hollywood Casino at Penn National is up and running and four other casinos are getting ready to start.
Penn National, near Hershey in Grantville, held two days of test operations Nov. 15-16 before officially launching on Nov. 17.
On Wednesday, the state Gaming Control Board approved operators for the sports betting parlors planned by SugarHouse Casino in Philadelphia and the Parx Casino in Bensalem.
Two other casinos also have applied to offer sports betting, the Rivers Casino in Pittsburgh and Harrah's in Chester.
"We have no announcement yet, but it is expected that test periods for sports wagering for 2 or 3 casinos could be announced soon," said Doug Harbach, a Gaming Control Board spokesman.
To offer sports betting, the casinos must pay a $10 million fee.
The first legal sports wager in Pennsylvania was $20 bet on the Pittsburgh Steelers to win the Super Bowl, said Gary Pecorello, director of casino marketing for the Hollywood Casino at Penn National.
It's too soon to tell how that bet will pan out, but all indications are that sports wagering is off to a fast start, said Fred Lipkin, vice president of marketing at Hollywood Casino.
Hollywood Casino's sports betting parlor features rows of desks lined up in front of a bank of 32 televisions along one wall. Cashiers wear the trademark black-and-white striped shirts of referees. Late Tuesday afternoon, there were only about 10 gamblers in the parlor, but there were also few sports contests available. The televisions were showing soccer action from Europe.
The minimum bet is $2 and a $2 wager on Northwestern in the Big Ten football championship offers a $3.80 payout, with the Wildcats as 14-point underdogs versus Ohio State.
Pennsylvania allows sports wagers on both professional and collegiate sports.
"There is a season for it," with betting being concentrated in the months in which football is being played right up through college basketball's March Madness, Lipkin said.
Weekends, when football is being played, are much more lively in the sports betting parlor, Lipkin said.
Right now, the Hollywood Casino is the only place in Pennsylvania where sports wagers can legally be made. Others hope to be up and running next month
Penn National is working to get final approval from the Gaming Control Board to launch online sports betting. Lipkin said they anticipate that being in place in the first quarter of 2019.
The move to legally bet on sports – including professional, collegiate and international sports – was made possible by a May U.S. Supreme Court decision. Prior to that decision, sports wagering was legal only in Nevada, Delaware, Oregon and Montana. Since the decision, New Jersey, West Virginia, Mississippi, Rhode Island and Pennsylvania have legalized sports betting and Delaware expanded the type of sports betting allowed in that state.
Sports betting bills have also been introduced in 15 other states, where they are likely to be considered in 2019, according to an analysis released by the Pew Charitable Trusts.