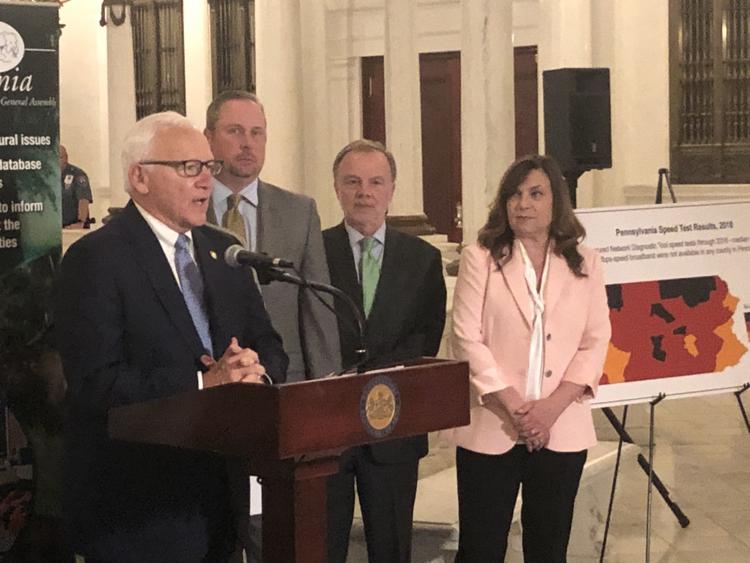 HARRISBURG — Poor broadband coverage in rural Pennsylvania, long a recognized problem, is worse than previously believed.
A report released Monday by the Center for Rural Pennsylvania says there is no county in the state where more than half of the people had broadband internet fast enough to meet federal standards.
The research, which included speed tests completed by computer-users across the state, found that speeds were slower in rural areas. Also the gap between the speeds claimed by internet service providers and the speeds experienced by the public were more pronounced in the rural parts of the state.
Throughout the course of the study, conducted in 2018, the center's research team collected more than 11 million broadband speed tests from across Pennsylvania and found that median speeds across most areas of the state did not meet the FCC's criteria to qualify as a broadband connection.
The research, Broadband Availability and Access in Rural Pennsylvania, was conducted by Sascha Meinrath, Penn State University's Palmer Chair in Telecommunications, and a team of researchers who developed a replicable research methodology using open source tools for collecting broadband data.
State Sen. Gene Yaw, R-23, Loyalsock Township, Lycoming County, called the report a "landmark" study that should move the state past debating whether rural broadband is a serious problem.
"The numbers are not good for Pennsylvania," said Yaw, chairman of the Center for Rural Pennsylvania. "We have a lot of work to do and it's going to cost a lot of money."
State Rep. Tedd Nesbit, R-8, Grove City, said the problem is acute and impacts more than businesses and schools. As rural hospitals depend increasingly on telemedicine for diagnosis and treatment, broadband access is a health care issue.
He said reliable, fast internet is even becoming necessary in unexpected enterprises — farmers are using satellite technology to operate heavy equipment.
"The question is, how much government funding do we need or should it be privately funded," he said.
Nesbit recommends a mix, while acknowledging that the current business model offers little enticement for private entities to install broadband infrastructure in sparsely populated areas.
"That's why the rural areas don't already have broadband," he said. "But we need to find a way to incentivize private industry to invest."
Overcoming the problem will be important to try to help diminish the "brain drain" of younger people leaving the rural parts of the state, Yaw said.
"We know that topography, infrastructure access, population density and even consumer ability to pay all contribute to the current situation," he said. "However, the Penn State-led team of researchers identified examples where unique partnerships, cooperative initiatives, and support from federal, state and local governments, private businesses, and nonprofits are working to bring universal, high-quality broadband to all Pennsylvanians."
Gov. Tom Wolf has made rural broadband one of the challenges he's proposed to fund with a bond that would be repaid using a new tax on natural gas drilling.
"Restore Pennsylvania will bridge the digital divide in every community across the commonwealth, ensuring that every Pennsylvanian has access to high speed, reliable, and affordable internet service," Wolf said in a statement released after the Center for Rural Pennsylvania report was unveiled. "The people of Pennsylvania deserve access to modern utilities – including broadband internet, and we have the ability to bring it to everyone through Restore Pennsylvania."
Republican lawmakers have opposed Wolf's plan to tax the drilling industry.
State Rep. Garth Everett, R-Lycoming County, said that one of the objections to the governor's plan is that it "over-promises" regarding what problems could be solved.
In addition to rural broadband, Wolf's said his proposal would pay for a variety of infrastructure work, combat blight and provide disaster aid that kicks in when federal assistance doesn't arrive.
Everett, vice chairman of the Center for Rural Pennsylvania, said he's considering calling for a proposal that would help pay for rural broadband deployment by adding a $1 surcharge on phone bills, like the one used to help cover the cost of 911 emergency service.
He has not yet drafted or introduced legislation to that effect.