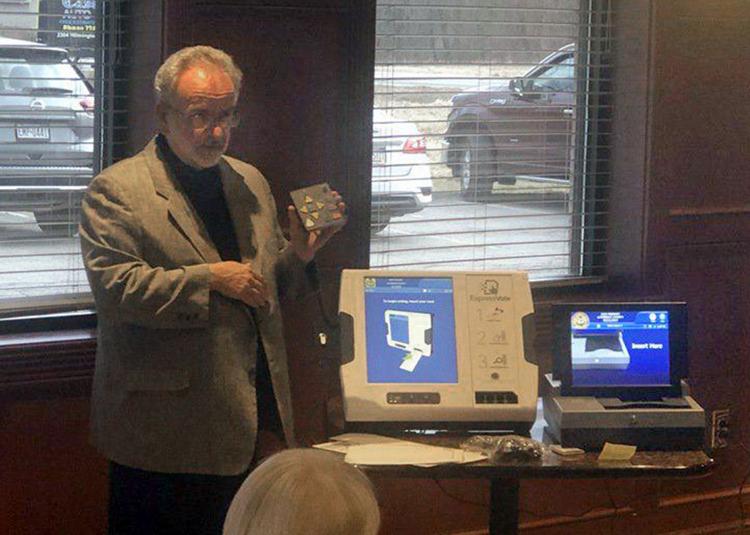 NEW CASTLE — Mercer County's new voting machines got a practice run Tuesday — in Lawrence County.
On May 16, Mercer County commissioners approved the purchase of a voting machine system manufactured by Omaha, Neb.-based ES&S, for use in the general election this November. But Lawrence County was a few weeks ahead of its neighbors to the north. 
Lawrence County purchased DS200 optical scan counters and ExpressVote ballot marking devices, both manufactured by ES&S, and used them Tuesday in the primary. Mercer County plans to use the same devices starting this November.
Both counties bought the voting system to comply with an order by Gov. Tom Wolf to replace existing systems with voting devices that archived a paper trail of votes cast, while protecting voters' privacy. The old system is fully electronic with no paper record of individual votes.
But voters in Lawrence County, who have used the same ES&S-manufactured iVotronic touch-screen machines as Mercer County residents for more than 10 years, stepped Tuesday into the brave new voting world.
Which turned out to be kind of retro.
The DS200 system uses scanners to count votes cast on fill-in-the-oval paper ballots. Mercer County plans to have one of them at each of 90 voting precincts – county officials plan to eliminate 10 polling places, mostly through precinct consolidation, starting in November. The ExpressVote ballot marking devices can be used to comply with Americans With Disabilities Act requirements.
Ed Allison, Lawrence County director of Voter Registration and Elections, said the new system's debut went well. He said Lawrence County residents responded well to the system, in part because voters were able to have control of their ballots from the time they began filling in ovals to the moment they put their votes into the DS200 scanner.
"I think that the acceptance by voters was, for the lack of a better term, resounding," he said. "All in all, I think the day was a success."
But the premiere didn't go entirely without glitches. Three scanners stopped working for a time, and Lawrence County election officials and ES&S technicians couldn't figure out why.
Allison said the machines began working again, just as mysteriously.
But the temporary malfunctions didn't affect voting. The DS200 devices have an emergency bin, which collects ballots in the event of a machine breakdown.
Allison said the machines can hold a maximum of 250 ballots in the bin. The uncounted ballots are stored in the emergency container, to be scanned and counted later.
One day after overseeing Mercer County's last election with the iVotronic touchscreen devices, Voter Registration and Election Director Jeff Greenburg said he planned to confer with Allison for tips on using the new machines.
"It's helpful that we can see how it worked in other counties that went before us," Greenburg said.
Greenburg said he thought Allison would cooperate in allowing other counties to see Lawrence County's processes.
For his part, Allison said he was willing to help any of his counterparts who ask.
"We'll be happy to bring anyone in to see it," he said.