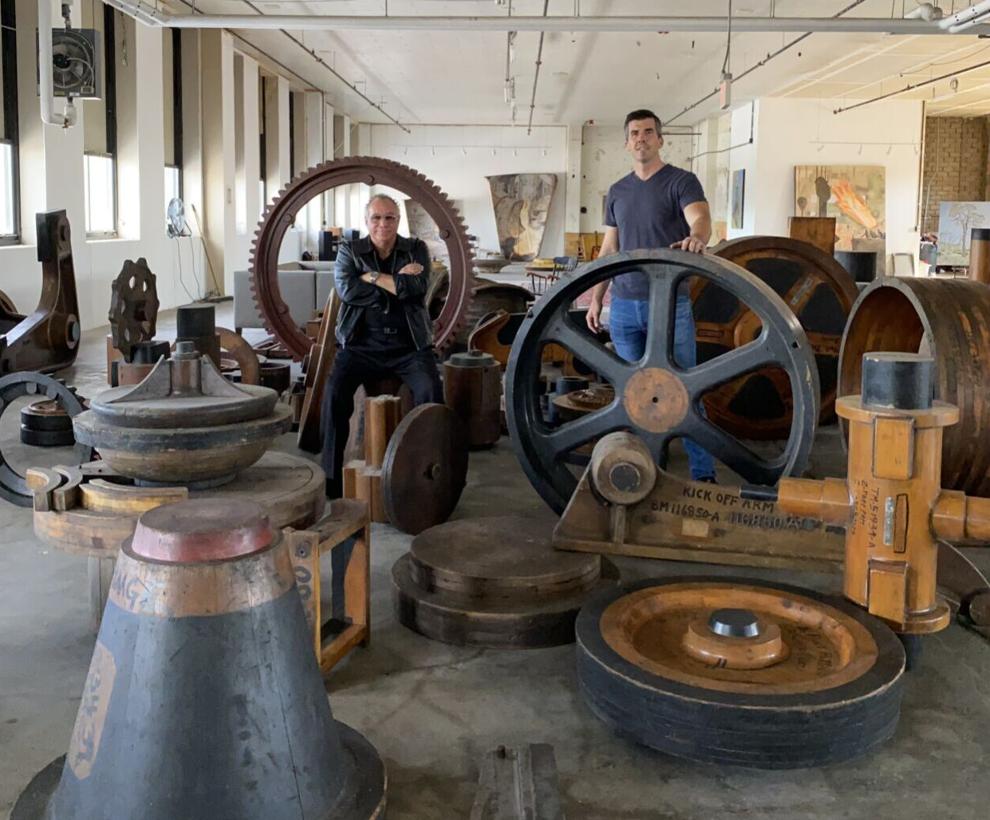 Can you use these?
It seemed like a simple question posed to Pittsburgh artist Cory Bonnet by Chip Barletto, a New Castle scrap metal dealer.
Except "these" were giant pieces of the former Youngstown Sheet and Tube Brier Hill Works steel mill, which Barletto had discovered in a barn in Ohio.
"I said yes before I let myself think," Bonnet recalled with a laugh. "It was floor to ceiling with pristine towers of gears and stacks of massive patterns."
Ten 26-foot truckloads later, the barn's second floor was cleared out and the relics taken to Pittsburgh's Energy Innovation Center, where the artist maintains a studio.
Several of the pieces became the canvases for paintings Bonnet will be featuring in "Patterns of Meaning," a one-night, invitation-only event today at the Energy Innovation Center. In addition to showcasing the artist's works, the evening will feature some of the reclaimed materials discovered in the barn as well as items from Barletto's own collection.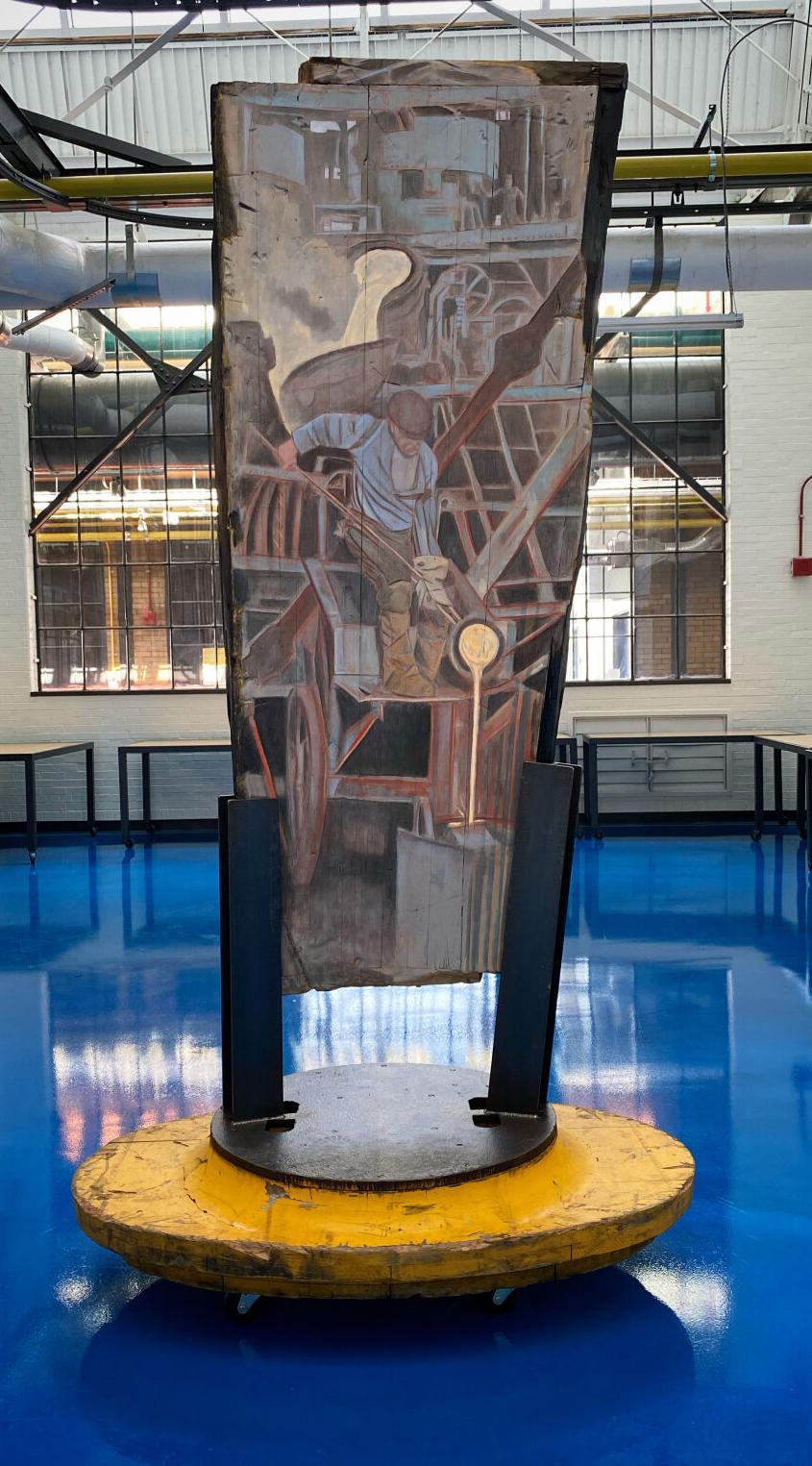 "Some are fragmented pieces, broken patterns used to cast the steel, others are 9-foot ladles used to pour the steel into the casts," explained Bonnet, who had previously worked with salvaged pieces of the former Whemco mill in Homestead.
After earning a bachelor of fine arts degree in drawing from Edinboro University, Bonnet initially painted "on the side," working in marketing for a building supply company where he received training and certification in green and sustainable building processes and developed a love for repurposing old materials.
Soon his two passions melded. Starting small, he painted on oak panels from old doors and then grew into using pews from demolished churches and roof panels from the former Civic Arena.
Photos of Bonnet's work on Facebook captured the attention of Barletto, who previously exhibited some of his own steel mill artifacts at the CB Gallery and Museum, a space he formerly occupied in the Majestic Hotel in downtown New Castle.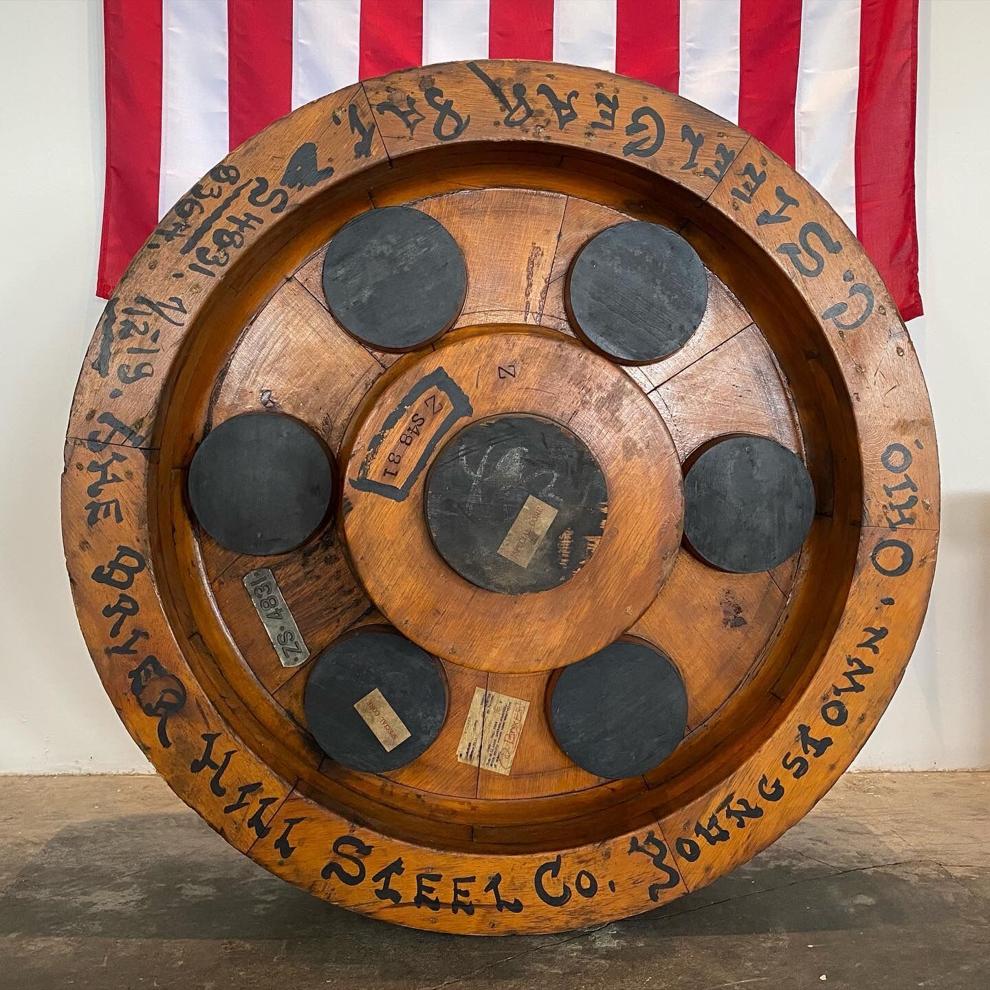 "He's a force of nature," Bonnet joked about Barletto, who has also dabbled in sculpture, using reclaimed mill materials as his medium.
"I was 10 or 12 years old when I started collecting," said Barletto, recalling accompanying his dad into steel mills and and getting in trouble "because I was never where I was supposed to be. I was always collecting things. I hated the job, but I loved the mills themselves, they were like giant dinosaurs.
"I've never been afraid to dive into dumpsters, and I never threw anything away. I still have the first rock I picked up as a kid," he joked. "I guess I just look at things a little differently than other people."
While some of the steel mill artifacts will remain at the Energy Innovation Center permanently, Bonnet and Barletto are looking into exhibiting the pieces elsewhere, including Youngstown's Butler Institute of American Art.
"We hope this will be the first event in a series of many. We hope to take the collection on the road, to other steel cities like Detroit, Chicago and Philly, but my true passion in all of this is preserving the history of the guys who made these patterns. I want to share it with others in appreciation for all the work that those guys have done," Barletto said, adding that anyone interested in making an appointment to view the works can contact him through his website, cbgalleryandmuseum.com.
Noting that the pair's collection also includes thousands of blueprints from Brier Hill, Bonnet is looking to make an online searchable database for the pieces.
"More and more I'm overwhelmed with gratitude for what we have around us that we take for granted. The bridges we cross every day were built with the steel created from these patterns. Maybe if people can remember, they can find a common ground," said the oil painter who also has a gallery in Pittsburgh's Strip District.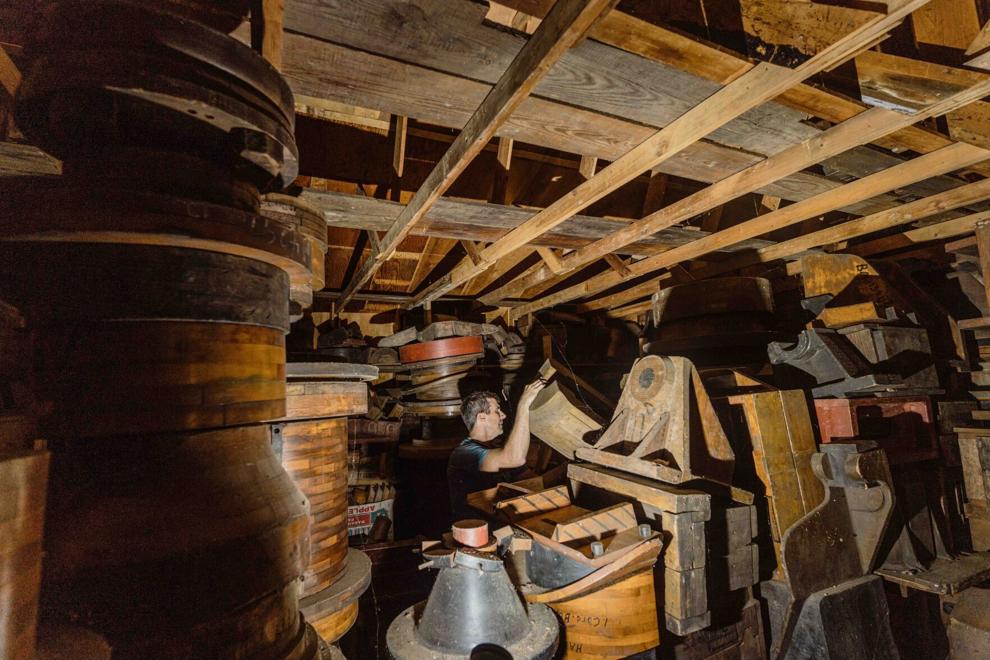 "We're hoping to find other ways to allow people to see the magnitude of this collection. We've had an overwhelmingly positive response so far," said Bonnet, who also wants to use the patterns to cast decorative pieces in glass, porcelain and other materials.
"This is way bigger than us, way bigger than one artist. It's the story of the steel industry and the meaning that it brought to people."