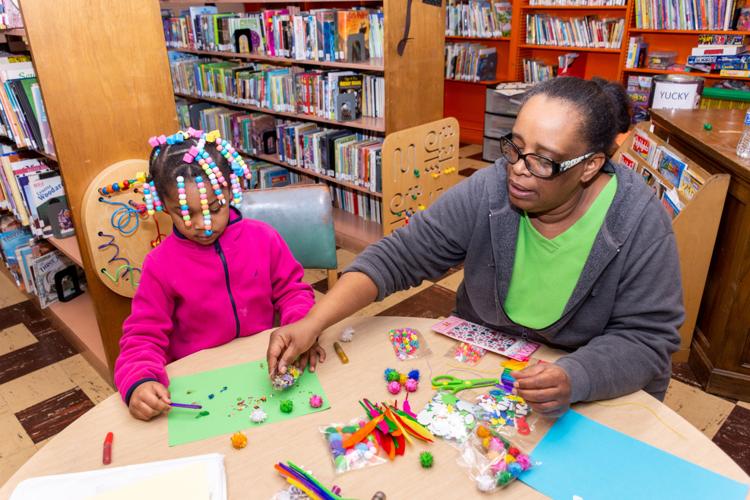 FARRELL — Compared to the children's room down the hall, the Stey-Nevant Public Library community room has a simple decor.
While the children's room has colorful posters, toys and a television where kids can watch movies, the community room — located in the library's bottom floor — features only books for young readers on bookshelves that line the wall and a few tables in the room's center.
However, that is going to change this spring, with the help of Seeds of Faith, which plans to turn the community room into an arcade.
"This was a huge surprise to us," said Abby Kutz, branch manager of Stey-Nevant, a branch of the Community Library of the Shenango Valley.
The idea started about a year ago when Urainey Evans, of Seeds of Faith, said she had a dream of how to help the library attract more young people. For last year's fundraising season, from about April to November, Seeds of Faith collected donations to buy arcade equipment, such as a basketball table, foosball table, video game console and TV.
"When I was a kid, it was the norm for everybody to have a library card, but we've found that a lot of upper middle school and high school students don't have library cards," Evans said.
At the Stey Nevant Public Library, children ages 5 through 11 can participate in the Children In Action, or CIA, program, which is organized by Prince of Peace Center and hosted by the library. The CIA program usually has 15 kids per day participate Monday through Thursday, Kutz said.
The library plays host to a summer lunch program, which is open for children up to 18 years of age and draws about eight to 10 kids a day Mondays through Thursdays during the school break.
Adults also frequently use the library for internet access, to check out books and DVDs, and attend the library's gadget workshops.
Kutz said many adults have come this year, particularly to learn how to use Cricuts, devices that can cut and print fabrics or vinyl. Cricuts are popular for activities such as scrapbooking because they can be used to cut a wide range of shapes and letters.
"A lot of people got Cricuts this year for Christmas so we've been getting calls asking how to use them, and we have one here at the library," Kutz said.
When the arcade is finished, it would be designated specifically for teenagers from Mercer County, as a space where young people can mingle with others from the same age group and have a safe place with activities to spend outside of school.
Evans said she hopes the students would take advantage of the library's educational opportunities, such as the computers and books.
Kutz said an arcade room for teens would also help fill an age gap in library users, as many young children participate in the library's CIA and summer lunch programs, and many adults use the library's services as well, but attendance seems to have decreased among teens over the last couple years.
"We have a ton of adults coming in and children coming in, but we're losing teens to other facilities," Kutz said. "Some start working, some are taking care of kids. There's a few answers we've gotten when speaking with teens."
The library's increased usage could also help it attract more federal dollars, which would go toward helping the library become more self-sufficient, Evans said.
"It'll help create an atmosphere where everyone wants to go to the library, and the kids can discover that world of literacy, because Google can give you the answers but sometimes you need to be able to do that research," Evans said.
Children also need parental consent to use the library's internet service, which is handled through a form that parents fill out when signing up their children for a library card, Kutz said.
When the arcade opens, teens will be able to use the arcade room's equipment without any parental consent forms, Kutz said. However, children would need library cards to access the arcade, and would need to check out books from the library as well, Evans said.
"We wanted to tie it into literacy, so to even use the arcade the kids would have to have a library card, but they'll also have to check out books and read those books," Evans said.
The only expected construction needed in the community room will be some holes drilled in the wall for the new television. But even after the arcade equipment is installed, Kutz said the community room will remain available for event rentals.
The new arcade room is expected to be unveiled at the library's annual Spring Fling fundraiser, which will be held from 5 to 7:30 p.m. Friday, April 17.
Like David L. Dye on Facebook or email him at ddye@sharonherald.com.