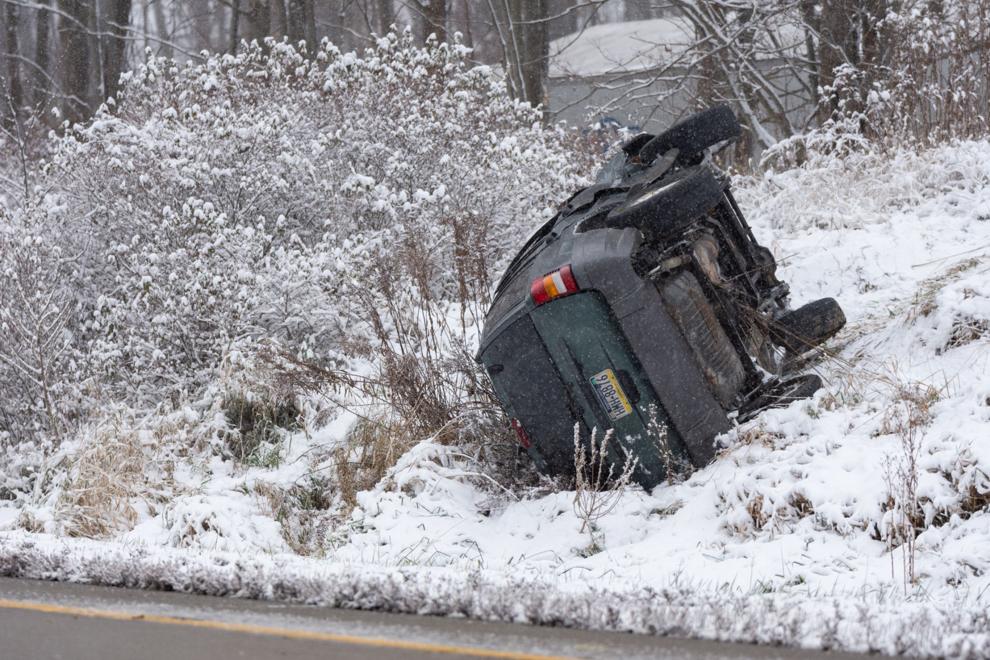 SHENANGO TOWNSHIP – The season's first snowstorm wrought havoc in Mercer County Tuesday, with drivers stuck in their cars for as long as 11 hours on an accident-plagued Interstate 80.
A multiple-vehicle crash just before 4 p.m. on Interstate 80 westbound near mile marker 5 in Shenango Township tied up traffic. State police said the highway was closed for at least five hours after the accident.
That accident took place about three hours after another crash that involved both cars and tractor-trailer trucks.
A state police staff member at the Mercer barracks said there would be no additional information released Wednesday from either of the accidents Tuesday.
Michael and Mary Jo Steiner were stuck in their vehicle with their grandchildren, ages 3 and 5, on I-80 west between the Mercer and Hermitage exit near mile marker 12.
"With all those trucks lined up, I was worried about carbon monoxide poisoning," Mary Jo said. "There are no turnoffs. And I'm curious about roadside assistance."
Mary Jo said she was sorry for the people in the accidents, because she knows what it is like to lose someone, but there should have been some kind of help.
The family was headed to Akron, Ohio, for the Polar Express-themed train. 
The group had eight tickets at $90 per ticket, plus they spent $136 staying at the Holiday Inn Express in West Middlesex.
"We left Iron Bridge Inn on Route 19 at 4:30 p.m. and got to the Holiday Inn Hermitage around 3:30 a.m," Michael said. "There need to be turnoffs. It was just a double ribbon of traffic forever and ever."
PennDOT area manager Zach Miles, of the Mercer office, said PennDOT expected the snowfall and had several trucks out. He said the state transportation agency partners with local responders during extreme situations like the accidents Tuesday. In addition to state police, police and fire personnel from West Middlesex, Hermitage and Shenango Township were on the scene.
"After we ensure everybody in the incident is taken care of, our main objective is to clear up the queue," Miles said. "In this instance, we had so many tractor trailers involved in the accident from guard rail to guard rail."
Miles estimated that 10 trucks were involved in the accident.
"We allowed passenger vehicles to go over to the eastbound lane, but some of the cars did not access the crossovers so the local fire departments made wellness checks, made sure everyone had enough gas and gave out water," Miles said. "That's what we do when we know we have a traffic incident that's going to affect a decent amount of people."
In Hermitage, the storm left behind a double whammy, with city police dealing with not only heavy snow, but an influx of traffic from drivers avoiding I-80.
The city had an above average number of accidents Tuesday, said police Chief Eric Jewell. Most of the accidents involved cars in ditches, with about six actual crashes. No injuries were reported.
"People were driving slow but the road surfaces were super slick and icy and snow-covered. It was just lack of traction," Jewell said. "These first winter storms re-educate drivers to slow down. Winter is here. You actually have to drive slower, get more following and stopping distance in between cars and plan for extra travel time."
Sharyn Tompkins of Hermitage said her daughter was involved in an accident Tuesday on U.S. Route 62 in Hermitage. She was grateful for the emergency response and to an unidentified driver from Tri-County Waste who helped out until first responders arrived.
"I would like to thank the Hermitage VFD rescue and McGonigle's ambulance for their caring and quick response," Tompkins said. "Also to the Tri-County driver who got out and immediately directed traffic, securing a safe area." 
Tompkins also thanked a woman who stayed with her daughter until the rescue crew arrived.
"There are wonderful people in this valley and this accident brought just a few of them together," she said.