HERMITAGE – The city of Hermitage has undertaken a number of stream restoration projects over the years to alleviate flooding and stabilize stream banks.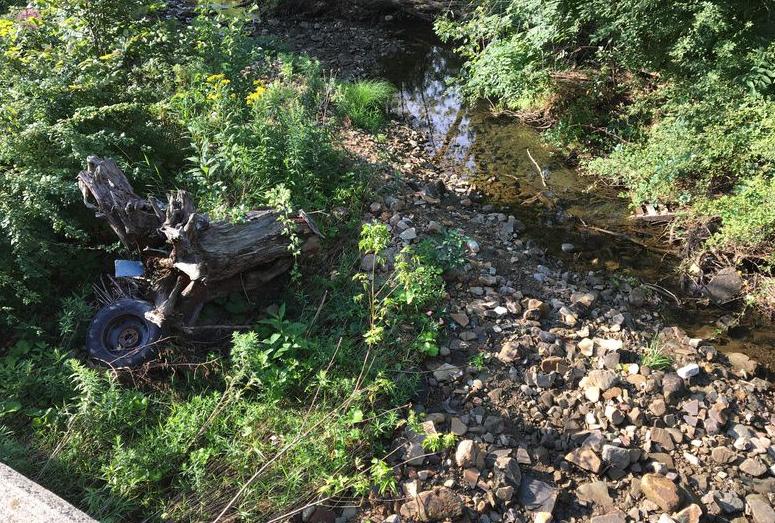 When officials get around to working on a section of Bobby Run in a few years, the motivation will be much different.
"This is part of getting our new five-year (storm water discharge) permit," said City Manager Gary P. Hinkson.
The state and federal governments are tightening requirements for municipalities to identify storm water channels and discharge points and monitor the quality of the water entering local waterways. As part of the MS4 – municipal separate storm sewer system – investigations, Bobby Run has been deemed "impaired" due to unacceptable levels of nutrients.
"The way (the state Department of Environmental Protection) wants us to address that is address phosphorus," said Emily Muzzarelli of WallacePancher Group, Hermitage, which conducted the study.
According to a 2015 DEP report, phosphorus is a nutrient used by organisms for growth and binds with oxygen to form phosphates, which are found in agricultural fertilizers, domestic wastewater, detergents, industrial process wastes and geological formations.
"The discharge of wastewater containing phosphorus may cause algae growth in quantities sufficient to cause taste and odor problems in drinking water supplies," the report said. "Dead and decaying algae can cause oxygen depletion problems which in turn can kill fish and other aquatic organisms in streams."
"We have to submit a plan to cure the impairment," Hinkson said.
The 32-page plan is available at the city's website or at the city building, and public comments are being accepted.
The fix, according to WallacePancher, is to rehabilitate about 600 feet of Bobby Run, on both sides of the Longview Road bridge, just east of South Hermitage Road.
This section of stream already was on officials' radar.
Eileen Metz, who lives along this section of Bobby Run, spoke at a city commissioners' meeting in April 2016 to ask for help, noting the stream bank has eroded.
"It is eating right into my property," she said at the time.
A sanitary sewer manhole that used to be in her yard was now in the stream, she said.
The stream restoration project could include the installation of structures that slow water flow, the creation of floodplains and the planting of vegetation that helps keep the stream banks from washing away. 
The stream restoration will help inhibit soil from entering the water, especially during the heavy rains that the area has been experiencing frequently in recent years, Muzzarelli said.
The city has five years to bring the estimated $180,000 project to fruition.
"It will give us time to either budget for it and/or make some grant applications," Hinkson said.
The project probably will be designed next year with construction a year later.
The project also may include any fix needed to address the exposed manhole, he said.
Like Joe Pinchot on Facebook or email him at jpinchot@sharonherald.com