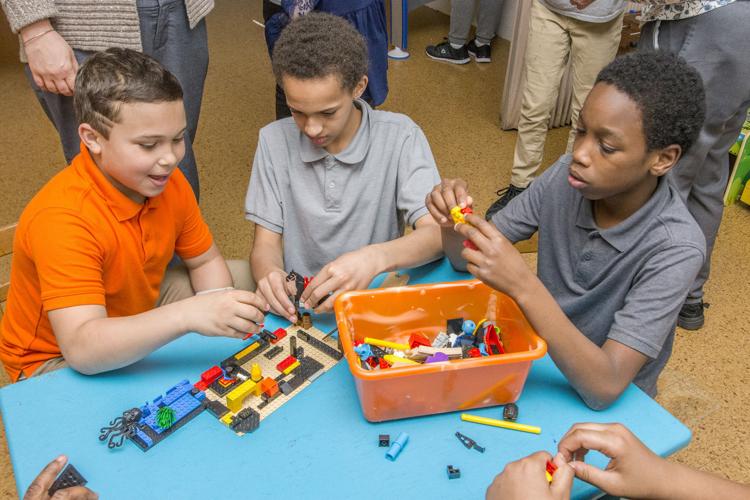 It started as a way to give back — and to honor the example of their father and grandfather.
In those early days, the numbers were smaller and the number of people the Strimbu family helped was just beginning to make an impact.
Now, 30 years and more than $3.4 million later, the reasons they carry on are the same — helping those who need a hand up and supporting their community, the lessons Nick Strimbu Jr. taught them all.
The next generation of the Strimbu Memorial Fund has its sights on bigger and better — and ripples that extend even further.
But when Bill Strimbu talks about the impact of his family's fund, he doesn't just mention donations collected, money raised and those checks he and his fellow family and board members pass out to local individuals and organizations every Christmas.
He talks about the people whose lives have been impacted by those gifts.
Because, in the end, that is what really matters.
•
Danielle Petrozelle remembers exactly how she felt in 2002 when she heard she would be receiving a $10,000 scholarship from the Strimbu Memorial Fund.
"I actually cried," she said.
Her dream was to go to a private college — and that meant a big price tag, a challenge for any family. So, the Brookfield, Ohio, student looked for any way to turn that hope into a reality.
The Strimbu gift made that possible. She graduated from Gannon University.
Today, Danielle is an occupational therapist at the Cleveland Clinic, specializing in the treatment of children. She also is the program manager for occupational-therapy student placement.
But although she works in Cleveland, Danielle did not want to leave home.
She lives in Hubbard, Ohio.
"I really love my job, but I love home, too," she said.
It is a choice that she has seen others make — and one that support from programs like the Strimbu Memorial Fund encourages.
"I do think quite a few people I went to school with and some of my friends have come back and made their own businesses in the Valley," she said.
And it is encouragement she hopes others, the next generation of high school and college students, will take to heart.
"Come back to the Valley and give us your knowledge," she said.
Danielle is not just a recipient. She is also a volunteer.
Once she completed her education, she started to volunteer with the Strimbu Memorial Fund's annual barbecue fundraiser.
She works the silent auction, helping get it organized and set up each year.
It is her way, she said, of paying forward the opportunity the fund gave her.
"What is really special about the Strimbu Memorial Fund is that they support a lot of people," she said. "There are opportunities for a lot of kids to get access to a lot of scholarship programs."
She did not know that her family had a history with the barbecue.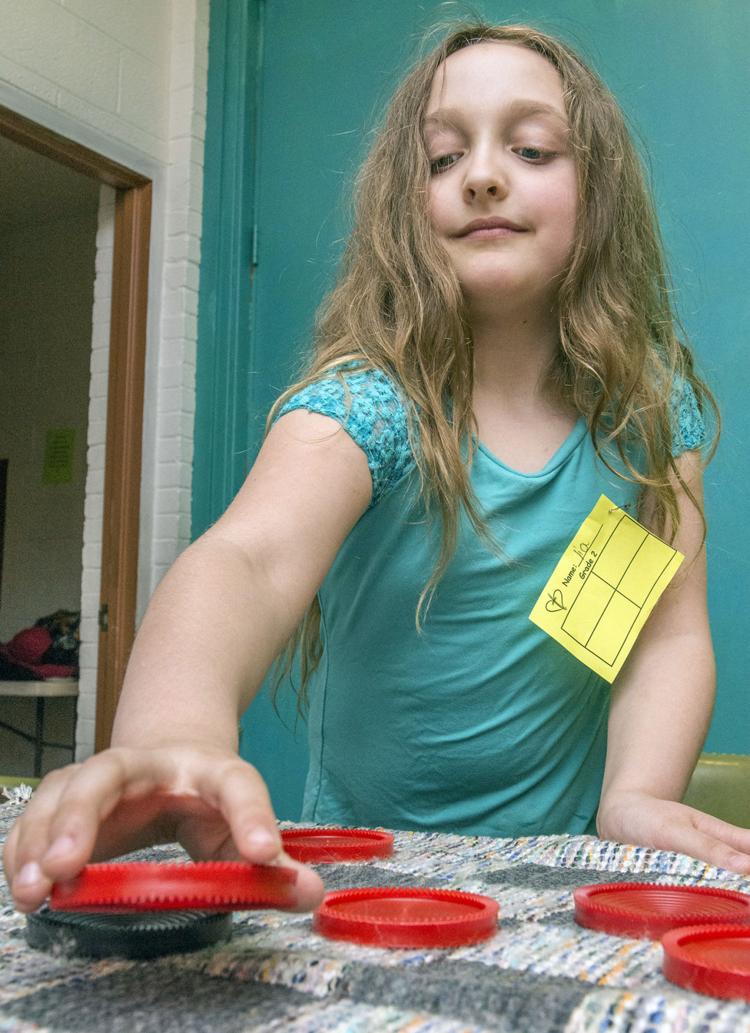 "I never attended a barbecue," she said. "I realized afterwards that my grandparents had."
She hopes that her story will prompt another student somewhere to dream big.
""It is important to do something that you are going to love," she said. "Take opportunities and work hard. Go for it."
•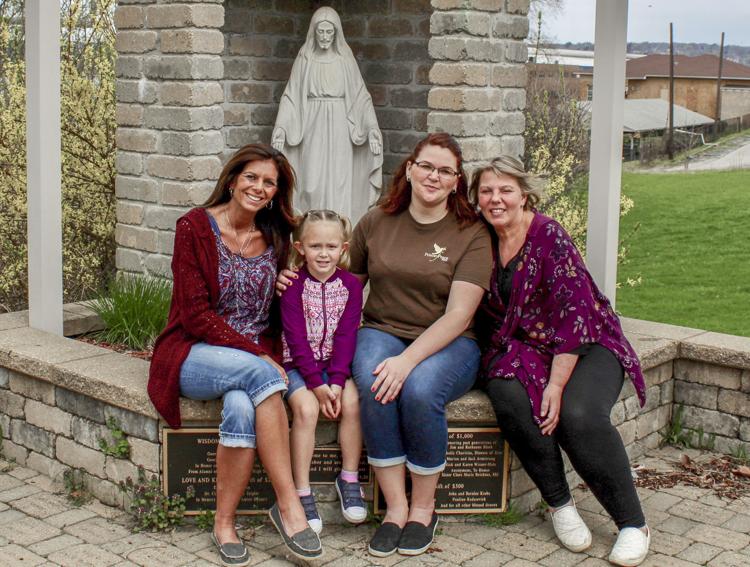 Casey Jewell's story began the day she learned about the Ruth Program at Prince of Peace in Farrell, one of the organizations that receives support from the Strimbu Memorial Fund.
She was in an abusive relationship with a partner who was drug-addicted.
And she was not just scared for herself.
She had a 1-year-old to think about, too.
"I asked him to leave, and it did not go so well," Casey said. "I got everything she owned and some of my stuff and left."
She had heard about the Ruth Program, which helped abuse victims get back on their feet and start new lives, through Lisa Huffman, who worked at Prince of Peace, and was a fellow church member.
She did the work and made a new life for herself and her now-5-year-old daughter.
"She's my life," Casey said.
Today that chance at a new beginning has brought her full circle.
"It is really nice," she said. "I feel free."
She and her new boyfriend own a home together, and she is now secretary on the Mercer County Head Start school board.
"My daughter is in the Head Start program, and I wanted to get involved," she said.
Casey said she learned a few lessons along the way.
"I realized that I was capable, that I could do things on my own," she said.
Programs like those at Prince of Peace, one of which is now focused on fathers, are what help people get the support and strength they need to move forward.
But none of the programs at Prince of Peace are simply a gift, Casey said.
"They hold you accountable," she said. "You do the work, and they expect you to hold up your end of the bargain."
Casey has a dream of her own.
She lost her brother, Jeremy Jewell, 20, in a drunken driving accident in 2004.
"It was difficult for us to afford a headstone for his grave," she said. "I'd like to start a charity to help families who are in that same situation."
She has learned a lot of lessons from her journey — the most important being giving back.
It is why she encourages people she meets to support programs like the Prince of Peace.
"You never know when you might find yourself needing help," she said. "I never thought I would be in a situation like that after watching my mother struggle with the same thing."
The support the Strimbu Memorial Fund provides makes the second starts Prince of Peace offers possible.
"I am in a good place now," Casey said.
•
Zach Watt had just turned 18 and graduated from Warren JFK High School when, in a minute, his life changed forever.
He found himself alone, his mother and her new boyfriend gone.
"There were a lot of things happening at once," he said. "I didn't know exactly where to focus first."
That is when a Strimbu Memorial Fund board member heard about his story and helped Zach find a place to live.
Then, the board jumped in, helping him get a car, clothes, track equipment and other tools to help him create a new life.
"It really helped me look at the big picture and not all the little stuff," he said.
Now, at age 23, Zach is on his way. An electrical engineering student at Youngstown State University, he has already been working in the field in co-ops and internships, and is looking forward to a career.
"I am in a pretty good position," he said.
He said what the Strimbu Memorial Fund did for him made all the difference.
"Sometimes people need just a little assistance to get where they want to be," he said. "What (the fund) is doing is very important. A little assistance can go a long way."
And he has a message for anyone out there facing a sudden life change: Don't let it overwhelm you.
"You always have to stay positive," he said. "Don't be shy about asking for help."
And he has a challenge, too, for those whose life journey has been made better by others.
"When you get that help, don't waste it," he said. "Make sure that when you are in a position to pay it forward that you do so."
And that is exactly what Zach plans to do, he said.
That is the other lesson the Strimbu Memorial Fund taught him.
•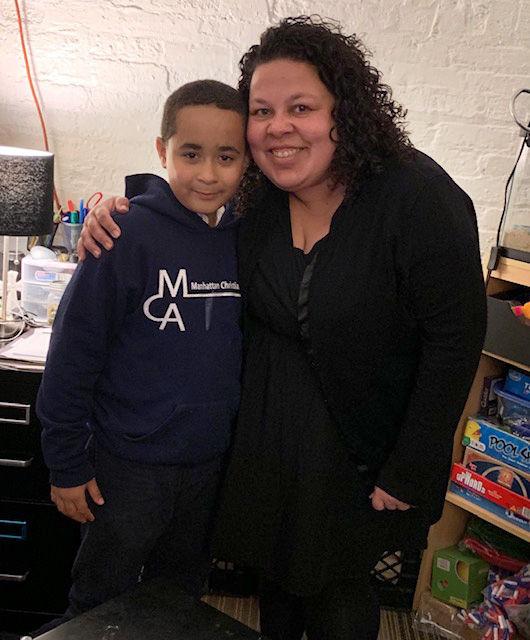 Amber Howell found her future on the West Hill in Sharon.
"I grew up in West Hill Ministries," she said.
The program, run by Pastor Cindy Swogger at First Baptist Church and supported by the Strimbu Memorial Fund, gives children a place to go after school as well as activities and support.
"For me, it was home," Amber said. "It was a place to go where you were safe and you were loved."
And one of the big influences on Amber's life was, and is, Cindy, who taught her much about faith and caring for others and herself.
In fact, it was Cindy who helped Amber realize her own mission — to help other children just like her.
Today, she is in New York City with Priority One Ministries — a program that places students in volunteer positions with nonprofits all over the city. She is also the dean of students at Manhattan Christian Academy.
"West Hill Ministries prepared me for what I was called to do," she said.
West Hill teaches students about possibilities — and cheers them on as they head toward their own futures. Children learn, grow and dream, Amber said, and learn about life, love and faith.
"I have brought that here," she said.
Amber said that the Strimbu Memorial Fund has helped her dream of attending Edinboro University and to earn a degree in social work — and those of many others — seem possible.
"I don't know if they realize the blessing they have been," Amber said. "What they have poured into West Hill has supported kids for years."
West Hill gave Amber her dream and her vocation, and she said she shares the lessons she learned there with her own students now.
"There isn't a dream that is too big for God," she said. "If you can see it, He will see you through it. All you have to do is trust him."
•
Today, Laura Blaire's son, Evan, is in his second year of college at Auburn University — a happy, confident young man firmly focused on his future.
But years ago, before he entered kindergarten, he was a little younger than the other children and a little unsure about heading into the big, sometimes scary, world of school.
Even though he had the preparation, the skills and the parental support, Evan needed something else — and that is where Success by Six, a Mercer County United Way program, came in.
"When we went to enroll him in kindergarten, it was a very traumatic experience, for him and for his mother," Laura said. "We heard about this program, and we wanted to give him the best chance, so we signed him up."
That extra summer session, a few days a week, gave Evan the confidence he needed — and a familiarity with his new school that made him even more ready to succeed in kindergarten.
"He made a lot of really good friends, some of whom he is still friends with today," Laura said.
At the end of kindergarten, Evan was ready to move to first grade — happy, adjusted and confident.
"That was because he was able to start learning from Day One instead of adjusting," she said.
The Strimbu Memorial Fund's contribution to the United Way is part of the reason Success by Six has been able to expand to more schools and to help more children.
The program is for children of all backgrounds, socioeconomic statuses and family circumstance.
"There is no stigma," she said. "There are kids from a wide range of homes. You are giving them the opportunity to get a best chance at a successful start to their education. There is nothing more important."
And Evan, who is studying communication and coaching after becoming a star athlete and great student at Hickory High School, is proof of what a good start can mean later in life.
Those years since that little boy first took his tentative steps to his first school day seem like ages ago, his mother said.
"We are very proud of him," Laura said.
•
Helping people find their futures is not just about handing out grants and supporting nonprofits that address the needs of the community.
Keeping the region strong, growing and thriving, that is where it starts, said Chip Mastrian, a long-time former member of the Strimbu Memorial Fund board.
That is why he and other local businessmen, with the guidance of Nick Strimbu Jr. and others, came up with the idea of creating an organization to help set that course.
Penn-Northwest Development Corp. does just that — work to attract new investment and to create opportunities to bring jobs to the region.
Mastrian was there from the beginning, when 25 to 30 local businessmen got together at what later became Seafood Express in Sharon to talk about what to do next.
The region had lost much of its manufacturing base and was struggling.
"We chatted a lot," Mastrian said. "We knew we needed a change in attitude as a community. We decided we were going to pick ourselves up by our boot straps and start creating the conditions that would allow the region to recover."
Nick Strimbu and other venerable leaders like Sharon Steel Corp.'s Henry Evans mostly sat and listened to their younger counterparts, interjecting a thought here or there.
"Nick would sit there and listen, and then, when he would comment, everyone's ears would be open," Mastrian said. "You wanted to hear what he and Henry had to say."
And it was Strimbu who challenged them to do more than just talk.
"Nick said that if we really believed in what we were doing that we need to ante up," Mastrian said.
When Bill Strimbu was a young man, his father, Nick Strimbu Jr., asked him about his plans f…
IT STARTED as an idea about doing something to honor a man whose message of giving back insp…
So, each of those 25 businessmen did just that — $5,000 apiece.
"Then Nick said, 'Now we need to build a building,'" Mastrian said.
In 1985, a tornado tore through Wheatland, leaving available land at a reasonable cost, so the group started work.
The first building came, with more investments and opportunities following, including renovation work by PennDOT on the surrounding road.
And those were the first steps of the industrial corridor — the Strimbu Corridor — that is still thriving in Sharon and Farrell.
It took vision to see the possibilities, and the calm experience of leaders who understood not only what was at stake, but how to get there, Mastrian said.
"Nick had a way of working and talking with people. He challenged us," he said. "'We are going to invest in our county,' he said."
And that same leadership, and that same vision, are at the core of what Strimbu's children have built as his — and their — legacy, Mastrian said.
The grants that the fund distributes each year are just the surface of the impact of the fund and its dozens of board members and donors over the years, he said.
"There are a lot of anonymous gifts that no one knows about," Mastrian said.
But Strimbu's most important gift might have been the example he, and Evans, set for those young businessmen gathered around a table all those years ago talking about the future.
"Almost none of us were involved in the community," Mastrian said. "After that, we became leaders in the county, and in our corporate cultures. It became very important to us to give back."
And the Strimbu board still does give back, not just at the annual barbecue that raises money for the fund, but in their communities — and beyond.
"We created a similar group in Trumbull County, which was instrumental in giving back to that community," Mastrian said.
Now, decades later, Mastrian said that the Strimbu Memorial Fund's support of development agencies like Penn-Northwest is what will continue to build the kind of community he and the other members of that first group envisioned.
"My belief is that economic development is critical," he said. "If you keep pursuing economic development, you are helping a lot of people get jobs, worthwhile jobs."
It goes back to another of Strimbu's rare and thoughtful comments as he and Evans listened to those early discussions.
BROOKFIELD — The Strimbu Memorial Fund's 30th annual Strimbu Memorial Barbecue will be May 1 at Yankee Lake Ballroom. 
"Nick had a theory," Mastrian said. "You can give a man a fish and feed him for a day, or you can teach him to fish. That is what we are doing."
And Mastrian said Strimbu's influence went well beyond his own involvement in that first economic development effort.
He helped Paul O'Brien and his family create the O'Brien Children Memorial Fund — one of the founding nonprofit foundations that is the base for the Community Foundation of Western Pennsylvania and Eastern Ohio, a significant philanthropic effort in the region.
"Nick's influence and example have impacted this community for decades," Mastrian said. "And now his family is carrying on that mission."