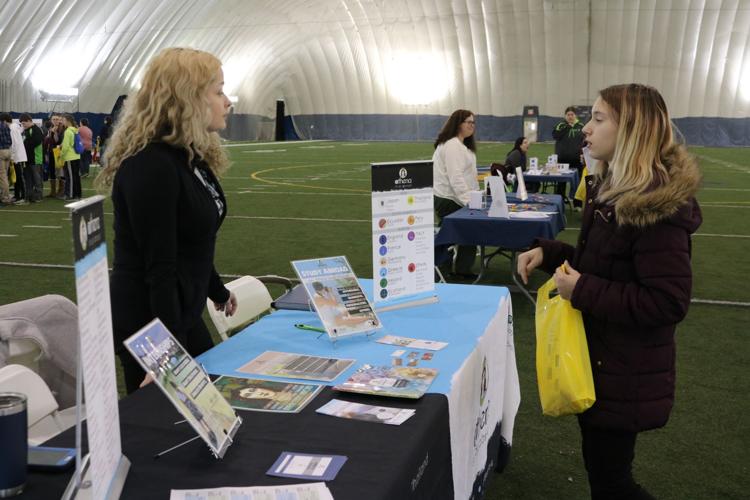 GREENVILLE — More than 500 eighth-graders got the chance to think about their futures this week.
Students from seven Mercer County school districts attended the first-ever Career Awareness Fair Wednesday at Thiel College. 
Eighth-graders from Sharon, West Middlesex, Commodore Perry, Greenville, Reynolds, Farrell and Jamestown milled around Rissell-Schreyer dome, exploring everything from physical therapy to what it will be like to go to college.
"This is the time for them to start thinking about what career path they want to take," said Angella Bradley, Thiel coordinator of events. Bradley organized Wednesday's event. 
The event, which was co-sponsored by Greenville Area Chamber of Commerce, featured nearly 30 area businesses with representatives available to talk with students about their occupations.
Last year, the commonwealth mandated that public schools implement career readiness programs, said Brian Keyser, principal at Jamestown Jr.-Sr. High School.  
The Department of Education's Future Ready PA index rating includes career readiness among the standards for public school districts and is a factor in the Pennsylvania school report cards.
But Jamestown is already ahead of the game. 
"Our students start in fourth grade to do career awareness activities," Keyser said.  
In eighth grade, Jamestown students start to put together a career portfolio, he added.
"It's pretty exciting," Keyser said. "It has kids at an earlier age thinking about careers, looking at ways to get to those career pathways."
Jamestown eighth-graders Savanna Slingluff, Layla Bocook and Stacie Weimert are already thinking about what they want to be when they grow up.
"I like to go around and figure out what everyone's doing and how they like their jobs," Bocook said. "I'm thinking about being a police officer. I like the idea of helping people." 
Slingluff, who said she is considering becoming a nurse, addressed the diversity of jobs at the fair.
"I love to interact with people and kids," she said. "As you get older, there are so many job options." 
While Weimert found the fair informative, she still has dreams of becoming a professional soccer player one day, she said.
The girls said they had fun, too.
"There's music and a lot of gifts here," Slingluff said. "Every child loves candy!"
Executive Director Janice Schwanbeck said the fair was about making students aware of the kinds of jobs available in the community.
"They don't have to leave Mercer County to get a decent job," Schwanbeck said.
Thiel College math professor Jay Wu delivered a similar message — young people don't have to leave the county to further their education.
"We are here with information for students," Wu said. "College is waiting for them."
St. Paul's, UPMC Horizon, PNC Bank, Primary Health Network, Miller Industries, Coinco Inc., Metal Stamping, Greenville Area Economic Development Corp., Hair Mechanics, Specialty Orthopedics Rehabilitation Center, Hodge Foundry, Walberg Family Pharmacies and Woodcraft Industries were among the businesses that participated in the fair. 
Like Heidi Warren on Facebook or email her at hwarren@sharonherald.com.