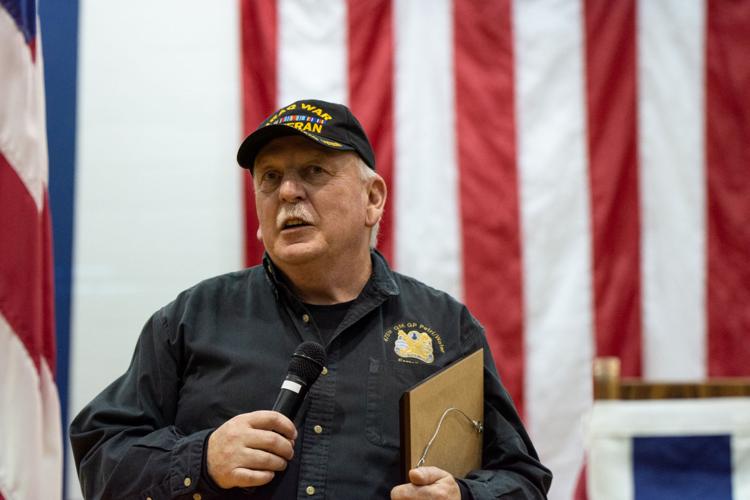 MERCER — Nearly 1,000 people packed the gymnasium at Mercer Elementary School Friday afternoon for the annual Veterans' Day program.
Faculty, staff, students, friends and family members of Mercer Elementary School showed their support for the nation's veterans through patriotic-themed songs and tributes. The school's youngest students also created a tunnel for veterans as they exited the building.
Mercer Elementary School has been honoring veterans through the program for about 20 years, Principal Greg Acre said. It's touted as the school's largest community program. 
"They treat it with the utmost respect," he said. "It's something special. It's gotten a name for itself. Parents say it gets better every year."
Retired U.S. Air Force and Pennsylvania Air National Guard Colonel Bruce Ketler was the honorary speaker.  
He spoke of Veteran's Day signifying the end of World War I, when it was originally called Armistice Day, meaning "truce." President Dwight D. Eisenhower changed the name to Veterans' Day in 1954, he said.
Ketler spoke of sacrifice and defined it as "to give up what you desire to help someone else."
"Being separated from the ones you love requires a great deal of sacrifice," Ketler said. "Serving our nation as a soldier is not always easy."
Ketler served in Operation Desert Storm in Saudi Arabia, the Kosovo campaign and Operation Iraqi Freedom. His wife and sons made a huge sacrifice so he could serve his country, Ketler said. During Ketler's first deployment, his son, Andrew, watched the news continuously every day after school, looking for his dad, Ketler said. 
GALLERY: Students learn the sacrifice of veterans through annual program
"This time of sacrifice occurs every day across the U.S.," Ketler said. "It's an honor to serve."
In addition, Mercer Rotary Club presented its Salute to Service Award to Larry Scheetz, retired director of Mercer County Veterans' Affairs. 
"It's truly a blessing to say thank you," Scheetz said.
Karoline Link of Mercer has had five children attend Mercer Elementary School. Her youngest, Landon O'Linchy, is in the sixth grade.
"I've watched all of them do this program," Link said. "It's a beautiful program."
Link spoke of the photo tribute to veterans during the song "Welcome Home" at the end of the program.
"All the kids bring pictures of their friends and family who have served," Link said. "I think it's pretty emotional."
Dennis DiRaimondo and Alicia Krummert of East Lackawannock Township have a kindergartener, Harper DiRaimondo, at the school this year and attended the Veterans' Day program for the first time.
"I love how much involvement students had giving historical quotes," said DiRaimondo. "That was my favorite part. Overall, they got a good picture of the sacrifice and dedication it takes to be in the U.S. military."
The program brings the community together, Krummert added.
"This is one of the biggest events I've seen at the elementary school," she said.  
Don Christy is an Army and Operation Gulf War veteran and Department of Pennsylvania VFW District 28 commander. He not only attended the program to support veterans but also to support his grandson, Andrew Christy, a fifth grader.
"We don't go to war to be honored," Christy said. "But it's nice to be thanked."
Like Heidi Warren on Facebook or email her at hwarren@sharonherald.com.