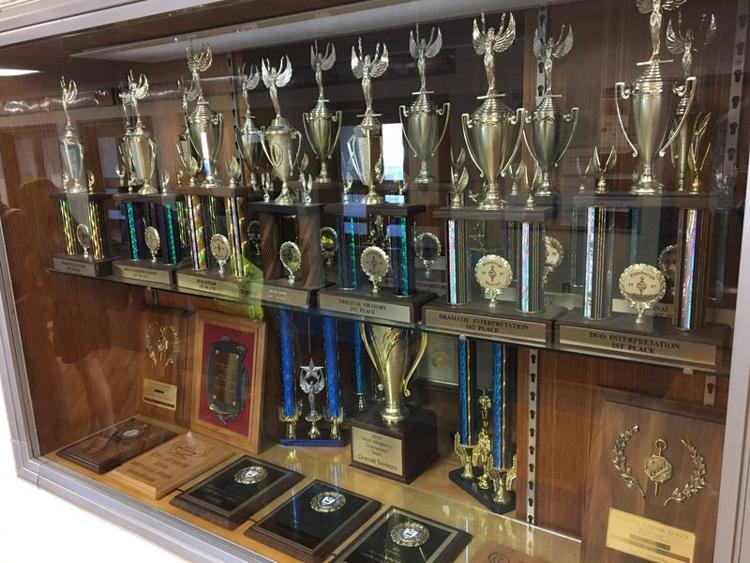 MERCER — Speech competitors call it "talking to walls."
In the final moments before a Roman Catholic Diocese of Erie speech and debate tournament earlier this month at Mercer, a girl, with her face turned to the red bricks in the main hallway at Mercer Middle/High School, quietly mouthed a speech.
She sought solitude next to Mercer's overfilled trophy case dedicated to speech awards, polishing her performance in anticipation of this season's first speech and debate competition.
As the girl spoke to her brick-and-mortar audience, a door behind her swung open and a group of students entered the school. One of them recognized her.
"Ready?" the newcomer says.
"Not ready. Never ready," the girl replied.
"You got this," the second girl said over her shoulder as she rushed down the hall.
Speech competitors talk to walls, but they also talk to each other. Speech and debate — also known as forensics — has a social element that most other scholastic competitive ventures lack. 
At tournaments, students are grouped not by their schools, but by their events, which gives them an opportunity to form bonds beyond their district boundaries.
"A lot of our kids say that one of the great things about this is the friends they make from other schools," said Hugh Ringer, head coach of Mercer's speech team since 1972.
But even among those circles of friends, Mercer stands out.
The school has had 15 individual state champions in speech, and countless Catholic speech league winners and regional champions in western Pennsylvania.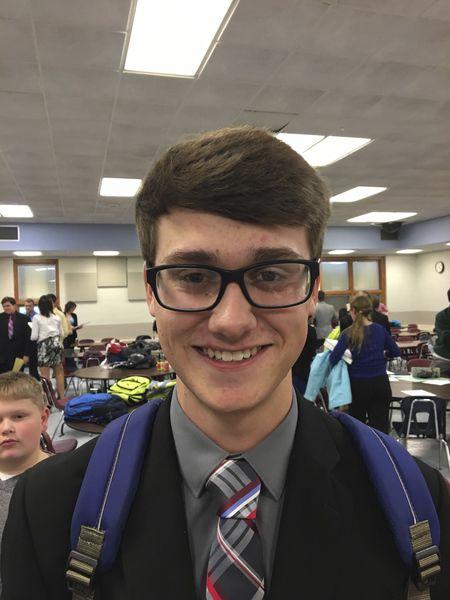 Mercer has a reputation for producing quality speech competitors that far outstrips its size. With an enrollment of 382 students in grades 9 to 12, Mercer competes against schools like North Allegheny, which has a 9-through-12 enrollment of 2,665, according to the state Department of Education.
More often than not, Mercer comes out on top.
"We go up against the largest schools and we beat them," said Andrew Brinker, a senior who competes in the humorous interpretative category.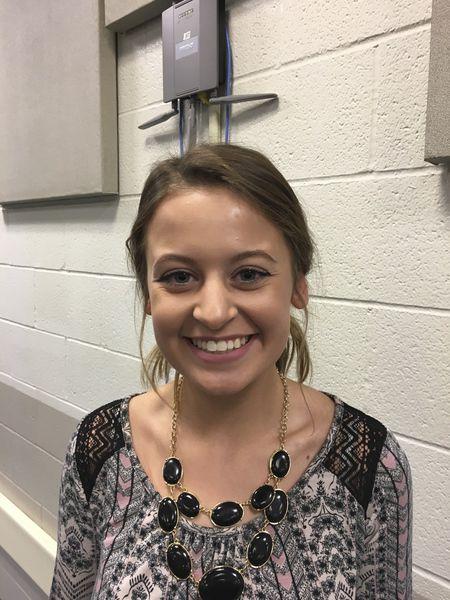 Support
With Mercer's great success comes a great reputation.
Senior Madeline Rowe, who is aiming this year to win her second state championship in the dramatic interpretative category after claiming the prize as a freshman, credits that reputation for excellence to one person — head coach Hugh Ringer.
"We love Mr. Ringer," Rowe said. "Mr. Ringer and the team have a high reputation. They just hear you're from Mercer and they think, 'They must be pretty good,'"
Ringer, 69, has been a constant in Mercer's speech program since 1972. He has been retired for more than 10 years as an English and speech teacher at the high school, but remains at the speech team's helm.
"As long as I enjoy it, as long as I continue to have great coaches, as long as I enjoy being with young people," he said. "Every day I come into this building, I can work with students who want to be here, who want to achieve."
Ringer is more than happy, though, to deflect the credit for Mercer's speech success. He said the program couldn't have reached the heights it has without support from the school board and administration, which was well represented at the tournament this month.
Dr. William Gathers, the district superintendent, was walking around the hall prior to the tournament. So was Madeline Rowe's father, Assistant Superintendent Dr. Ronald Rowe Jr.
But there is an even more outstanding measure of the district's emphasis on competitive speech. For 23 years before he retired from teaching, Ringer, as speech coach, was also Mercer's athletic director, a position more often occupied by former basketball or football coaches.
"Which is about as strange a combination as I've ever heard," Ringer said.
He said the team attracts athletes from most of the school's sports teams, including football and baseball, and made speech competition fashionable. 
That helped attract students like Sarah Turton, a senior who finished third in the last year in the state tournament. She said a friend recommended she join the speech team.
"He said speech is really cool," she said.
The long-term benefits — particularly the ability to interact with people — of speech competition help attract participants, Ringer said. And those benefits are evident in the Mercer-area community.
Mercer County Court Administrator Peter Morin is an assistant forensics coach in the program, as is Dan Davis, a former Mercer County assistant district attorney who takes office next month as a district judge. 
But there are advantages even for people who don't plan to pursue careers in the law. Ringer said former speech competitors have told him that they frequently use their skills in the work place.
"Every day that you have to get in front of someone and speak, there's an inherent confidence that kicks in," he said.
Material
Typically, a student will adopt a piece before the season starts and perform it for the entire year — competitors almost never change performances in the middle of a season. 
The right piece can make a competitor's season, said Madeline Rowe, and the opposite also applies. She called the selection of a performance piece is "absolutely crucial.'
"A not-so-great speaker can pick a great piece and do well," she said. "It's important that people find a piece that coalesces with their style."
Brinker's choice, "The Sound of Music," is an unusual one for humorous interpretative.
The 1965 movie, which starred Julie Andrews and Christopher Plummer and won five Academy Awards, has amusing moments, but it's known less for comedy than it is for its music and suspenseful ending.
Rules for the interpretative categories allow competitors to cut from the original work — Brinker had to edit the script of a movie nearly three hours long into a 10-minute performance — but not to add or change any content.
So Brinker can't throw jokes into his performance. The Mercer senior said he's mining humor through his presentation of the movie's characters.
Brinker appears to have been successful. Earlier this year, he placed second at the Princeton University Classic with a field that included some of the top competitors in the eastern United States.
For her performances this year, Rowe has selected the book "Choosing Hope," by Kaitlin Roig-DeBellis. During the Sandy Hook school shooting on Dec. 14, 2012, DeBellis, a teacher at the school, saved her 15 first-grade students by hiding with them in a bathroom not much larger than a phone booth.
Turton competes in the original oratory category, where she is under double pressure. 
Like Rowe and Brinker, her chances can be made or broken by the right or wrong piece. But the quality of Turton's material is even more important because she writes it.
Turton's speech is about extending tolerance toward unlikeable people. She will probably deliver — and refine — that presentation through the spring championship tournaments.
It's rare for speech competitors to change a performance in midseason, she said.
"It's scary going in with a new speech," she said.
During speech tournaments, competitors are grouped into rooms of about six or seven other students in the same category, where they complete their performances in front of one or more judges, who evaluate the presentations.
In each round, the judge or judges provide competitors with a ballot that incorporates a numerical score and constructive criticism. The judge, usually a volunteer or assistant coach, also ranks each competitor from first to last. 
The rankings are used to determine which speaker wins the tournament. 
Those results, which are based on the subjective opinion of a judge who might not be familiar with speech competition, can be a source of anxiety, said Brinker.
"It is difficult, because you spend all this time working on a piece, and one negative comment from a judge can ruin your day," he said.
Madeleine Rowe, conversely, takes a more hopeful view.
"At the same time, you can get a ballot with a positive comment," she said, in a response to Brinker's statement. "That can lift up your day."
Follow Eric Poole on Facebook or Twitter @HeraldEricPoole. Contact him by email at epoole@sharonherald.com
ABOUT THE COMPETITION
Mercer competes in the Pennsylvania High School Speech League and the Roman Catholic Diocese of Erie Forensic League. PHSSL is part of the National Speech and Debate Association, formerly the National Forensic League.
The association changed its name in 2013 to more clearly express its purpose.
Competitors in the diocesan league are part of the National Catholic Forensic League. There also is a National Christian Forensics and Communication Association.
While forensics is most commonly associated with debate, there are multiple speech categories that do not incorporate debate. Mercer is known statewide for its performances in speech competition. In most cases, students wear business-professional outfits and can not use props.
The National Speech and Debate Association sponsors high school competitions in several categories, including:
• Dramatic Interpretation: A single competitor uses a published literary work and complete a performance up to 10 minutes long. Competitors may edit pieces by cutting, but may not add or change material.
• Duo Interpretation: Largely the same as dramatic interpretation, but performed by two-person teams who portray every character in the performance.
• Humorous Interpretation: Largely the same as dramatic interpretation, but performed with a focus on comedy.
• Original Oratory: Speakers deliver a 10-minute speech on any topic and can attempt to persuade listeners, or simply to inform the audience.
• Extemporaneous Speaking: A speaker is given a choice of three questions, which are not known in advance, and have 30 minutes to prepare a 7-minute speech on the topic.
Debate categories
• Lincoln-Douglas Debate: Named for the famous series of debates between Abraham Lincoln and Stephen Douglas during their 1858 campaign for a U.S. Senate seat in Illinois, Lincoln-Douglas debates pit single competitors against one another in a structured argument on a series of given topics. A typical Lincoln-Douglas debate often takes about 45 minutes to complete and competitors could be asked to argue both sides of the same issue in different rounds of competition.
• Policy Debate: Two-person teams argue a policy topic of national or international importance, usually decided by the national association before the season begins. As with Lincoln-Douglas Debate, a team could argue opposing sides of the same issue during the same tournament. Policy debate results are usually determined on the strength of arguments and rebuttals each team makes.
• Congressional Debate, also known simply as Congress: Competitors compete in a mock congress, debating and passing bills. Before debate begins, the competitors choose a presiding officer to select questions and run the congress using Roberts Rules of Order.