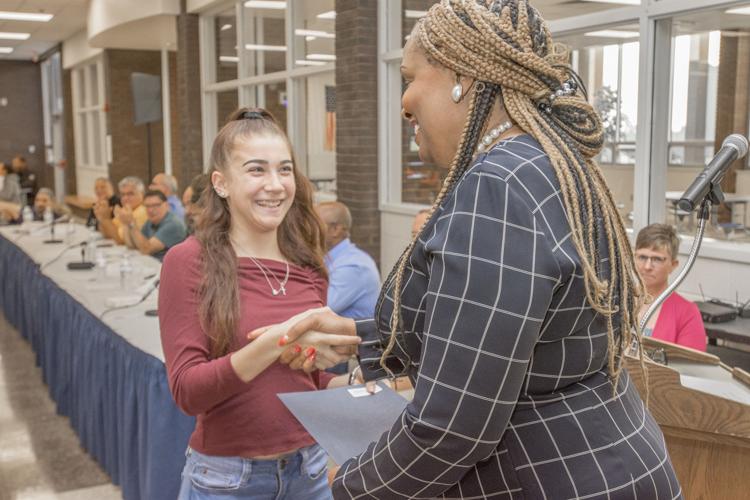 FARRELL – Ted Pedas celebrated a half century of contributions to the Farrell Area School District with a $50,000 donation Monday at the high school gymnasium.
This year's donation puts his 50-year contribution total to the district at $1,055,132.
"I suppose I've been doing this since before most of you were born," he told a makeshift assembly room full of students, parents and district employees.
The Farrell astronomer and philanthropist said more than half of this year's donation will be used to upgrade and maintain the Ted Pedas Planetarium on the school's campus. The remainder of the donation was earmarked for cash awards to recognize outstanding Farrell students and faculty – especially those who might not always get the recognition they deserve.
Pedas said the annual tradition has grown even closer to his heart as he has watched countless students grow up over the past 50 years.
"As we age, we become more aware of what's important," he said. "And giving recognition is, I think, very important – especially in this kind of setting where kids and adults can all come together."
Pedas was asked by school district administration in 1968 to formulate a plan for an ideal school planetarium facility to be a part of the new high school.
He proposed the school build a 40-foot domed planetarium with seating for 120 people, with an adjoining laboratory to be used for an academic curriculum that would combine arts with planetarium learning. He settled for a 28.5-foot dome with seating for 60 when his proposal was rejected by the Pennsylvania Department of Education.
"I knew we had a good chance at rejection," Pedas said. "But I figured we might as well aim as high as we can."
The planetarium was constructed in the midst of the space race, when more than 300 schools installed planetariums across Pennsylvania. The project was funded under the National Science and Defense Act, passed in 1958.
The Pedas family has continued to update the planetarium over the years with upgrades including new equipment, theater-style seating and carpeting.
Pedas said his vision for the future is to use the planetarium complex and adjacent media center as a "mini science center" just as he imagined in 1968. He said he believes the space would also serve as a destination for schools outside the Farrell district, and could provide a "full day excursion" where students could combine art, writing, music and other disciplines to be presented at the planetarium.
"We don't want to just show them one thing," Mike DiMuzio, who is entering his 11th year as the instructor at the planetarium, said of the integrated curriculum. "We want to show them everything that's out there."
With that vision in mind, Pedas requested $31,000 of the $50,000 contribution be used for planetarium equipment, supplies and maintenance.
Pedas said he expects there to be more than 100 presentations for kindergarten through 12th grade this year at the planetarium.
The remaining $19,000 was spent on for student and faculty cash awards including student of the month for elementary and high school, student of the year for elementary and high school, employee of the month, employee of the year, academic improvement and volunteer citizen of the year.
GALLERY: Ted Pedas' 50th annual donation benefits students, faculty, staff, community
"These annual donations have been given as a small token of appreciation to the Farrell Area School District, which has provided an education for my brothers, Tom and George Pedas, and my sister, Marcy Pedas Sigler, and me, enabling us, as children of immigrant parents, to make our way in the world," Pedas said. "Each of us in our own way owes a debt of gratitude to our school, community, and those dedicated individuals who paved the road for us."