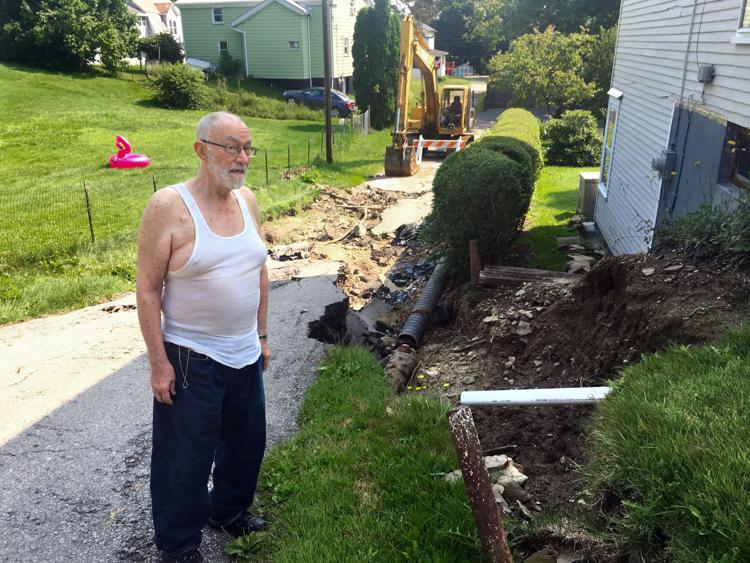 GREENVILLE – Chuck Galus stood on a mound of dirt at the top of Loutzenhiser Way and peered into a rugged 4-foot deep trench.
"I've lived here for 40 years,'' Galus said, as he referred to the short alley that runs past his home. "And my parents lived here before that, and when they owned it something like this happened. But I was a lot younger then.''
Like the rest of Greenville, Galus is dealing with the aftermath of a late spring flood that hit town.
Torrential rains June 5 created flash floods in northern Mercer County, with Greenville's west side being one of the hardest-hit areas. The deluge overwhelmed storm drains, creeks and rivers, flooded basements, and severely damaged several homes.
Roads quickly turned into rivers, with runoff washing away chunks of asphalt and stones. About a dozen Greenville streets and alleys were damaged, with the worst impact hitting Loutzenhiser Way.
Sean Hall, a Greenville councilman, said damage to the alley appears to have been created by an earthquake rather than a flood. Hall said previous borough councils had put off paving, drainage and other repair projects, which made the June devastation even worse.
"Years of deferred road maintenance hasn't helped us any in all of this,'' Hall said. "The current council is trying to get ahead of all of this.''
Doling out money for repairs and regular street maintenance isn't going to be easy on the town's coffers as Greenville tries to emerge from Act 47 distressed community status.
Greenville is on a three-year plan to to get out of Act 47. If it fails, the state could come in to take over the borough's operations.
The borough owns all the roads damaged in the June 5 storm, which makes getting state and federal aid more difficult.
While the damage is severe and expensive to the town, it isn't enough to trigger state or federal disaster aid. With a population of just under 6,000 in the 2010 Census, Greenville faces stark fiscal restraints if it wants to shed its distressed status.
"We want to be proactive early on in this,'' Hall said of street repairs and maintenance. "But the flood exacerbated an existing problem. It's something we'll have to fit into our plans and work at is as best as we can.''
To get all the roads repaired in tip-top pristine shape would cost around $500,000, said borough Manager Jason Urey.
"That's probably something we're not going to be doing,'' he said.
Hall agreed.
"When you're looking at something like Loutzenhiser Way, you might have to fill it in as a gravel road,'' he said.
Further, Hall said he was committed in getting Greenville out of Act 47 and doesn't want to raid the town's funds if it derails that process.
Both men said they realize there's an immediate need to prevent the roads from deteriorating further.
"We can patch things so that they don't get washed out,'' Urey said.
Since the flood, Galus finds himself constantly monitoring weather reports.
"I get worried whenever there's a storm,'' he said.
Although the flood ravaged Greenville's streets, it revealed the character of borough residents, Hall said. He cited instances where residents came to the aid of families devastated when their homes were flooded.
"I can't tell you all of the stories about how the people of the community came together over this,'' he said. "Fundraisers were held for them, churches gave them washers and dryers. When the chips are down, we come together and make one another whole.''