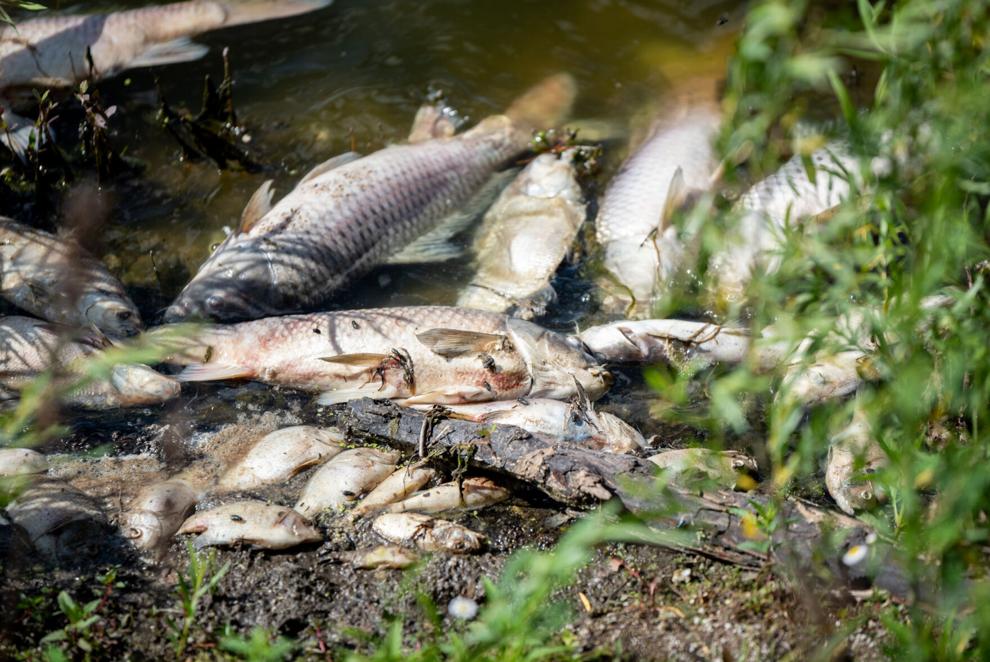 PYMATUNING TOWNSHIP — Birdwatcher Mimi Hoffmaster went looking for wildlife Tuesday morning at the wildlife propagation area along West Lake Road, but found something else — thousands of dead fish.
In the northern pond near Shenango River Lake, the fish lined the pond's shores and a small island, floating along the water's surface.
"At first you didn't know what you were seeing," Hoffmaster said, "And then you saw more, and more, and more fish."
The small pond is separated from another pond to its south and the Shenango River Lake to its west. Despite the large number of dead fish in the northern pond, all was normal at the other two nearby bodies of water.
Hoffmaster said she heard from another local birdwatcher that there were dead fish at the pond as early as Monday evening, and added that birdwatchers visit the propagation area often to view various species of birds.
Hoffmaster contacted her associate and fellow birdwatcher Bill Drolsbaugh, who said he contacted the Army Corps of Engineers at Shenango Lake and the Pennsylvania Fish and Boat Commission regarding the situation.
Located in a wildlife propagation area, the two ponds don't have official names, but Drolsbaugh said the two northern and southern lakes are unofficially known as "North Pond" and "South Pond," respectively.
As of Wednesday afternoon, Drolsbaugh said he thought cyprinid herpes virus could be at fault, due to the scores of dead carp at the scene. A similar outbreak of dead fish occurred in 2017 at Pymatuning Reservoir in Pymatuning State Parks. That fish kill was caused by koi herpes virus, or KHV.
However, warmer weather caused this fish-kill, said Jeff Giardina, water conservation officer for the state Fish and Boat Commission.
For small, shallow water bodies, such as the northern lake in the wildlife propagation area, heat, vegetation and decomposing vegetation in the water, among other conditions, can reduce the water's oxygen levels, Giardina said.
Though gizzard shad are particularly vulnerable, any fish can be affected. Such instances are not uncommon and have occurred locally over the years, Giardina said.
Like David L. Dye on Facebook or email him at ddye@sharonherald.com.