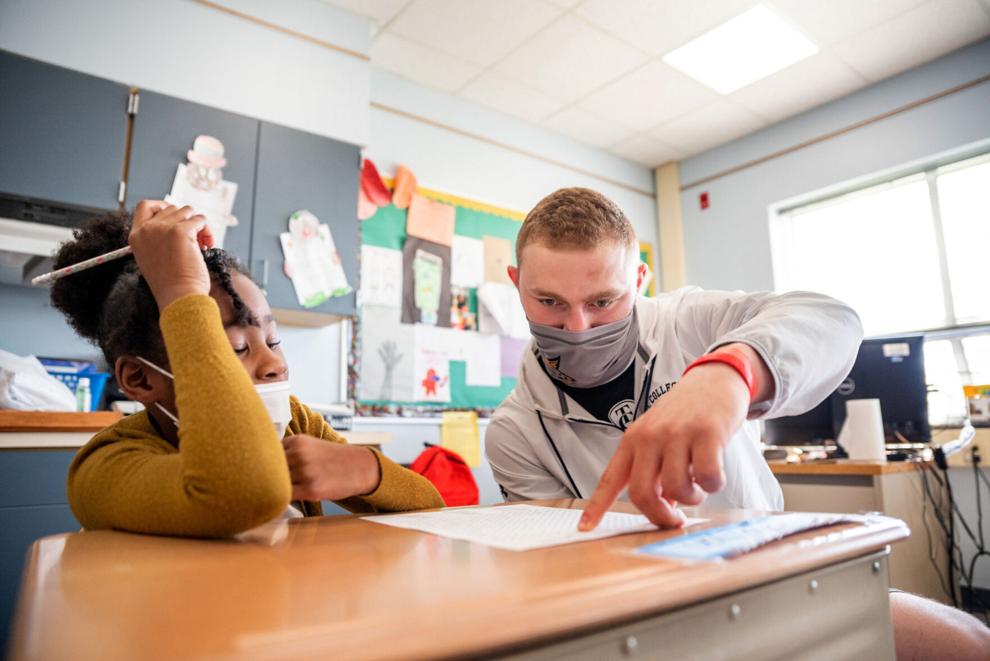 SHARON – Ryan Stiles had to contort his tall, muscular body to squeeze into a Musser Elementary School cafeteria table designed for tots.
Looking on were four petite girls sitting on the opposite side of the table. The third-graders laughed as he grimaced and stumbled. 
"We like watching him do that,'' one of the girls said with a quiet voice.
As a defensive tackle for Thiel College's Tomcats, Stiles is trained to knock opponents off their feet if they take advantage of him. His reaction to the Sharon students was a broad smile.
But then his demeanor changed.
"These kids mean the world to me,'' Stiles said in a serious tone. 
Three days a week, members football team volunteer for this after-school program. Created by the Zion Education Center in 1997, the organization provides 250 suppers a week to Sharon City School District students from grades two to six in the program. 
Located on Roemer Boulevard in Farrell, Zion is a non-profit organization devoted to helping younger students and their families. Resources offered include academics, nutrition and inspiring social interaction. 
Zion gets funding for the project from the Pennsylvania Department of Education's Child and Adult Care Food Program. To qualify for state funding, at least half of a school district's students must be eligible for free or reduced-cost lunches.
Much of the food is bought from the Community Food Warehouse of Mercer County, which sharply reduces costs. With in-kind donations and volunteers, Zion's total monthly cost for the program is $5,000. Thiel's volunteers alone save $1,500 a month in labor costs. 
Members of AmeriCorps, a non-profit national service and volunteer program, also donate their time to the program.
Meals are cooked at Zion's Farrell center. From there a dozen or so Thiel football players pack the food into containers and deliver them to Sharon's three elementary schools.
Eligibility is for "at risk'' students. Homes with inadequate financial resources for food top the list. But that isn't the only factor. 
"This gives students someplace to go to,'' said TeMarah Harrison, Zion's food service coordinator for the program.
Hired just last month, Harrison said the program means more to students than just food.
GALLERY: Tomcats help kids tackle their problems
"Sometimes they just need somebody to talk to,'' she said.
The after-school program is the perfect fit for Thiel's football players, Mike Winslow, the team's head coach, said. 
"I wanted to look for a way that they can connect to the community,'' Winslow said of his players. 
Something else is at work here, he acknowledged. There are players on the team who were brought up in rough family conditions, which still exist.
"Their interaction here is helping them get through things,'' he said. This is part of the team's Reach Your Full Potential program, which includes reaching out to help the community.
The COVID-19 pandemic forced the regular fall football season to be canceled. Thiel opted not to play in the current spring season.
Since players don't have the normal season facing them, Winslow said, Zion's after-school program gives them a crisp focal point. It's also a part of Thiel's ideal for students to reach their full potential in academics and real life experiences, he added. 
Of course, the program is designed to provide food. But Thiel players help students academically such as reading books with them. 
On this day, it was a book about the earth's oceans. 
"Ok, what are the names of the five oceans,'' Marlon Brown, the team's quarterback, asked four students after they read the book.
Third-grader Elaunna Taylor checked the book because they couldn't remember the names: Atlantic, Pacific, Arctic, Indian and Southern.
"I want to go to one of those oceans,'' she told Brown. 
Brown, a senior, acknowledged reading was a shortcoming in his early life.
"When I was younger I didn't like to read,'' he told the students.
But don't be fooled – the educational part of the program isn't somber. 
"It's a lot of laughs and giggles,'' Brown said.
Stiles agreed. A huge part of the dialogue between players and students is about daily life.
"They talk about what's going on in their families, and they ask me about mine,'' he said. 
Students also gave him reviews about consumer goods. Takis, a brand of spicy and often fiery hot rolled tortilla chips, got stinging criticism.
"They're too hot for me,'' declared third-grader Chloe Kellogg.
Another product drew higher marks. When using a local laundrymat, Kellogg's family discovered a new fabric softener. The softener is in a plastic ball that's tossed into the dryer.
"We really liked them,'' Kellogg said. 
Winslow said he tells players that they face choices for their actions both on and off the football field. Stiles has been with the same group of Sharon students since he volunteered. He made his choice.  
"These are my kids,'' he said.