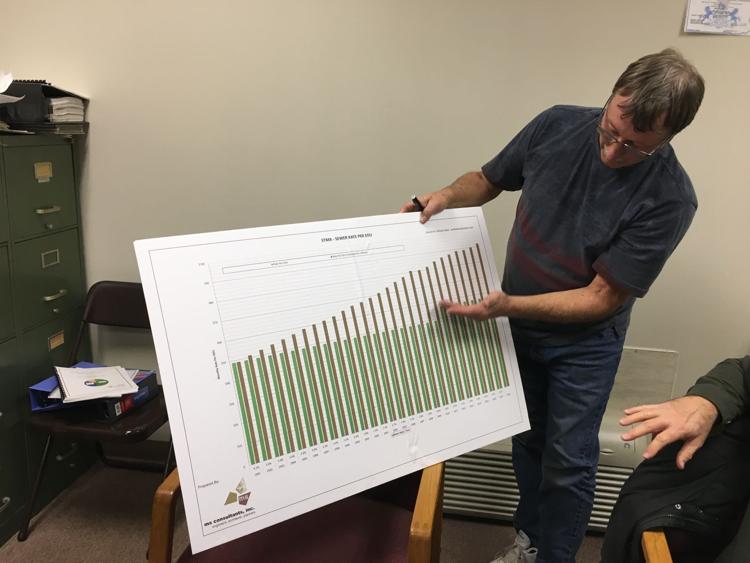 SHENANGO TOWNSHIP – The question about Shenango Township Municipal Authority's 2020 sewer rates was less a matter of whether the costs would increase and more a question of "how much."
Authority members voted Thursday to hike rates to $60 a month from the current $57 – a 5.2 percent increase. They also voted to raise rates for 2021 to $63, an additional 5 percent hike from the current rate.
But that decision came after extensive debate.
The rate hike is needed to pay for a sewer system upgrade. 
The authority has a consent decree with the state Department of Environmental Protection that mandates the township add more sewer lines for its residents. Cost of the project could be more than $9 million.
Tom Hubert, a board member, bristled at the prospect of a $13 monthly increase, to $70.
"I think a $13 rate increase each month is way too high,'' Hubert said.
After a majority of the panel agreed on the $3 increase, board members Hubert, Joseph Depuy, and Earl Butterfield voted for the measure while Dennis DeSilvey voting against it.
"I was worried it was too low,'' DeSilvey said after the meeting. "You have to deal with things like unforeseen costs.''
During the meeting, Depuy and Hubert criticized past boards for not gradually raising the rates. The result has left the authority in a financial bind, they said.
"This should have been done five years ago,'' Depuy said. "Now we're at a brick wall in trying to get things done.''
He presented a chart created by a consulting firm that examined the authority's finances. The chart showed what the actual rates were against the amount consultants advised charging. He noted the recommended monthly fee for residents was around $93.
"We started with $49 a month, and there wasn't an increase for the past 20 years,'' Depuy said.
Also, the tap-in fee for new residential customers will be $2,964. He said that rate was needed to keep everyone on the same monthly payment level.
"If we didn't have a tap-in fee we would have to have a two-tier system where a monthly $130 rate would be what the new customers would pay,'' Depuy said.
Tap-in funds will be invested to help keep the rates as low as possible, he added.
After the meeting, Depuy said the past boards took out a 40-year loan for the project instead of the more common 30 years or less.
"Forty years is way too long,'' he said.