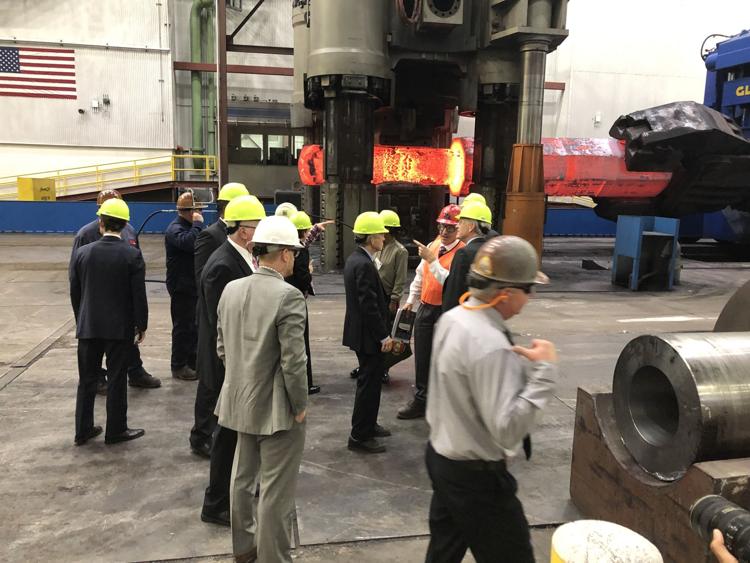 NEW CASTLE – The production floor at ELLWOOD Group's factory in New Castle can be described only with superlatives.
The searing heat, intended to bring a steel slab to 2,300 degrees Fahrenheit, can be felt from dozens of feet away. The forging press can manipulate and shape a metal shaft 72 feet long with a weight of 190,000 pounds.
When the operation is running at capacity, the cement floor itself quivers.
"How big those propellers are and how hard it is to actually forge them," said Dr. Peter Navarro, assistant to President Donald Trump and director of the Office of Trade and Manufacturing Policy. "That is a pretty amazing feat to have that much (steel) come in on a rail car, heat it up and with extreme precision be able to create a propeller for a Virginia Class submarine that will last for 50 years."
Navarro, Navy Secretary Richard Spencer and U.S. Rep. Mike Kelly, R-16, Butler, toured the ELLWOOD Group factory Thursday to see some of the Navy hardware being manufactured in the plant. During the tour, they were able to see North America's largest open-die forging press as it formed a propulsion shaft for a Virginia Class submarine.
ELLWOOD Group operates 28 production facilities in the United States and Mexico, including factories in Hermitage, Sharon and Grove City.
"They're building high-quality products with American labor," Spencer said.
The factory also produces forgings for aircraft carriers and Arleigh Burke-class destroyers, massive pieces built for the military's largest weapons.
David Barensfeld, CEO of ELLWOOD Group, said the company won a contract in October of 2015 for manufacturing the shafts and began revamping its factory in New Castle early the next year. ELLWOOD has been working with Scot Forge of Spring Grove, Ill., on the defense contracts.
Kelly said the defense projects were appropriately awarded to the factory in his district.
"It should be produced in America by American workers to protect America," he said.
Even though the factory's forge press, furnaces and lifting machinery are enormous, they are capable of even greater precision. They have to be, or else they won't meet the needs for some of the nation's most intricate defense materiel.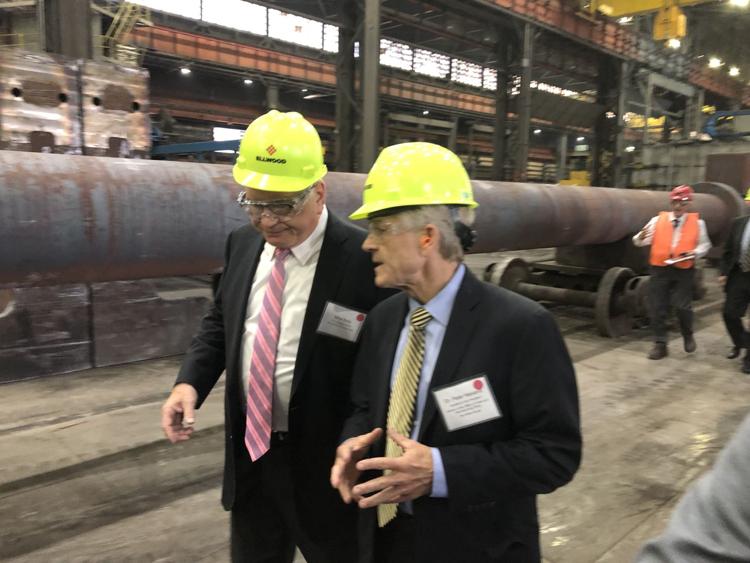 The process of manufacturing propulsion shafts for submarines is time consuming, Barensfeld said. It starts by heating steel slabs to 2,300 degrees before putting them onto the forge press to be shaped.
After about four hours on the press, the slab's temperature falls to about 1,700 degrees, too cold to be formed by the press, so it goes back into the furnace. The factory's workers repeat the process until it becomes suitable for use in a Navy ship.
Spencer said that's no small feat, especially with such large machines and product.
"It's hard to get the tolerances," he said.
Even though the tour was intended to highlight ELLWOOD Group's products for the defense industry, Barensfeld and Navarro both faced questions about President Trump's tariff program unveiled in 2018. And both of them defended it, even though Barensfeld admitted that the levies are having a negative impact on the company.
Because the tariffs on foreign produced metals don't include forged steel, he said the company is being underpriced by overseas competitors.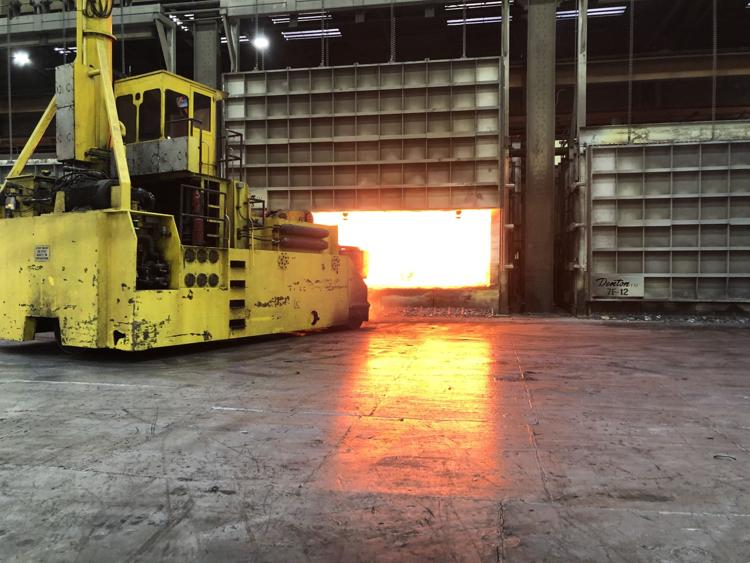 "But we support the overall tariff plan because someone had to tell other countries to stop unfair trade practices," Barensfeld said. "Even though there are some painful aspects, to the tariffs, we support them."
Navarro said the administration is trying to "strengthen" the tariffs to protect companies being hurt by the program. Overall, though he said the tariffs have helped the steel industry in the United States and saved the aluminum industry, which he said "was about to go extinct."
The tariffs are justified by a falling unemployment rate and increased hiring in the manufacturing sector.
"What we're seeing is tremendous investment in the steel and aluminum industry," he said. 
Navarro said the Navy projects at ELLWOOD Group's New Castle plant are an example of the Trump administration's success in both defense and manufacturing.
"This is the heartland; this is the hub of our defense industrial base in America," he said. "I couldn't be prouder of the people who work here."
Follow Eric Poole on Facebook and Twitter @HeraldEricPoole. Email him at epoole@sharonherald.com