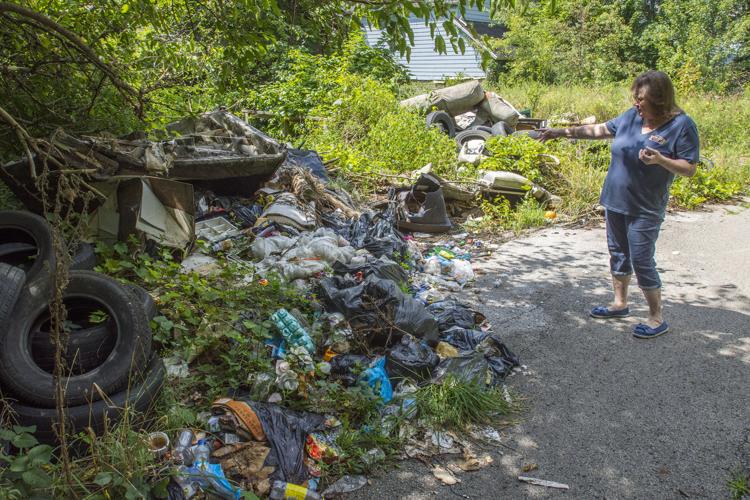 SHARON – Dave Tomko is trying to get a handle on people dumping trash in Sharon, but he says it's not going to happen overnight.
The alleyway between Florence and Orchard streets, and York Way, the next road over, have become overrun with personal trash, tires, couches, refrigerators and other debris.
Although Florence Street resident Sandy Ruth says she's tried to get Sharon to remove the trash, Tomko, the city's code officer, says crews have cleaned it up, and conditions immediately go back to the way they were.
"My recommendation on the alley is street lights up, security cameras up, let's get the trees and the brush back and that would enable us to create sustainability," Tomko said. "Those three things would enable a good, solid cleanup to stick. If you don't, within 24 hours, you have the same thing happening."
Don Powell has been a resident of Orchard Street for more than 20 years. He is very familiar with York Way and the Florence Street alley.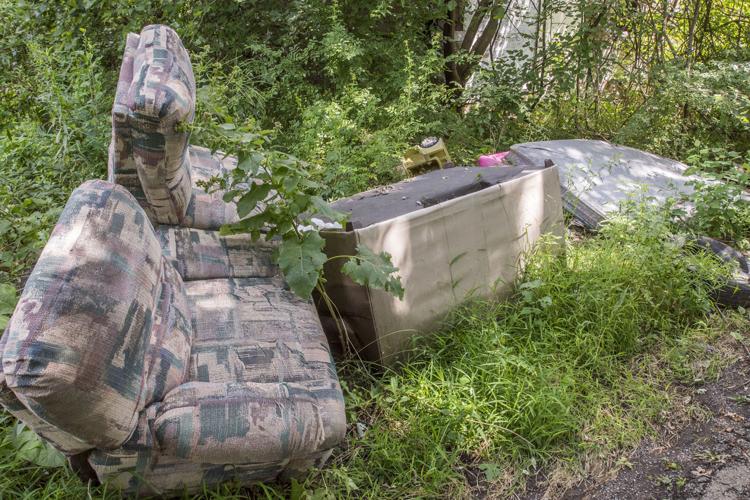 "Once they took the street lights away, (the alleys) became a dumping ground," Powell said. "The city just (cleaned) it at the beginning of the summer. Now, you got personal trash, you got tires, you got couches. These are the main dumping grounds of Sharon. It only took three months to get the alley back to the way it was."
Tomko said the city has cleaned up the alley behind Ruth's residence several times. He said he has personally been in that alley two weeks in a row about different issues.
"The city has cleaned it up, residents have cleaned it up," Tomko said. "We have had cleanups in alleys where we've picked up 30 tires and the next day, we have 30 to 40 more dumped."
City Manager Bob Fiscus said the city has tried to improve the area.
"I wouldn't agree that we've neglected the neighborhood because we demolished most of the houses on that street," Fiscus said.
"It's discouraging when you have the actions of a few who continue to dump and negatively impact the neighborhood."
Fiscus said that the city also has to prioritize.
"I believe that is private property, and although we've increased the number of people in the street department, we have to worry about cleaning up city streets first," Fiscus said.
But Fiscus commended the street department and the volunteers that have participated in many cleanups around the city.
"What the city has been able to accomplish is due to volunteer and citizen involvement," Fiscus said.
Tomko said the code and street departments are trying to unravel something that's gone on for 25 years.
"This is a progression. It's a combination of multiple variables that got us here, and it's going to take a combination of multiple variables to solve it," Tomko said. "My department is working diligently and very hard at addressing the issues we have. We have a plan. One issue at a time, one step at a time."
Tomko said his three-part idea of installing street lights, cutting away the trees and brush, and planting security cameras could be the beginning of catching those who are illegally dumping in the dark alleys.
"I think the dumping is an insult to the city of Sharon and the neighbors that have to put up with it," Fiscus said. "We ask that anyone who does see illegal dumping to call 911 and report it immediately."
Follow Melissa Klaric on Twitter and Facebook @HeraldKlaric, email: mklaric@sharonherald.com